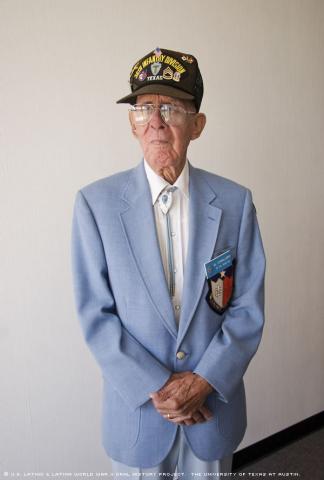 Interviewed by
Steve G. Treviño
By Na Kyung Kim
General society's prevailing atmosphere of racial discrimination couldn't shake the strong comradeship present in the Army for Albert Caballero, who began his service in 1940 with the 36th Infantry Division. Though he initially enlisted to prepare himself for war, for him, the Army turned out to be primarily a place where he could interact and unite with others, rather than learn how to fight.
"When the combat started, we leaned how to respect each other," Caballero said. "[It] was people from different parts of [the] country into one segment."
Interestingly, he was particularly close to Japanese-American soldiers, which, during a time when more than 100,000 Japanese nationals and Japanese Americans were being relocated to internment camps, was blatantly contrary to the sentiment of American society as a whole at the time.
"[T]he Japanese Americans would come forward to our unit," Caballero said. "And we had a heck of a good time."
Though Japanese Americans were discriminated against during the World War II years, Caballero says he was unaware of the prejudice until the conflict was over. He recalls finding out about the discrimination only when he got out of the Army and started working at a post office in Los Angeles, Calif.
"We never knew anything at all about it. … One thing I [do] know, I read in the paper some time back. It said Clinton gave out 17 Medal of Honors to surviving 442nd [members]. … [T]hey deserved everything that they've got," said Caballero, referring to former President Bill Clinton presenting Medals of Honor in 2000 to at least 20 Asian-American soldiers of WWII.
Caballero's ties with Japanese descendents lasted beyond the war. For example, while working at the post office, he learned to speak Japanese and became familiar with the culture of Japan.
"I learnt that Japanese are very smart, very patriotic," Caballero said. "I am very fortunate, with the people that I have met."
Born in El Paso, Texas, on Feb. 22, 1922, Caballero's early childhood wasn't prosperous. His father, Manuel Caballero, a WWI vet and a painter during the Great Depression, was out of work for eight years.
Being a so-called Depression kid contributed to his enlistment in the Army, Caballero says. In his unit, the 36th Division, in which most members were of the same age and from the same neighborhood, the reason for enlistment was identical to or similar to his: one less mouth to feed at home.
"All the memories that I have of the family being together, we never had any time to play. My sisters and my brother would go out in El Paso, doing what we could to bring a little money to the family," said Caballero, who mentioned collecting cardboard boxes as an example.
Caballero says he joined ROTC as a freshman at Bowie High School, and that ever since the age of 13, he'd suspected the United States would go to war, based on news out of Europe.
"I knew that we were going to get into war, so when I went to high school, I joined ROTC right away, to prepare myself for the war," Caballero said.
His enlistment became a turning point in his life. Starting off his military career as a member of the ROTC rifle team, Caballero says he became one of the best shots in his company.
Though he hadn't had the opportunity to leave El Paso before joining the military, as a soldier, he was able to travel across the country and to the South Pacific. After receiving his initial training with the 36th at the armory in El Paso, Caballero received training in Brownwood, Texas, and Mansfield, La., in 1941, and was stationed in Starke, Fla., for more training part of the following year.
Caballero returned to the Texas Army National Guard in December of 1945, at which point he was discharged as a Tec. 5. Fourteen people in his unit received the Medal of Honor.
Later, he recalls attending radio-operator school at Camp Crowder in Missouri as a member of the reserves, and being assigned to the Navy in the Philippines shortly after the war ended in 1945.
Caballero says he never experienced any discrimination or animosity because of his skin color. Instead, he was respected as a man in uniform.
Caballero says he considers himself an American of Mexican descent, not a Mexican American.
"I never encountered any racial discrimination," he said. "All I can remember is from when I was growing up in El Paso, the sign that said no Mexicans or dogs allowed in here."
He retired from the postal service on April 22, 1977, and came back to Texas. He now lives with his wife, Josefina Caballero, in Castroville, Texas.
Mr. Caballero was interviewed in San Antonio on May 3, 2008, by Steve Treviño.