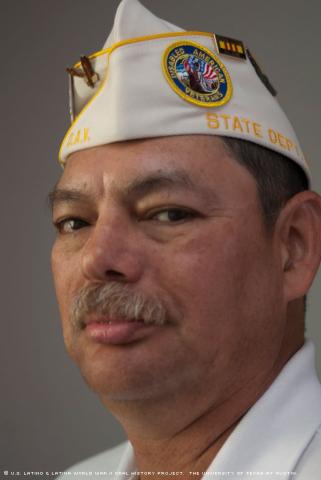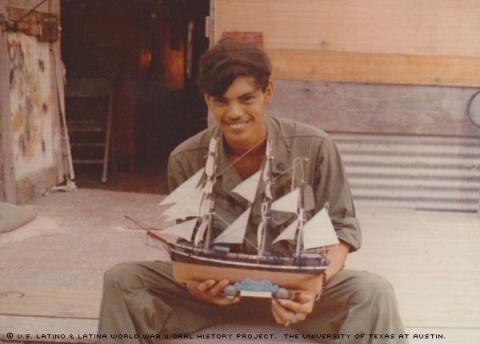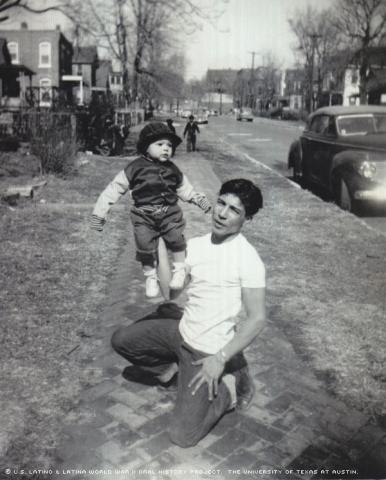 Interviewed by
Rudy Padilla
By Tarrah Miller
"Baby killer!" were the words Alex Hernandez heard when he returned to the United States after 19 months in Vietnam, and he remembered it was a small boy, about 4 or 5 years old, who yelled them.
The Army veteran recalled that the child, at an airport in San Francisco, pointed his finger at him as his parents lingered in the background, laughing and egging him on.
"[Until] this day I think they were waiting for me to do something to that child. All I did was stared down the boy's parents, and they grabbed him and left in a hurry," Hernandez said.
Born April 6, 1952, in Kansas City, Kan., Hernandez said he was ready to be a leader throughout his life. He was the oldest out of nine children. He had four brothers and four sisters.
His father was an automotive mechanic, machinist and a tool and die maker; his mother a housewife. He remembered his large family struggled economically.
"We always had what we needed and nothing extra," he said.
Hernandez considered his Latino family to be quite "Americanized." The second generation spoke only English, and he said that made it a little more difficult for him to interact with other Latinos in the community because they all spoke Spanish with their families, unlike him.
Hernandez attended Bishop Hogan High School and Northeast High School, both in Kansas City, Mo. He graduated in 1970.
Following in the footsteps of his father and uncles who all served in World War II, Hernandez decided to enlist in the Army.
"I was 18 years old when I enlisted here in Kansas City, and I was 18 still when I got over in Vietnam," Hernandez said. He added later that he "was the only member from my generation of my family that went into the service and went to Vietnam."
Also, he said, a cousin joined the Coast Guard and served in the U.S.
Hernandez went to basic training at Fort Leonard Wood in Missouri, and he never forgot that summer's heat and humidity. The company commander, Hernandez remembered, scheduled all their training sites to be within a marching distance of two miles.
After basic, Hernandez was sent to Fort Eustis in Virginia and completed his training in November 1970. He graduated, he said, in the top 10 percent of his class.
Hernandez was sent to Vietnam, where he worked on helicopters all day in the heat and sometimes at night.
Hernandez was assigned to Battery A, 2/20 Aerial Rocket Artillery Brigade, 1st Cavalry Division. "There was a lot of pride and honor with being part of the 'first herd,' as it was called," he recalled.
"I was a helicopter crew chief and gunner on AH-1G Cobra gunship, UH-1H Huey utility, and OH-6 observation helicopters," he said.
He felt safe as long as he remained within the compound. He never saw the enemy up close, Hernandez said. The only enemy contact his colleagues had was when the enemy fired at them as they flew overhead, and they ¬would fire back.
For protection they used a bulletproof vest called a chicken plate. Instead of wearing it on their chests they would sit on it to protect them from the shooters below.
"It dawns on you. In between each of those tracers are four or five other rounds, and they're all bent on one thing and that is to kill you," Hernandez said.
Their Cobra gunships flew support missions. They supported the infantry and cavalry units that would transport the Huey helicopters and provided them with fire support.
Hernandez was later moved to the 238th Aerial Weapons Company, a unit using C Model and M Model Hueys that was transitioning to Cobras, and he was sent to train them. From there he went to the 196th Light Infantry Brigade, an air cavalry unit that "had infantry, had gunships, had Hueys." Hernandez said.
Finally, he was assigned to F Troop, 8th Cavalry, 196th Light Infantry Brigade. "We were stationed at Marble Mountain Air Base" near Da Nang, Vietnam, he said.
In 1972, Hernandez was caught in the middle of the Easter Offensive, when North Vietnamese forces crossed the demilitarized zone in and near the Quang Tri Province. It wasn important event that he finds just as devastating as the Tet Offensive but receives less recognition today.
Hernandez vividly recalled "several friends and pilots I had known were shot down and killed." He also mourned Jose Astorga, a young man who was captured when his aircraft was shot down."We tried everything we could to rescue him," Hernandez said. A rescue mission failed.
Hernandez was discharged from active duty at Fort Stewart in Georgia in June 1973. For his military service, Hernandez earned the National Defense Medal, Vietnam Service Medal, Vietnam Campaign Medal, Army Commendation Medal with oak leaf, and the Republic of Vietnam Cross of Gallantry.
Back in the U.S., Hernandez was diagnosed with Post-Traumatic Stress Disorder. He said he received enormous help from the VA. "I get everything that I need," he said.
In 1978, Hernandez was with the Missouri National Guard, and he graduated from officer candidate school as a second lieutenant in a field artillery unit. By the time he left the Army Reserve in September 2000, he had reached the rank of major.
Hernandez later earned a bachelor's degree and a master's degree at MidAmerica Nazarene University in Olathe, Kan. He followed in his father's footsteps and became a machinist and tool and die maker.
Hernandez also made time for a family, which included three children and two grandsons.
Hernandez offered words of encouragement to his fellow citizens: "Be proud of who you are. Serve your country to the best of your ability, and don't expect more than what you can earn. Be an active part of your community," he said.
Mr. Hernandez was interviewed in Kansas City, Kan., on June 17, 2010, by Rudy Padilla.