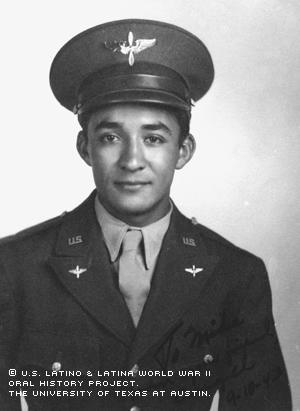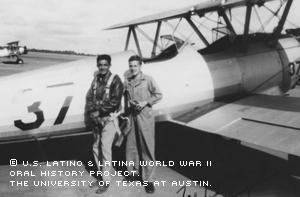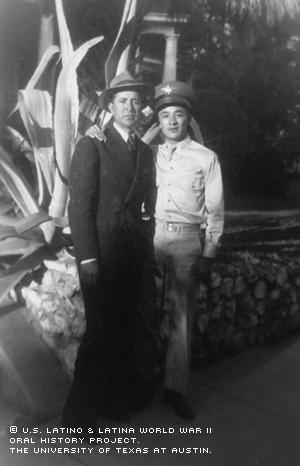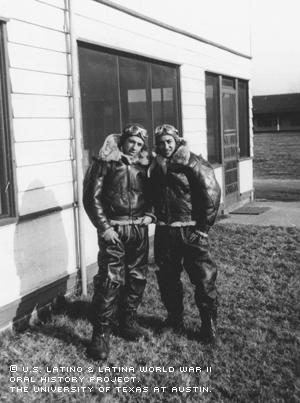 By Bianca Camaño
Education was always important in the Esparza home. So from an early age, Angel Esparza expected he and his six siblings would graduate from high school and go on to college.
Esparza attributes his high educational goals to his mother, Guadalupe Vega Esparza.
"My mother was pro-education like you won't believe," said Esparza, who was born in El Paso, Texas, in 1922. "We were all going to get all the education possible, so we did."
Esparza's parents, Florentino Esparza and Guadalupe Vega Esparza, also instilled a solid religious foundation in their children by attending Catholic services weekly and participating in religious instruction at Esparza's uncle's home.
"My family has always been very religious ... they brought that back from Mexico," Esparza said. "My next-door neighbor was my uncle on my mother's side, and he had a separate part of the house for the Blessed Lady; I guess you call it a chapel."
Esparza attended a local public elementary school and then went on to Cathedral High school, a private Catholic institution, alongside his older brother, Alejandro. The rest of the Esparza children attended a public high school for financial reasons.
While in high school, young Esparza had a part-time job for spending money; working hard was something he learned from watching his parents.
"I can't remember any day that my father wasn't working. My mother never worked a day but my father always had a job," Esparza said. He also noted that with seven children, his mother was a "good homemaker."
Though education was highly valued by his family, Esparza describes himself as an average student. He graduated from Cathedral in 1940.
Esparza says he only began attending Texas College of Mines in El Paso (now the University of Texas at El Paso) in 1940 to please his mother. He began studying chemistry and geology.
Shortly after entering college, however, the Japanese attacked Pearl Harbor, at which point the U.S. began strengthening its military, calling for volunteers. Esparza and Alejandro, who was attending college with Esparza, enlisted. Both left school; Esparza joined the Army Air Corps and Alejandro joined the Army.
Over the next three years, Esparza trained at 10 military bases: starting at Sheppard Field (now Air Force Base) in Wichita Falls, Texas, and moving to Tennessee, then Georgia, Mississippi, Alabama, Central Texas, Colorado, Nevada and, finally, South Texas. Esparza fine-tuned his skills at these bases so he could be ready for battle if needed.
"At the time, there were three schools to qualify for: pilot school, navigation school and bomber school," Esparza said. "I qualified for all three of them and I picked pilot training."
After choosing his specialization, Esparza began rigorous training. In 1944, while in advanced training at Napier Air Force Base in Dothan, Ala., he had a close encounter with another plane during training.
"Me and my instructor were just climbing out of the traffic when there was just big bump. I remember I was flying in the front seat and my plane just shuddered," Esparza said. "I never saw what I hit ... Then I started hearing on the radio for an emergency landing -- it was a plane that I had hit or had hit me," Esparza said.
The other plane involved in the accident had its rudder torn off and made a successful landing, despite having to land belly up. Esparza's plane didn't sustain heavy damage and both he and his instructor landed safely.
While training at Harlingen Army Air Field in Harlingen, Texas, Esparza was notified the war had ended with the defeat of Japan. He was discharged Feb. 19, 1946, at the rank of Corporal, earning for his service a Good Conduct Medal, Victory Medal and American Service Medal.
Soon after, Esparza returned to his family in El Paso and began to pick up where he left off -- after a short break, that is.
"I was a little lazy and stayed away for a semester," he said. "I could have gone back to college right away and I waited one semester and I went back to what I had started and I finished my degree in science with a minor in geology and a major in chemistry. Then I took another year to qualify me as a teacher."
Armed with a science degree and a teaching certificate, Esparza began teaching science at Jefferson High School, a predominantly Mexican American school.
After a year of teaching, Esparza decided to find a higher-paying job. He started working at Fort Bliss in El Paso as a draftsman, and, in 1968, became a computer programmer.
Right before taking the job at Fort Bliss, Esparza began a friendship with a pal of his sister's that turned into a courtship. He and Alicia Alvarez were married in August of 1950 and together had 12 children: six boys and six girls, who were all raised in El Paso. That total includes two sets of twins -- one set female and one male -- who were born prematurely and "didn't make it," Esparza said.
Esparza and Alicia emphasized education, as his parents had. All of their eight surviving children attended local public schools and earned at least a Bachelor's degree.
Esparza says he and his wife worked outside of the home to finance their children's educations, but he adds, his children also worked hard to get their schooling.
"It was quite an effort," Esparza said. "I remember at one time we had five [children] at the University of Texas at Austin. I had two jobs and Alice had two jobs. It was an effort, but we made it."
Mr. Esparza was interviewed in El Paso, Texas, on October 29, 2003, by Robert Rivas.