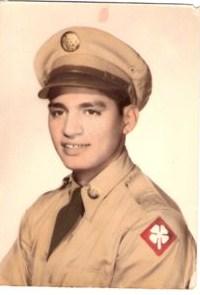 By Danny Frank
If Angel Montenegro could live his life over again, he would not change a thing.
Since childhood, the Army veteran has made a habit of making the best of his opportunities.
Montenegro was born Sept. 27, 1936, one of 11 children of Hermenegildo and Manuela Ledesma Montenegro. There were few Mexicans in Wellington, Kansan, where he grew up on a farm. The family's major source of income was his father's job as a railroad maintenance worker; a few of his older brothers also had jobs to help out. Manuela was a stay-at-home mother, and parents and children shared the farm work.
Montenegro remembers playing with his siblings, attending school and doing household chores. After ninth grade, he dropped out of school and worked as a manual laborer.
Though his older siblings had finished high school, Montenegro did not feel suited for academic pursuits. He was more inspired by two of his older brothers who had joined the Army and served during the Korean War -- John in Okinawa and Frank at Fort Bragg, North Carolina.
After the Korean War, Montenegro was drafted into the Army and stationed in England, at the Stansted Mountfitchet airfield, where he was a private in the 803rd Engineer Battalion (Aviation). He served from December 1954 to July 1956, obeying every rule and completing every chore his sergeant dished out. He repaired airplanes, trucks and machinery, but his main responsibility was helping to build airstrips for emergency landings at the base.
"I didn't mind working on building airstrips. … It was interesting, and working with my hands is what I liked to do," he recalled.
The brothers kept in touch by writing letters. "I would have liked to be stationed with my two brothers, of course, but it did not bother me that I wasn't," Montenegro noted.
While he was in the Army, he sent money home to his mother to help with the farm.
He was awarded a Good Conduct Medal and the National Defense Service Medal. The latter was awarded to those who served in the Korean War and its aftermath, 1950 to 1956.
After his time in the Army, Montenegro moved back to Wichita, Kansas, and married Margaret Romero. They had four sons: Vincent Paul, Renaldo Jon, Steven Mark, and Angelo Alex.
Montenegro looked for work that would tap the skills he had gained in the Army and began a steady occupation as a mechanic, fixing cars and airplanes. He eventually was promoted to a managerial role. His last job was his best-paying and most interesting: He repaired police cars for the city of Wichita for over 13 years, retiring in 2000.
Montenegro said dropping out of high school to join the Army was the best decision for him because he enjoyed serving the country and genuinely missed being in the service afterward. He wondered whether he might have found a better job had he continued his education but said he had no regrets.
"If I could go back in time and do my life over, I would not change anything," he said.
Mr. Montenegro was interviewed by Lana Bennett in Wichita, Kansas, on June 15, 2010.