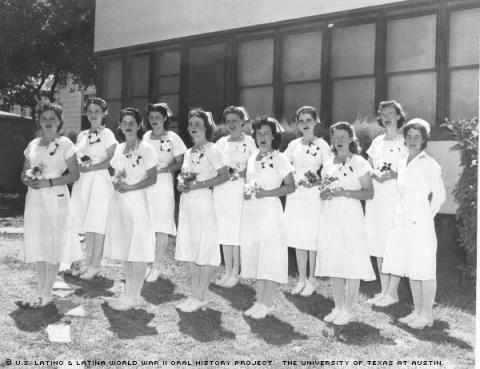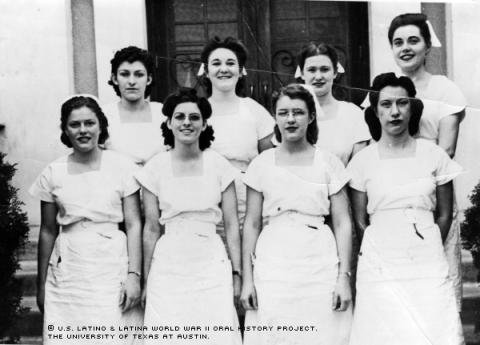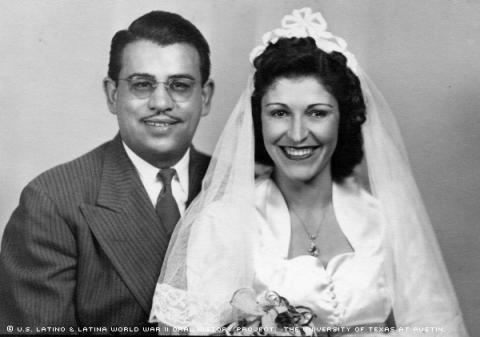 Interviewed by
Erica Martinez
By Darcie Stevens
As news of the Japanese bombing Pearl Harbor came over the radio on Dec. 7, 1941, a 20-year-old Polly Muñoz Abarca started dreaming of places worlds away from her dorm room in Corpus Christi, Texas.
None of the students at Fred Roberts Nursing School had ever seen war.
"We were so innocent," Abarca said.
Her dreams would lead her down many roads, but she wouldn't leave Corpus Christi. Her helping hands were much needed on home turf. She married Antonio Abarca soon after the war ended, continuing her volunteerism under a different name, but not a different heart.
Six months prior to the Pearl Harbor attack, Abarca had left her family's home in Mission, Texas, to pursue a nursing education. She knew years earlier that she wanted to be a public servant.
At only 15 she had found her calling when she helped a nurse take handicapped children to a hospital in Galveston for treatment. Volunteering her time to help those in need became a constant in Abarca's life.
She spent the rest of her school years volunteering at the Department of Immigration while participating in several school activities and working at the local dry goods store on Saturdays – a task her father disapproved of. To Antonio Muñoz, father of 10 children, education was the primary goal.
Abarca, however, continued volunteering and working until she left for Corpus Christi in June of 1941.
When she arrived at Fred Roberts Nursing School, she realized she was the only Latino in the class. Although she grew up in segregated schools in Mission, she now faced a whole new dilemma: Her roommate was frightened of her.
Back in her hometown in Virginia, Abarca's roommate had apparently been told that "Mexicans would kill you," Abarca recalled. Fortunately, the fear subsided and the two became close friends. Other than that instance, Abarca has no recollection of discrimination.
"We [Latinos] always had to work a little bit harder to prove ourselves," she said. "But that was all."
During her first year at nursing school, the Air Force sent her older brother, Antonio Muñoz, to Europe as a gunner.
"We were a very close family," Abarca said. "We were afraid because we didn't know what to expect."
The next year, her future husband Antonio, her fiancé at the time, joined the Army and was sent to Germany.
Money was becoming scarce in the Muñoz family, and Abarca began thinking that joining the Cadet Corps as a nurse was her only option. She wrote to her brother and her fiancé about her plans to join them in the service, but both of them begged her to stay home.
"I think they talked me out of it," Abarca said. "I was up there ready to help anybody."
Her brother sent money to pay for the remainder of nursing school, and Abarca graduated in 1944 as a registered nurse.
As the war raged on, she worked at Memorial Hospital in Corpus Christi, where she set up new operating and emergency rooms and soon became the supervisor of the outpatient clinic. And in 1946, she also joined the U.S. Public Health Service hospital in Corpus, volunteering as a Red Cross Nurse in the Settlement House. There she taught home nursing in Spanish and English, again as a volunteer.
That same year Antonio came home and the two were married.
The end of the war by no means ended Abarca's stint as a volunteer and a caregiver. For the next 15 years she worked as a nurse at the City-County Health Department.
In 1964, she even helped win the first federal grant in the United States for family planning – a milestone for health care. She said she supported providing birth control after working as a public health nurse for so many years. Poor young women were constantly asking her how to not get pregnant too soon, she said.
"At that time the word birth control was a no-no," she said. "I was daring, I guess."
In 1965, Abarca was hired as the executive director of the area Planned Parenthood center and remained there until services were turned over to the local health department. She later worked as the director of nursing at the state-operated Corpus Christi school for mentally retarded children, retiring in 1974.
Her husband passed away in 1984.
"I married a man who was very happy," she said. "The two of us together made a good pair."
At the time of her interview, Abarca was spending her days volunteering at her church and visiting with her son, David, as well as her two grandchildren, Anna and Anthony. She still lived in her Corpus Christi home, where she kept busy with painting and arts and crafts.
"I'm 81 years old," Abarca said with a grin. "I think I've done my share."
Mrs. Abarca was interviewed in Corpus Christi, Texas, on August 18, 2001, by Erica Martinez.