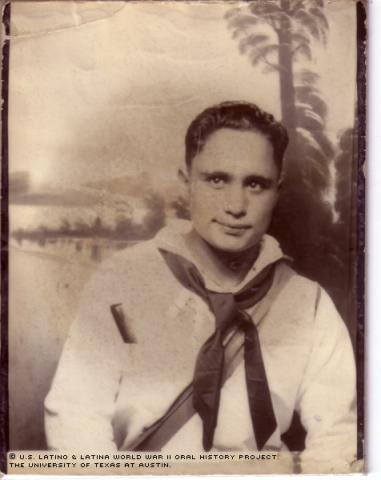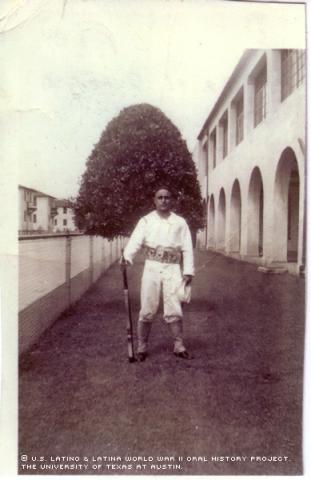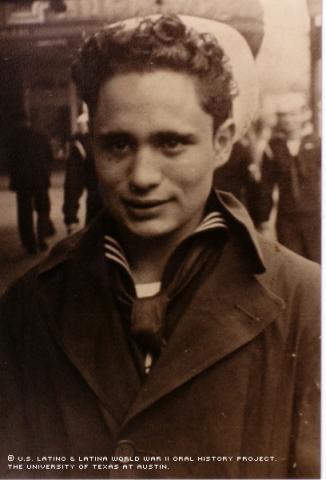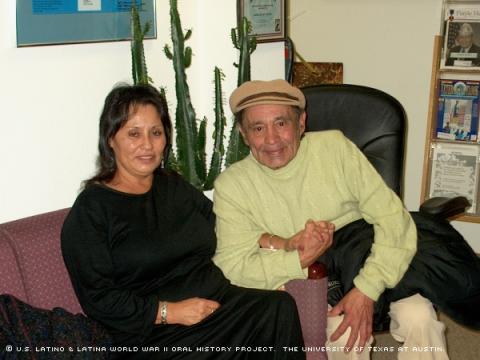 By Melissa Watkins
Arthur "Chavalito" Tenorio spent Dec. 6, 1941, at a hotel in Honolulu playing craps with a fellow sailor. He lost the game, but a hotel employee warned the pair it didn't matter, because after tomorrow, they wouldn't be around. Tenorio awoke aboard the USS New Orleans the next morning, a day that will live in infamy.
Baptized Arturo, Tenorio was born June 5, 1924, in Las Vegas, N.M., to Merenciano Tenorio and Ophelia Lucero, who Tenorio describes as a tough street fighter and spoiled rich girl.
Tenorio was small for his age.
"That's why they called me 'Chavalito,' 'little boy.' I only weighed 35 pounds when I was 7. I was the scrappiest boy in the neighborhood gang."
Tenorio says Ophelia abandoned him when he was 2; she started working and left Tenorio without a baby sitter, he recalls.
"No one fed me. No one put me to bed. My dad would lose his temper once in a while," Tenorio said.
The only skill he learned from his father was how to fight, he says.
"The neighbors did more for me than my own family," Tenorio said.
The family next door unofficially adopted Tenorio until he moved in with his grandmother, Candelaria Duran Lucero, when he was 5.
"She was a beautiful lady, half German and half Spanish. We would pray every night," Tenorio said.
By the time he was 15, Tenorio lived on his own and woke up every morning at 4 a.m. to work two jobs, delivering newspapers and washing dishes for $1 a day, 10 hours a day. The only entrance to his apartment, located on the second floor of an abandoned building, was a ladder through a window. Climbing the ladder helped shape his body, and during this time, he began to prepare himself mentally and physically to box and be strong.
"I had total freedom," Tenorio said. "I read a lot when I was a child. One of my favorite books was writings about the Spartans. I pretended to be a Spartan. I was training myself. I was totally dedicated. I was building my mind and body."
Tenorio started working out and fighting daily. He'd go to the gym every day and box whoever happened to be there. After a while, no one wanted to spar with him because he was so tough.
After an unsuccessful trip to Denver to find his dad, who Tenorio eventually learned died four months later, Tenorio decided to enlist in the Army and go to Hawaii on a "kiddie cruise," a tour in which boys enlisted and served until the day before their 21st birthday.
"I was tired of washing dishes, and I'd seen the beautiful Hawaiian pictures and hula girls," Tenorio said. "I'd always wanted to see the world."
He was only 17.
The Navy assigned him to the USS New Orleans, docked in Bremerton, Wash., in preparation for a trip to Pearl Harbor. The New Orleans crew, including Tenorio, would have an illustrious performance in the Pacific Theater, repeatedly seeing battle and, at the end of the war, earning 4 Battle Stars.
For Seaman Tenorio, the first few weeks were grueling ones. He and the other recruits did all the heavy work, loading 70-pound cases of ammunition onto the ship and working into the night holding lights and fire hoses for the engineers and welders.
Shortly after, the crew set out for Pearl Harbor, and Tenorio quickly adjusted to life on the water. It was the first time he'd seen the ocean, and he had no problem picking up his sea legs.
"I love nature, and the ocean is so vast," Tenorio said. "I just remember thinking 'golly!' And it was salty water -- no good for swimming."
Tenorio remembers being one of only four Latino crewmembers out of 100 recruits. He says he didn't experience prejudice, or any form of inequality, from his superiors, but admits to getting into as many as three fights a day with other recruits.
"Hispanics are very patriotic," Tenorio said. "But when you're a minority, you learn to read gestures. I never lost a fight. After they got to know who I was, they just left me alone."
Tenorio says he craved being alone. Many times he'd sneak away from the other sailors and climb into the crow's nest to read the newspaper by himself. He began reading the newspaper daily his sophomore year in high school, when Germany invaded Poland. During his quiet moments, he says he began to question the reasoning behind having so many battleships in such a small port.
The morning of Dec. 7, 1941, Tenorio remembers waking up at 6:30 and seeing planes on the horizon and smoke in the distance. He credited the gray fumes to smoke-bomb testing and didn't give the situation much more thought. At 7:57 a.m., the attack began.
"Out of nowhere, a plane flew right over me," he said. "I remember it had a rising sun on it and flew toward the West Virginia. That was the first ship I saw get hit."
According to historical accounts of the New Orleans' battle experiences, the ship's power went out during the attack, and her engineers worked by flashlight to restore power, while the sailors aimed at the Japanese planes with rifles and pistols. Some of the men were hurt by a fragmentation bomb that detonated aboard.
Tenorio ran to his assigned area, a 5-inch, 38-caliber gun that needed nine men to operate. He began picking up the hot casings as they flew from the gun and throwing them overboard.
"I was the hot shell man," he said. "I had to throw the red-hot shell casings into the water, but I couldn't find my asbestos gloves, so I picked up the first three or four with my bare hands. I didn't have time to digest. I had to react. Finally, someone wrapped my hands in old rags."
At only 5-feet-4-inches tall, Tenorio used his size to his advantage and ran beneath the gun's first loader to pick up the casings.
The fuel line on the USS New Orleans was severed, and all but auxiliary battery power was lost, according to a letter from J.G. Atkins, the commanding officer. All work below the ship's deck was conducted by the dim glow of hand-held flashlights. The directors in charge of gun use were on shore that morning, and more than 40 percent of the crew on board had little or no training with machine guns or heavy artillery.
At one point during the raid, Tenorio says he fell to his knees and laughed out of hysteria and helplessness. As he watched other ships around him get attacked, he realized the New Orleans was located behind a tall crane, which made the ship a difficult target for bombers to hit.
He recalls the sky being full of black smoke.
"One plane was right overhead. I saw the cockpit open. I knew a bomb was going to hit my head. We were all kids. It was right above me. My mouth just dropped open. Luckily, it angled off and hit the side of the ship."
Tenorio says only a third of the crew was on board that Sunday morning.
"I got the flashback. All my life came rushing through me," he said. "We just kept shooting until they left. We were dazed. I think we shot down 29 planes that day. The song 'Praise the Lord and Pass the Ammunition' was written about a chaplain on our ship. And those words were true."
Amazingly, even with the lack of power and lighting, no casualties occurred aboard the USS New Orleans.
Tenorio survived Pearl Harbor with only minor burns to his hands and some hearing loss.
According to the Dictionary of American Naval Fighting Ships, the New Orleans also joined with destroyers involved in the Battle of the Coral Sea on May 7 and 8, 1942. During that battle, some of the New Orleans' men worked heroically to save men aboard the Lexington, which had been heavily damaged. The New Orleans then patrolled the eastern Solomon Islands, before steaming on May 28 to the Battle of Midway.
The New Orleans was credited with its role in crippling Japan's navy, and it also helped the Marines at Guadalcanal. In December of 1942, heavily damaged in battle, the New Orleans' crew used coconut logs for a bow and arrived in Sydney, Australia, for repairs. The ship went back to Pearl Harbor the following August to join a cruiser-destroyer force and bomb Wake Island. She also was involved in several other battles in the Pacific.
On Dec. 13, 1945, the Navy discharged Petty Officer 2nd Class Tenorio in San Pedro, Calif. He took a train home to Las Vegas the same day.
Tenorio married and divorced twice, becoming a single parent to three children. He returned to school and enrolled at Highlands University, where he received his bachelor's degree in psychology in 1949; he also received his master's degree in 1950. He then completed the requirements for a doctorate in sociology, psychology and anthropology, but didn't return for his oral examinations and never received his diploma. He taught in rural areas and retired in 1980 as the superintendent of the Las Vegas school district. Tenorio still resides in Las Vegas.
Mr. Tenorio was interviewed in Santa Fé, New Mexico, on November 3, 2002, by M. David Gray.