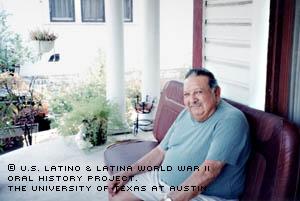 Interviewed by
Unity Peterson
By Unity Peterson
Even though August R. Segura spent World War II stationed in Laredo, Texas, working on aircraft, he says he came away from the experience a skilled mechanic and "a better man."
Segura was born Feb. 11, 1922, in San Antonio to parents Augustin Segura and Leonor Rodriguez Segura. He grew up in the inner city as the firstborn of a close-knit family that included four sisters. He also was close to his grandparents, who helped raise him and his siblings.
Segura remembers the creative way his grandfather made a living, buying produce at the market and reselling it to the "rich people" in the more affluent northern sector of San Antonio.
"He had a little buggy and would buy fruit, lettuce and vegetables, and we'd go sell it up on the North side," Segura said. "That's how he helped my dad raise all of us."
Segura's father worked as an elevator operator.
"He taught me how to use an elevator, and I got a part-time job mopping the halls in the buildings on the corner of St. Mary's and Travis," Segura recalled.
Growing up during the Great Depression, he remembers life being difficult. But the family managed to make a living and "didn't suffer too much." He recalls those days, before food stamps, when all they were given was a brown bag filled with coffee, sugar and maza to make corn tortillas, as well as a yellow bar of soap "that could kill anything."
At a young age, Segura worked odd jobs on the weekend to make extra money for the family and to buy himself treats, such as hamburgers or candy. He remembers shining shoes, selling newspapers and even killing turkeys at a dining establishment on Lone Star Boulevard.
"They paid you a nickel for a Tom and a dime for a hen," he said. "We talk about cruelty to animals. How cruel can you get, dropping a poor, old hen into that boiling water?"
Segura attended Bonham Elementary School and Joe Chandler Harris Junior High. He remembers going to dances while growing up in San Antonio, dreaming of being the next Cesar Romero. One time, Segura attended a dance at the Majestic Theater, where he won third place in the jitterbug contest.
He studied to be a mechanic at San Antonio Vocational and Technical School, graduating in 1941. Soon after his graduation, he was attending service with his family at his parish when the priest suddenly announced that the Japanese had bombed Pearl Harbor. Segura and his compadre immediately went to the recruiting station downtown to enlist, where they were informed they had to be 21 years or older to join. Twenty at the time, Segura was disappointed; however, he was able to join the U.S. Air Force with his parents' consent on Nov. 2, 1942.
Basic training for Segura was held at Fort Sam Houston in San Antonio, where he lived in a tent made of wood and canvas with four other men. His sergeant would rouse them from their sleep by hitting the canvas tent with a stick.
"The sergeant would have a weeping willow branch and hit that thing," Segura recalled. "It sounded like a bullet and that would get us up in the mornings."
From there, he was sent to the U.S. Army Air Force base in Laredo, Texas, where he began working as an aircraft mechanic. However, after expressing a fascination with hydraulics and his dream of being an auto mechanic after the war, he was sent to Tennessee to learn more about the inner workings of boats and tanks. Upon returning to the Laredo base, he resumed his work as an aircraft mechanic.
"I never went overseas because they told me that I was too essential down here," he said.
Segura was honorably discharged on Feb. 3, 1946, and remained in Laredo for the next 10 years. While still in the service, he met his wife, Margarita Cardenas, in the plaza of downtown Laredo, which was a popular meeting place for young people. They married on April 14, 1945, and stayed in Laredo to help care for Margarita's sick mother.
Segura got a job at Martin Linen and Supply Company and played in a semiprofessional baseball league on the weekends. He and Margarita have three sons, Augustin, Jose and Roberto, all of whom were born in Laredo. The family returned to San Antonio in 1958, where Segura finally started working as an auto mechanic, the occupation he'd dreamed of since the service.
"It didn't turn out to be like I'd thought. Everything was a lot different. I didn't know much about automobiles because I was an aircraft mechanic."
Segura then began employment with Jax Beer, and Margarita remained working in the property tax department at the county courthouse, where she remained for 30 years.
While his hopes of being an auto mechanic failed to materialize, two of his sons, August "Tino" and Jose "Joey," have followed his dream, working in the same shop as mechanics. A third son, Roberto "Bobby," was a diesel mechanic for the post office for a number of years. In addition to their sons, the Seguras have seven grandchildren and eleven great-grandchildren, all of whom reside in San Antonio.
"You ought to see us at Christmas," Segura said. "We really raise the roof up."
Segura spoke of various accounts of racial discrimination that occurred in San Antonio before and after WWII. He remembers often being saddened as a child by the segregation inflicted on African Americans. He also recalls his grandfather may have empathized with them, often greeting them as "partner."
"They got along, they were partners, you see," said Segura of Latinos and African Americans. "Because other people didn't like them."
Segura describes a particular restaurant that had a sign in the window that read: "No Mexicans or Dogs Allowed," and that many places forced them to walk through the kitchen to get food. Although he has seen many positive changes for both African Americans and Latinos since the war, he believes discrimination and equality issues have yet to be resolved. The answer lies within future generations, particularly children, he says.
"They get to know each other," Segura said. "I think eventually, for there to be no more discrimination, it's got to be through the kids. Nobody else is going to do it."
WWII may not have taken Segura to exotic, foreign parts of the world, but he found the war had a lasting impact even from American soil.
"Sure, the war made a better man out of me. You couldn't go anywhere when I was growing up, but the war gave me the chance to travel our own country," Segura said.
Mr. Segura was interviewed in San Antonio, Texas, on April 12, 2002, by Unity Peterson.