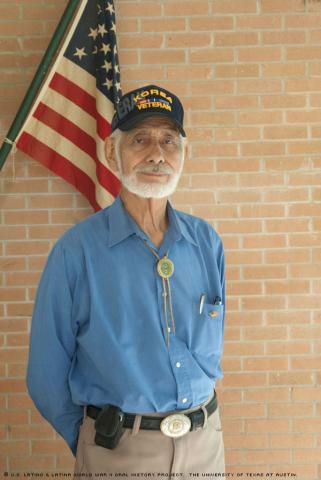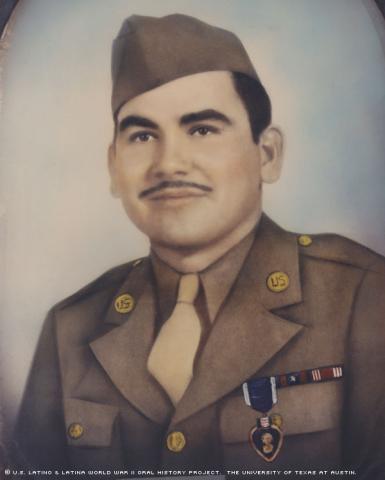 By Jackie Rapp
Benny Martinez was born a helper.
He served as a medic in the Korean War. He taught unruly 6th graders. He once delivered a baby in the back seat of a car. He encourages kids to stay in school and pursue higher education.
"The best thing we can do here is to educate the children," he said. "There's nothing better."
But when Martinez started the first grade in Goliad, Texas, in 1940, he hated school.
Martinez was born on Jan. 4, 1934, in Goliad, 92 miles southeast of San Antonio. He was one of 11 children born to Placido L. and Paula C. Martinez, both natives of Goliad.
His parents were not formally educated; his father was a laborer. But they both believed in the value of education, Martinez said.
When Martinez was 5, he began first grade in Jones Elementary. He was scared and confused because he was unable to speak English and not allowed to speak Spanish.
"The little boys and the little girls would wet on themselves," he said. "It was embarrassing."
He remembered many of his classmates failing and dropping out of school at an early age because of the language barrier and their fear of it.
Martinez said the schools in Goliad were segregated. "It was separate but equal," he added later.
All seven Martinez sons served in the Army: four during World War II, two in Korea and one in Vietnam.
When his four brothers returned from WWII, Martinez recalled, their father decided to move the family to Houston "because he didn't want us boys to have to pick any more cotton, and he wanted us all to go to college."
The family moved to the bigger city in 1946. Martinez remembered the city was segregated. Schools, restaurants, pools and other community areas posted signs prohibiting Latinos from entering. "We would see signs that said 'No Mexicans Allowed,' " he recalled.
When Martinez turned 16, he decided to join the Army to escape the racial prejudice all around him. His mother cried and begged him not to, he said, so he delayed enlisting for a little longer.
Martinez turned 18 in 1956, and he was finally inducted into the Army on Sept. 5. He began boot camp at Fort Bliss near El Paso. He underwent further training at the Quartermaster School at Fort Lee, Va. Martinez was assigned to the 564th Quartermaster Co., 55th Quartermaster Battalion, in the 8th Army, and sent to fight in Korea.
Martinez said he experienced only one skirmish. He was discharged on June 23, 1958, transferred to the Army Reserves Medical Corps, where he served until 1962, and returned to Houston. His family and his "teenage sweetheart, Helen Orzabal," waited for him there.
His decorations included the Good Conduct Medal, the Far East Campaign Medal and the Marksman Award.
Back home, he felt the old racial prejudice.
"In the service we were all equal," he said. "We were all Americans, but [we] turned into a Mexican as soon as we took our uniforms off."
When Martinez returned from Korea, he wanted to become a lawyer. Two veterans' counselors told him they didn't think he could make the grades. They said nursing school would be a much better option. He took their advice.
"Nursing was not my choice but the [counselor] did not want to allow me to study anything else due to the fact that I was a medic," Martinez wrote later.
He used the G.I. Bill and the Hazelwood Act, which provided up to 150 credit hours for Texas soldiers and family members, to attend Houston Community College and the University of Houston. He earned his Licensed Vocational Nursing degree in 1964 and later earned a degree in education. He also later obtained a Texas real estate license.
"After I received my nursing license," Martinez explained, "I worked for the Harris County Mental Health and Mental Retardation Psychiatric Hospital (MHMRA)."
Martinez felt fortunate to have studied nursing because his knowledge enabled him to care for many people throughout his life, including, he said, "my wife, my mother and my mother-in-law." He also used his expertise to deal with other medical emergencies, including delivering a baby in a car.
His teenage sweetheart and then wife, Helen Orzabal, were married on Aug. 31, 1958. She died of sarcoma cancer in Houston on July 1, 1976. They had two daughters, Loretta and Melinda.
After nursing, Martinez put his education degree to use and worked as an associate teacher in the Houston school district. He taught social studies, music and math for four years at Crockett Elementary in Houston.
"I really got a big kick out of that. I just loved the children so much," he said with a big smile. "I derived great satisfaction from seeing the growth and success of the students," he added later.
In 2001, he moved from Houston to Goliad and practiced nursing for another three years before retiring.
Still passionate about helping people, Martinez is active in many organizations, including the League of Latin American Citizens (LULAC), the American Legion, the American GI Forum and the Rotary Club, all of which raise money for scholarships. He's volunteered for the Red Cross, advised Goliad's school district, and served as a church usher and as a court bailiff.
His efforts have not gone unrecognized. Houston declared Aug. 27, 1997, and Harris County declared Feb. 17, 1998, to be Benny C. Martinez Day.
Martinez said he enjoys talking with kids about the importance of education. In one incident, he had a discussion with a 16-year-old who was contemplating dropping out of high school because of the expense of college.
Martinez replied with a story of personal experience, having grown up in a family where neither parent completed high school.
"Ignorance is more expensive, and it's going to lessen your lifetime," he said.
He said he tells kids repeatedly, "You've got to go to school. Education is something nobody can take away from you. It'll be there all of your life."
Martinez said that he doesn't give up spreading his message among young people, even when they don't seem to listen. "We have to try," he said, "We can't give up on them."
He doesn't plan on giving up his passion for teaching any time soon.
"I want to do it until I can, until the day I die. I'm going to keep working," he said. "I'm not going to sit at home. I want to work I want to help my community. I want to help the young people."
Mr. Martinez was interviewed in Goliad, Texas, on July 20, 2010, by Tina Hughes.