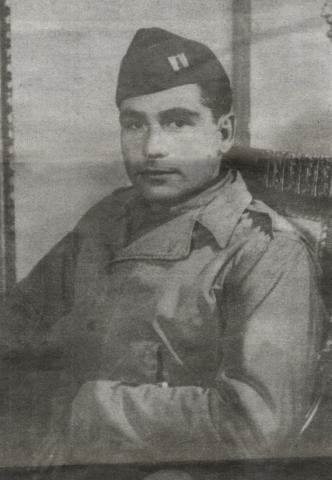 By Cheryl Smith Kemp
Of the many memories Braulio Alonso has of World War II, none stick out more than those tied to the liberation of Italy's capital.
After Allied forces flooded Rome on June 4, 1945, some members of the 328th Field Artillery Battalion, part of the 85th Infantry Division, traveled from slightly south of Rome into the city.
"We took our driver and went into Rome," said Alonso, who was Captain of Battery A.
"I think all of Italy was there. I mean, there were millions of people. They were crying, they were laughing, and they were dancing … our jeep was surrounded. I was kissed … they flew flowers at us; they wanted us to drink wine … I've never seen anybody as happy as the liberation of Rome," he recalled, adding that the throngs of people in the streets were so thick, the car he was in could hardly move.
A compilation of 1945 National Broadcasting Company radio reports from Europe confirms and expands upon Alonso's account. For example, broadcaster Ralph Howard observed at 8 a.m. on June 5, "Streets of Rome are filled with American, British and French soldiers … in pursuit of the Germans … at 10:00 this morning, General Mark Clark met with his three Corps Commanders to discuss further tactics for the offensive …"
The next day, at approximately 3:38 a.m., Robert St. John reported from the NBC newsroom in New York, "Men and women of the United States, this is a momentous hour in world history. This is the invasion of Hitler's Europe – the zero hour…"
About a month earlier, on May 2, John W. Vandercook had reported from NBC's New York newsroom, "At noon today in the vast sprawling palace of the Bourbon kings at Caserta, 20 miles from Naples, a document was signed which brought about the unconditional surrender of all German and Italian Fascist troops in northern Italy and western Austria …" which led to the extraordinary chapter of world history in which Alonso and his fellow GIs found themselves.
Overwhelmed by the chaos in Rome's streets, Alonso says he looked at the dome of St. Peter's Basilica, located in nearby Vatican City, and said to the driver, "Let's go over there." He and some other men from his unit, who were already at St. Peter's Square by the time he got there, then came up with a plan: All of them being Catholic, they decided to attempt paying a visit to Pope Pious XII at the basilica.
"The five officers and five enlisted men, all in combat garb, approached a Swiss guard and asked if it were possible to see the Holy Father. The guard was surprised by the request, but he too showed joy of the liberation. He left and after a short wait, an Irish priest appeared and asked us to wait," wrote Alonso in his account of that day, which, during a follow-up phone interview, he recalled running in June of 2009 in Tampa-area publication La Gazeta.
The priest "asked where we were from and so forth," and soon he said he thought a visit could be arranged, recalled Alonso during his original interview.
Astounded, the men left their firearms with one of their drivers, "who was not a Catholic. … He said he would guard it with his life," Alonso said. "Of course, we violated every rule in the [military's] book" by doing that, he added over the phone.
Alonso and the others were escorted inside, into an empty white room.
"Here comes a lean, aesthetic, frail individual, Pious XII, who came in and spoke to us in English, understandable English. And he said that he was happy to see that the war was over, and he wanted peace. And he wanted to pray for us and he wanted us to pray for everyone who'd been in the war, enemy and so alike," said Alonso, adding that before the pope left, he gave each of them a medal.
"That's the most memorable thing that ever happened to me in Italy," Alonso said.
He makes sure to put the event, as well as WWII as a whole, in perspective, however, noting that getting educated is the most important thing young Latinos can do for themselves these days.
"You cannot get along without an education. And if you're here, learn English. … That's what we have to do, said Alonso, who has a PhD in Education from the University of Florida. "Be proud of your heritage, but remember, you're in the United States now."
Mr. Alonso was interviewed in Tampa, Florida, on June 18, 2006, by Maggie Rivas Rodriguez.