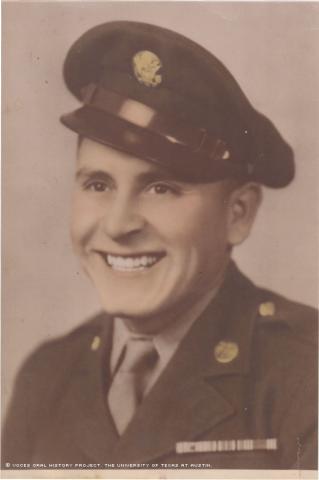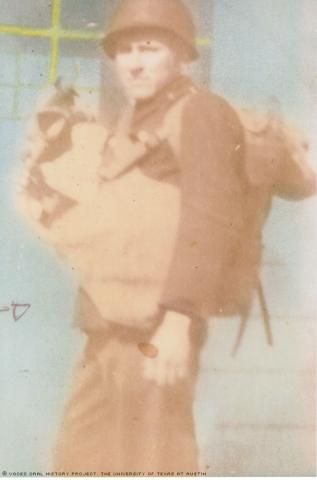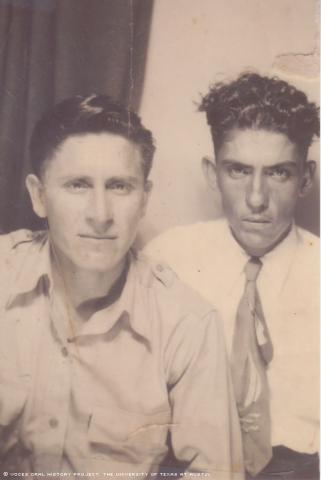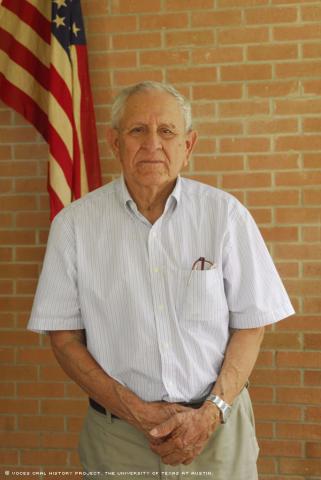 By Ajay Patel
Carmel Camacho's father told him as a young boy that, if he was kind to other people, then he would never have trouble getting along with anyone. Camacho took his father's words to heart, working as a medic in the Army, bringing comfort and healing in World War II and the Korean War.
Drafted at age 19, Camacho became part of a 17-man U.S. Army medical unit one year later. He initially served from 1942 to 1946, but his military career spanned World War II through the end of major hostilities with the Korean War armistice in 1953.
Before being drafted, Camacho planned to be a rice farmer. After traveling the globe as a medical technician treating wounded soldiers, he returned home to Goliad, Texas, 92 miles southeast of San Antonio, and found new opportunities. Camacho became a welder. He married, had six children.
He recalled that his World War II squad was a mix of Latinos and Anglos.
"We never had problems. Everyone got along," Camacho said.
Camacho was born in Goliad County on March 1, 1922, the third of four children of Jose and Soleda Sandoval Camacho. His parents were Mexican immigrants, who lived on the Powell Ranch, owned by Ray and Gladys Powell. Camacho's father planted and harvested cotton on the ranch. Camacho described the Powells as caring.
"Ms. Gladys gave me and my brother ponies so we could get to school," he said. "Even the White boys didn't have ponies."
Unfortunately for Camacho, he was never able to finish school. Around eighth grade, he and his brother had to drop out to help support the family.
"I was a good student, had good grades and wanted to learn. But I had to work, so I quit school when I was 14 or 15," he said.
Camacho moved to Port Lavaca, Texas, to work on a rice plantation. That work paid him $3 a day. Within a few years, he said, the day came that would change his life. "It was Dec. 7, 1941," he said.
Camacho recalled that he was eating breakfast before going to work in the rice field when he heard about the Japanese attack on the U.S. Pacific fleet in Pearl Harbor and airfields in Oahu, Hawaii. At that moment, he told his co-workers, "There's going to be a war." They all brushed aside his prediction.
Within days, the United States had declared war on Japan, and the Axis Powers had declared war on the U.S. Soon, Camacho was drafted.
"I did my training at Camp Barkeley," he said. "I don't know why, but I got picked up for technician's school."
Camp Barkeley, near Abilene, Texas, was used as a Medical Replacement Training Center, starting in 1941. Camacho would learn about taking care of wounded soldiers. He learned to administer medication, dress wounds, and treat those in need.
Since the Army chose him to attend medical technician school, Camacho worked hard to pass his tests. He felt it was his duty, and he did not like the alternative.
"Some of those guys didn't realize that, if you didn't work hard, you were going to get sent to infantry," he said.
After passing his exams, Camacho traveled around the globe as part of a 17-member medical unit. A typical mission included deployment to the Pacific Theater to tend to wounded soldiers and then to New Zealand, to provide extra care to wounded soldiers there. He might later be deployed to Europe to bring wounded soldiers back to the U.S.
Camacho remained dedicated to his mission and would not allow distractions.
"There was this one guy I was helping, who came from a wealthy family," Camacho said. "He told me to write to his father who, he said, would reward me for helping his son. But I said no. I was just doing my job."
He remembered seeing men with their limbs blown off and entire units dead from sniper attacks.
"I knew there were men waiting in the jungle, but I never saw them," he said. "I feel lucky coming back without a single injury."
The unit was on a ship headed back to the Pacific Theater one night when it heard around 8 p.m. that Japan had surrendered.
"I was glad to be going home," he said.
Once he was back in the states, Camacho returned to Powell Ranch. His mother cried when she saw him.
"I had no contact - no letters or nothing - when I was in the war," he said.
But in the 1950s, Camacho found himself in South Korea. He spent a year overseas again as a medical technician, this time caring for soldiers at a hospital, rather than the battlefield.
This new stage in his military career lasted one year. After being hospitalized for severe head trauma, he went back to the United States and retired from the Army with the rank of Tech 5.
After returning home, Camacho met his wife, Juanita Cano, in Goliad. They had six children, three sons and three daughters, Elodia, Rebecca, Carmel Jr., Richard, Calvert and Julie.
To support his family, Camacho worked as an auto mechanic for a short period. When he found that there was not much money in being a mechanic, he switched to welding.
"I did all types of welding," he said. "I made a pretty good living."
Camacho retired from welding when he was 64. He and his wife remained together until her death in 1997.
As an 88-year-old widower at the time of his interview, Camacho still cited his father's words as the greatest advice he ever received:
"Be nice to people, and you'll get along with everybody."
Mr. Camacho was interviewed by Liliana Rodriguez in Goliad, Texas, on July 20, 2010.