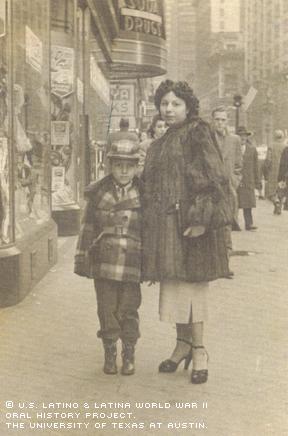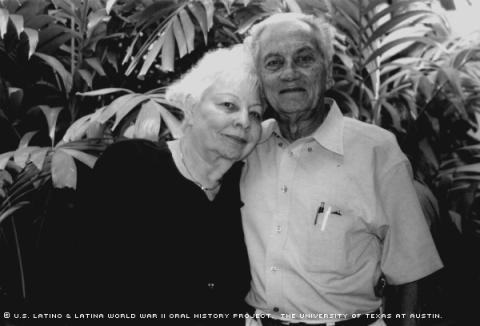 By Sylvia Mendoza
When Carmen Albelo sailed from San Juan, Puerto Rico, to the United States in 1939, she envisioned a land of opportunity and freedom, not war, discrimination and loneliness.
"When I came here I thought I was going to have a better life, but it wasn't like that,'' Albelo recalled.
Born Oct. 1, 1925, in Sabana Grande, Puerto Rico, Albelo was introduced to an independent lifestyle at an early age. When Albelo was only 8 years old, her mother divorced and left her and her siblings with relatives so she could try to make a better life for them in America.
"It wasn't very easy when she left us," said Albelo, adding that her mother had to, as she had no other way out.
Albelo remained in Puerto Rico with her brother, two sisters and grandparents. One by one, the children would move to the States to rejoin their mother. Albelo was first.
"My mother sent me clothes for that day -- shoes, clothes and 10 dollars," said Albelo, who sailed to the U.S. by herself, wearing clothes 10 times too big for her.
"My aunt sent a letter to my mother saying I was [a size] 16; that was the size she wore. I was about 80 pounds," said Albelo, laughing at the memory.
At 14 years old, draped in layers of clothing, sunburned from the boat ride and sickly from motion sickness, she arrived in the States almost unrecognizable to her mother, but with hope for the beginning of a prosperous future.
Two years later, she was engaged to Higinio Albelo, a boy she knew from the apartment building where she lived.
"I had a dream with him," Albelo remembered. "I saw him dressed like a soldier, and he had a bag on his back. That's the way I saw him the first time."
Although her mother disapproved of her getting married at such a young age, problems at home with her new stepfather pushed Albelo toward the altar.
"He didn't want us," said Albelo of her stepfather. "So I told my mother, 'I'm going to get married.' ... I didn't want my mother, because of me, having problems."
On Nov. 19, 1941, the young couple exchanged vows, promising to cherish and love one another, in good times and in bad.
One of their many cherished moments was the birth of Higinio Albelo Jr., nicknamed Gene, on Jan. 14, 1943, at Metropolitan Hospital in New York. Albelo spent three days in labor, without pain medication and her mother or husband at her side, as Higinio had been called to serve his country and was visiting his parents in Puerto Rico before he left to fight with the Navy in World War II.
Although Higinio wouldn't see his son until a year later, the birth of the couple's baby boy made the time spent away from her husband easier for Albelo.
"That was a joy because he was something that belonged to me, not to my family, not to anybody, me and my husband. And for years, I didn't have any joy, until I had my son," Albelo said.
With Higinio away at war, Albelo had a difficult time working, taking care of their son and dealing with missing Higinio all at once. For example, while working as a seamstress sewing uniforms for members of the military, Albelo found out the nanny she'd hired to care for her baby Gene was leaving him alone for hours at a time. So Albelo had to quit her job and stay at home. She recalls writing to Higinio in tears, asking what they were going to do, and feeling helpless because the checks she received from the Navy weren't enough.
"I was alone in New York and my mother was two hours away," Albelo said. "The problem was, I was very, very lonely."
Higinio began staying in while the other Navy men had free time, ironing uniforms to make extra money to send home to his wife and Gene. The extra money helped to ease some of the family's financial woes, but they were still apart.
"I remember one Christmas I was so alone. I was crying. I said, 'Oh my God, it's so awful to be alone on Christmas.' And I said, 'Well, I have my baby boy. That's good enough for me,'" Albelo said.
That same Christmas, Albelo was surprised by a knock at the door. Thinking someone might be trying to break in, Albelo was shocked to see her husband walk in.
"That was so nice, because my baby was happy, I was happy and he was happy," Albelo recalled.
When Higinio finally returned for good after serving three years in the war, the couple's daughter, Mary Carmen Albelo, was born, and the family was complete. The children inherited their mother's sense of independence and hard work; Higinio became the first in his family to graduate from college, at Columbia University, and Carmen became a clerk for a medical clinic.
Albelo says she has achieved all she set out to attain when she sailed to the U.S. in 1939.
"I had bad days, but I had good days, too. So I can't complain that much," Albelo said.
Mrs. Albelo was interviewed in Miami, Florida, on September 14, 2002, by Helen Aguirre Ferre.