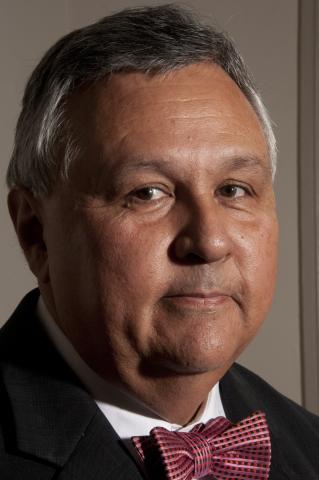 Interviewed by
Catherine Murphy
By Catherine Murphy
Growing up in San Antonio, Texas, Charles Paul Jones was no stranger to diversity. Jones' neighborhood on the west side of town included Belgians, Germans, Hispanics, Italians and Lebanese.
"It was a Brooklyn Southwest, for lack of a better term," Jones said. "We all learned about each other's culture. … Everybody on the block got along." He valued the experience of growing up in such a dynamic culture.
Jones was born on Sept. 13, 1947. His father, Rudolph Oliver Jones, who had been a professional football player in the 1930s, supported his family of seven boys as a notary public and real estate broker. His mother, Virginia Urbina, was the daughter of a Baptist minister who had come to the U.S. from Mexico around 1900.
Jones learned Spanish at home, although he was not allowed to speak it in elementary school.
His parents stressed the value of education, and his father insisted that his children attend college. After graduating from Jefferson High School, Jones attended St. Mary's University, then an all-male school. There, Jones played football, majored in geology and minored in math and chemistry.
At St. Mary's back then, students had to join the Corps of Cadets, an ROTC program. Like his neighborhood was, St. Mary's was a melting pot. The corps included many Latinos, Germans, Poles and Czechs.
Following graduation in January 1970, Jones was commissioned in the Army but had several months before he was required to report for duty at Fort Sill, Oklahoma. In the meantime, he taught junior high school math. After four or five months of teaching, Jones reported to the base in Oklahoma. He was trained there and at Fort Hood in Texas.
One day, Capt. Daniel Estrada, whom Jones considered a mentor, called him into his office. "I want to congratulate you. You're going where every soldier wants to go."
"Where is that, sir?" asked Jones, imagining a pleasant location such as Hawaii.
"The Republic of Vietnam," Estrada replied.
Jones' parents had different reactions to his deployment.
"My father was very proud," he said. "My mother went nuts. Her first husband had been a pilot in World War II and was killed. So the thought of her son going to Vietnam with an infantry line company did not draw rave reviews from her."
Before he knew it, Jones was 13,000 miles away, as a lieutenant in the 1st Battalion, 502nd Infantry Regiment, 101st Airborne Division. He was sent to the Army's Phu Bai Combat Base in central Vietnam and then to the jungle.
His training had not prepared him for that war or the rough conditions in the jungle.
Life in the field followed a routine. On a typical day, Jones would pick a place for the troop to move to, and the unit would walk there in single file. The men slept on inflatable plastic mats and hooked their ponchos together to create tents. During the night, they would share the perimeter watch in two-hour shifts. They carried everything they needed -- ammunition, food, equipment -- in 100-pound rucksacks.
"You did what you had to do. … You were out there 24/7 and surviving. … You were put to the test," Jones said.
Jones said he was one of only two Hispanic officers in the division. "I was the officer for everybody. But to the Hispanics, I represented something different. I knew I had to do a good job," he said.
He said he did not encounter any discrimination. "It was a unique situation," he said. "When men and women serve in combat situations, their differences disappear. No one wants to die alone."
"You train together, you live together, you die together. If you survive, you wind up going to each other's houses and you realize the stupidity of the stuff that came before."
When his six-month tour ended in January 1972, Jones said he and about 100 other soldiers were on a plane ready to take off for home from the Da Nang Air Base when the Viet Cong began shooting mortars onto the base. He recalls the jubilation that broke out when the pilot revved the engines and the plane rose into the air, headed for Japan and then Seattle, where the men were bused to Fort Lewis.
The next morning, "I had my green uniform on and my medals, the whole bit. And I was happy just to be alive. … [I] walked out the front gate and got tomatoed and egged. ... It hit me: The Vietnam veteran was not welcomed. … It blew me away," he said.
The men in his family were taught to serve their country; his grandfather, father and uncles had joined the military. But the United States was deeply divided over the war, and protests were spreading.
Jones also began experiencing psychological and physical changes that later would be recognized as symptoms of post-traumatic stress disorder.
Back home in San Antonio, he was at a bar when another patron called him a "baby killer."
"In the middle of his tirade, I was just looking straight ahead." Jones said. But when the man grabbed him, his military instincts kicked in.
"In a second, I was back in Vietnam. I just beat the hell out of him," he recalled. "I probably would have done more damage but for the fact that my father appeared looking for me."
Jones' father, a former combat infantryman, knew his son could get into trouble. He told his son, "We need to cool you off."
Following the incident, Jones went to a nearby town for about a month to calm down and to reflect on how the war had affected him.
He taught math at Brackenridge High School in San Antonio, then worked in the oil industry, including stints as a field geologist and on an offshore drilling rig.
Even after returning to his teaching job, Jones recalled, "I was always on an adrenaline rush. I couldn't stop or settle down. It was difficult to trust people. I always had to be doing something."
He did some graduate work at the University of Texas San Antonio, then went to the Thurgood Marshall School of Law in Houston, earning his degree in 1979.
He got involved in politics in the 1980s, when Willie Velasquez, the charismatic leader of the Southwest Voter Registration and Education Project, asked him to help run the campaign for Walter Martinez, a San Antonio City Council candidate.
"And we won," Jones said.
He went on to run other campaigns, including two of his own for Congress. In 1996 and 1998, he ran as a Democrat against incumbent Rep. Henry Bonilla, a Republican, in the 23rd Congressional District, losing both times.
He became a vigorous advocate for veterans and helped create the Texas Democratic Veterans, part of the Texas Democratic Party. Jones said one of the group's victories was persuading the state Legislature to allow veterans to pass on their unused state-approved free college tuition benefits to their children. He is on the executive committee of the Bexar County Democratic Party.
Jones married his first wife while at St. Mary's, and they had a daughter. His second marriage came 50 years later.
He received the Army Commendation Medal, Bronze Star and the Air Medal for his service.
"It was an honor and a privilege to be given the opportunity to be an officer in the Army. To look back and have been a part of that group. … To the people that are serving now, they're incredible. We respect them and love them. There is no better thing a young man or woman can do than have the opportunity to serve."
Mr. Jones was interviewed by Catherine Murphy in San Antonio, Texas, on April 20, 2011.*
The Voces Oral History Project attempts to secure review of all written stories from interview subjects or family members. However, we were unable to secure that review for this story. We will gladly accept corrections from the interview subject or designated family members. Please contact voces@utexas.edu.