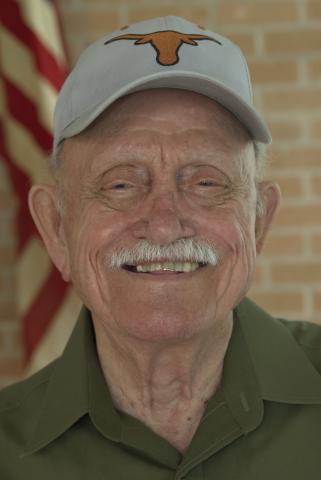 By Natasha Verma
"Two years, 11 months and 21 days," World War II veteran Charley Gonzales Kidder said with a smile. "That's exactly how long I served."
At 18 years of age, Gonzales Kidder was proud and honored that his country gave him the opportunity to serve during a time of strife. At the time of his interview, he was 85 and his feelings had not changed.
"I got to see a lot of the world and meet a lot of fine people," Gonzales Kidder said. "I'm very proud of the service I helped render."
Born on Oct. 4, 1924, in Bay City, Texas, Gonzales Kidder was one of five children of Benjamin Cleveland and Refugia Gonzales Kidder. He attended elementary school and high school in Bay City.
"I was a child of the Depression," Gonzales Kidder said. "But I didn't know the Depression as most people know it." Although his father died in 1933, in the middle of the difficult period, Gonzales Kidder's family still had money in the bank and a paid-for home.
"We never missed a meal," Gonzales Kidder said.
After graduating, he worked in packaging for The Coca-Cola Co. and as an automotive glass repairman. He was drafted at 18 to serve in World War II.
"I was so glad to be drafted because my mother didn't allow me to volunteer," Kidder said. His two brothers were also serving in the military, and although his mother constantly worried about her sons, she felt the need for their service commitment.
Gonzales Kidder was one of 38 men drafted on the same day from Matagorda County who wound up in the Pacific Theater. Kidder was the only one sent to the Air Force.
"I chose that branch, and I had good marks," Kidder said.
First, Gonzales Kidder was sent to basic training in Miami Beach, Florida.
"It was a beautiful experience," Kidder recalled. "We were treated fine and never worked to death."
Gonzales Kidder remembered marching from the hotel where he stayed to the golf courses where most of the training took place.
"I thought it'd be tough," Gonzales Kidder said. "But we had very minimal training and fired a gun a few times."
Several weeks later, Gonzales Kidder ended up in New York City, where he worked on airplanes in Hangar No. 4 at LaGuardia Field. He remembered staying in hotels downtown and taking a bus or subway to LaGuardia.
"We had class A passes," Kidder said, "so I didn't have to report to anyone. I had control of my (off-duty) time. I didn't mind this service at all."
Independent and away from Bay City for the first time in almost three years, Gonzales Kidder became well- acquainted with Manhattan and all of the museums.
"I loved it," Gonzales Kidder said.
Gonzales Kidder eventually was sent to a mechanic school in New Hampshire. He trained in mechanics for almost a year before the Air Force assigned him to a base in Finschhafen, New Guinea. Kidder worked on air transport commands and airplanes.
"I primarily tuned airplane engines," Gonzales Kidder said. "Each plane had four engines. My job was to keep the planes flying." Gonzales​ Kidder became a sergeant assistant crew chief. He ran engines to see if they operated but did not do any flying.
"This was good, because I didn't want to spend any time fighting," Gonzales Kidder said.
By the time Gonzales​ Kidder arrived in the Pacific, all bases were secured. He did not engage in any combat.
For three months Gonzales Kidder checked airplane engines. Then he was sent to Guam, where he found himself interacting with the locals.
"The people of Guam looked very much like Mexicans seen in Mexico," Gonzales​ Kidder said. "It's because from the 1800s until the war, Spain ruled Guam and intermarried within the island."
But this situation was different than what Gonzales​ Kidder had experienced in New Guinea. "We weren't allowed to mix with the natives," Kidder said.
Kidder was sent next to work in Saipan. It was there that Gonzales​ Kidder first became aware of the use of atomic bombs. On Aug. 6, 1945, the airplane carrying the first atomic bomb was launched from Tinian Island -- about five miles from where Kidder was stationed –- on the way to Hiroshima, Japan. The second bomb was dropped on Nagasaki on Aug. 9.
"I knew that once the bomb was dropped," Gonzales​ Kidder said, "the war would be over. I wanted the war to be over for a very selfish reason: I wanted to go home."
Upon returning to the U.S., Gonzales Kidder enrolled at the University of Texas at Austin, where he majored in journalism. He became politicized during those years and got involved in political activism on- and off- campus.
Gonzales Kidder was a founder and the first president of the Alba Club, an organization of Mexican-American students at UT concerned with discrimination and segregation against people of Hispanic descent.
In 1948, the group provided support to the League of United Latin American Citizens and the American GI Forum in a landmark school desegregation case — Delgado v. Bastrop Independent School District. According to the Handbook of Texas Online, members of the Alba Club interviewed parents of the children affected by discriminatory policies enacted by the Bastrop school district.
Gonzales Kidder married Ernestine Mojica in January 1949, the same year he started his reporting career at his hometown newspaper, the Bay City Times. He later worked for the El Campo News, the Wharton Journal and the Victoria Advocate. He retired from his position as classified advertisement manager in 1989 after 30 years in the industry.
Looking back on his life, Gonzales Kidder said he wouldn't trade his adventures in World War II for anything. He had traveled to New England's mountainous areas and Manhattan museums with his wife to relive the experiences. Naturally curious, he was able to learn new things overseas and open his eyes to more of the world around him.
"My military service was an expansion of my life," Gonzales Kidder said.
Mr. Gonzales Kidder was interviewed by Liliana Rodriguez in Goliad, Texas, on July 20, 2010.