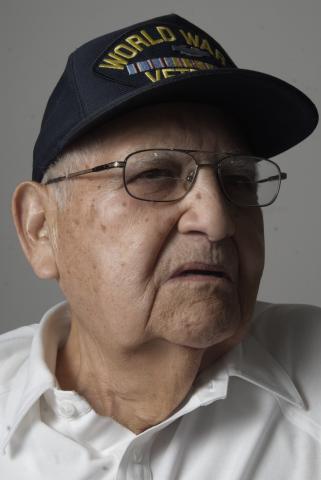 By Erin Brady
Cirilo Primo Arteaga's parents came to the U.S. in 1918, fleeing the violence that followed the Mexican Revolution. His parents instilled in him a deep sense of patriotism for their adopted country. He also learned an appreciation for Mexican culture that he carried with him all of his life.
"I've been blessed," he said, "because I can celebrate Cinco de Mayo and Mexican Independence Day as well as the Fourth of July."
As a Mexican American growing up in Wichita, Kansas, he endured discrimination, including punishment for speaking Spanish at school. But he refused to stop. "I knew it was my language," he said.
That fortitude stayed with him as an adult, both as an Army scout in the Pacific during World War II and later as a vigorous advocate for his community.
"I'm very tenacious when it comes to fighting for our rights," he said.
His parents, Eleuterio and Carmea Arteaga, crossed into the United States at El Paso, Texas, in 1918, and later settled in Wichita. Cirilo was born on June 9, 1924, one of the couple's five sons.
He was only 6 years old when his father, a construction worker, died in a car accident less than a block from their home. Neighbors helped the family with food at Thanksgiving, toys at Christmas and other support. Their generosity, Arteaga said, "is why I have dedicated my life to helping other people."
He saw an example in his mother, who was dedicated to their Catholic church, Our Lady of Perpetual Help, and her community. During the Great Depression, she collected groceries for poor families and always treated them with respect. He didn't appreciate how big her impact had been until he saw how many people came to pay their respects at her funeral.
At North High School, Arteaga said his wrestling coach "was probably the closest thing I had to a father..."He would tell me that our culture was second to none, and to be proud of it."
Arteaga excelled at sports, and his success won him acceptance by his Anglo classmates. When he won the state wrestling championship in his weight class in 1942, "it was a glorious feeling, because I was the only Mexican in the whole tournament."
Afterward, Anglo students who had shunned him began to acknowledge him. "That's when I learned that everybody loves a winner," he said.
Pearl Harbor upended his family; four of the five Arteaga brothers would serve in the military.
"I can remember Dec. 7 like today," he said. He was a high school senior, working at a golf club on a Sunday morning, when the caddie master announced that the Japanese had attacked Hawaii and that the U.S. was at war.
Only devotion to his mother kept Arteaga from enlisting immediately. Three of his four older brothers were already serving, so Arteaga waited for the draft. During his wait, on March 25, 1944, he married Beatriz Gutierrez, a grade-school classmate and social worker.
Arteaga's call to duty came in June 1944. After basic training at Camp Fannin, Texas, he was sent to Fort Ord in California, where he was assigned to Company F, 17th Regiment, 7th Infantry Division.
His mother had told him that war was hell. When he reached the Pacific, he quickly saw that war was far worse; it was "triple hell."
Arteaga survived bitter battles during his service and was never injured. "We liberated Leyte" in the Philippines, he said, and then moved on to Okinawa, where he was promoted to corporal. He recalled Japanese kamikaze pilots coming all night.
As athletic director of his division on Okinawa, Arteaga tried to help soldiers who had received heartbreaking "Dear John" letters from girlfriends back home. Some were driven to suicide. He procured sports equipment from a girls school to keep the men occupied.
In August 1945, Arteaga transferred to Company H before being sent to Korea to serve with occupying forces after Japan surrendered. He was discharged in July of 1946 and returned to Wichita.
"When I came back, my wife said I had gone as a young boy and came back as a man," he said. "It was quite an adjustment; I was kind of shell-shocked." Even the sound of fireworks on the Fourth of July rattled him.
Arteaga worked for the post office from 1948 to 1972, including as an Equal Employment Opportunity investigator and counselor starting in 1968. He also was frequently on loan as a translator for the FBI, immigration authorities and the public defender's office. In that role, he tried to help immigrants who had been caught being in the U.S. illegally.
He and his wife adopted three children: David J., Maria Elizabeth Leal and Robert Navarrete.
After the war, Arteaga also became involved in sports, directing the first Wichita Mexican-American basketball tournament in 1948. He continued in that role until 1972. Among his many other
community contributions, he was commissioner of the Wichita Parochial League for 25 years. He helped the school board win a $237,00 grant to develop a bilingual education program. He also helped create the first city recreation center in El Pueblo, the cultural center of the Mexican-American community. The park has tennis courts and a swimming pool -- amenities he did not have access to as a child.
When people in the Hispanic community needed help, they would go to Arteaga. He knew whom to contact, and he knew they would answer his call and do what they could.
In 2006, the City of Wichita issued a proclamation honoring him. In 2008, then-Kansas Gov. Kathleen Sebelius gave Arteaga the Governor's Distinguished Community Service Award for his 65 years of volunteer work.
Arteaga said he was proud of his military service and the service of all Mexican Americans in World War II, many of whom won Medals of Honor. His own decorations included a Bronze Star, a Combat Infantryman Badge and a Good Conduct Ribbon. "We've got a record that won't stop," he said. "That's why I feel that we belong here."
Cirilo Arteaga died on April 21, 2011. He was survived by his daughter, his son David, three grandchildren and five great-grandchildren,
Arteaga was interviewed in Wichita, Kansas, on June 15, 2010.