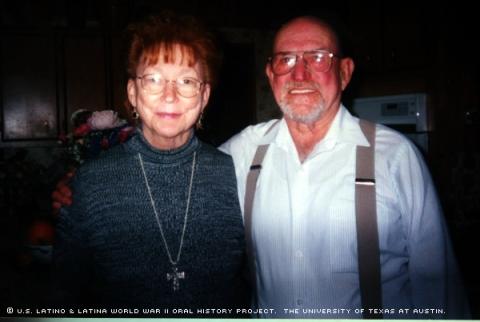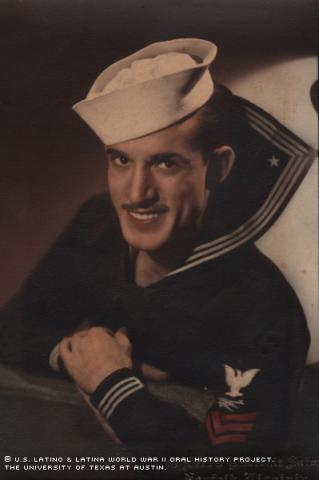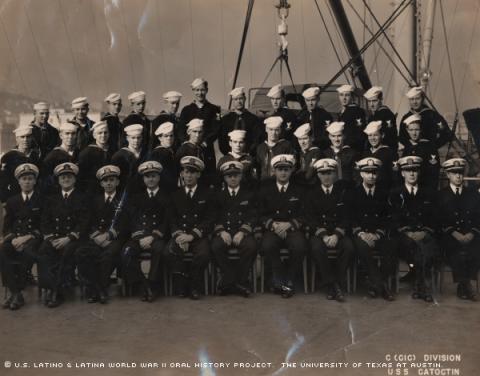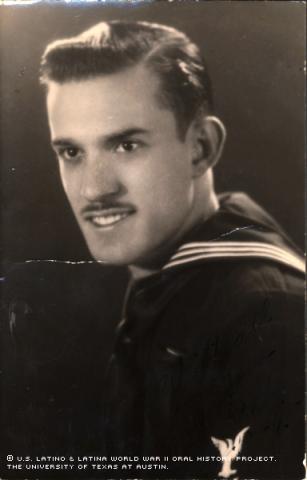 By Jane Slater and Chris Schulz
It was a Sunday in 1941 when Delmiro Isidro Elizondo bought a movie theater ticket. As he did, he learned about the attack on Pearl Harbor.
His life would never be the same again.
His day, as always, had begun at 5 a.m., when he opened the family's grocery store on the outskirts of San Antonio, Texas. At noon, he hopped on a bus to the city and caught a double feature at the theater.
But Dec. 7, 1941, would alter his routine and bring him closer to his destiny. By the following year, he'd be inducted into the service.
Armed with a pilot's license he already had by virtue of his love for flying airplanes, he volunteered for the Army Air Corps at 18; however, recruiters had different plans for him.
"I went to the office to pick up my papers and the personnel officer handed them back to me and said, 'Here you are sailor.'"
Incredulous, Elizondo responded: "Sir, I volunteered for the Air [Corps]," then turned to the Air Corps recruiter standing nearby.
"You have your orders," said the Corps recruiter indifferently.
Although disheartened, Elizondo reported for basic training in San Diego, Calif. Every morning at 3 am, he'd rise and march alongside more than 100 other Mexican Americans from San Antonio, few of whom would own up to understanding English. When the captain asked his unit who among them spoke English, only he replied.
Soon, he was marching next to the captain, yelling out interpreted orders in Spanish, to which the troop would respond, "Si, capitán."
"Man, I thought this was going to be trouble," said Elizondo, chuckling over the informal promotion. "But I looked to the captain, who just laughed."
Elizondo asked the captain what it took to obtain his rank, and was directed to headquarters to seek a position. After reviewing his file, which indicated he had scored extremely high on a series of tests, he was placed in a top-secret radar school, so security-minded that notes he'd taken in class weren't permitted to leave the building.
For three weeks, he'd sit in a lecture hall learning about the new technology. Afterward, he returned to base and received orders to report to Philadelphia in two days. Twelve days and countless plane and car rides later, he and his duffel bag were rushed onto a ship awaiting him at the dock. The USS Catoctin, the flagship of the 7th fleet carrying a crew of 1,000 men on the Mediterranean Sea, had been waiting six hours just for him. It dawned on him then just how important his assignment in the European Theater would be.
"I was a very sick sailor," said Elizondo of his first experience aboard a boat. As a kid growing up in San Antonio, never once had he come into contact with a ship.
He was directed to the Catoctin's Combat Information Center, a room filled with the latest technology, including radar. He tracked ships on the radar screen and kept the fleet alert of enemy boats and planes, called "bogies." He also plotted the vessel's course; the ship was often targeted by the German navy and subject to enemy frogmen and subversive attacks.
Among Elizondo's duties was assigning crew members to missions on land, which proved to be morally problematic. This mission came at a time when Gen. George Patton asked Vice-Admiral Kent Hewitt, the U.S. expert on amphibious landings, for assistance.
"I turned to my superior and asked how I could possibly send 10 men to risk their lives and not risk mine," Elizondo said. "It was at this point that I put my second in command in charge and went with the men ashore."
As part of the invasion of Southern France on August 15, 1944, he'd help scour the French countryside for intelligence.
"We hit the zero zone at about 4:30 in the morning," he said, recalling the operation's first moments. "At about 5:30, they gave us orders to land . . . we found out later that about 350 people had died during the invasion.
"One time I was walking with two others down the sidewalk and across the street; walking the opposite direction were three more sailors," he said. "And all of a sudden, machine guns fire and they kill the three sailors."
Surrounded by destruction, one incident sticks out. On a mission to defend a road, Elizondo encountered a vacant house atop a hill. It had been left so perfectly intact that someone could have still been living there. Knowing his orders focused on annihilation, he told his troops it was amid a minefield and ordered them to let it stand, unable to bear the thought of destroying the beautiful home.
On his final voyage, Elizondo was en route to the Pacific Theater when atomic bombs were dropped on Japan, setting the stage for the war's conclusion. He was discharged Jan. 10, 1946, as a Radar Man 1st Class.
Back home after the war, he faced personal loss: Two years after his discharge, his father died of cancer. His wife, Yolanda Garza, also succumbed to cancer in 1968. The couple had been married 12 years and had two children, Diana Maria and Mary Alice.
Elizondo now lives in Spicewood, Texas, with wife Nelwyn Ruth Dodd, whom he married in 1970.
Mr. Elizondo was interviewed in Spicewood, Texas, on April 17, 2002, by Kevin Klauber.