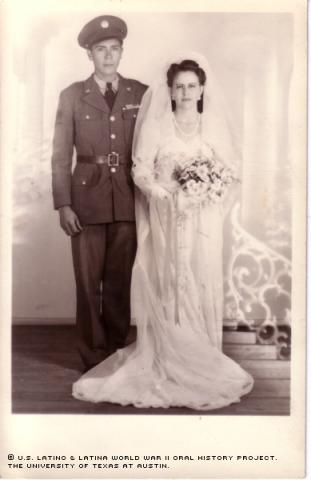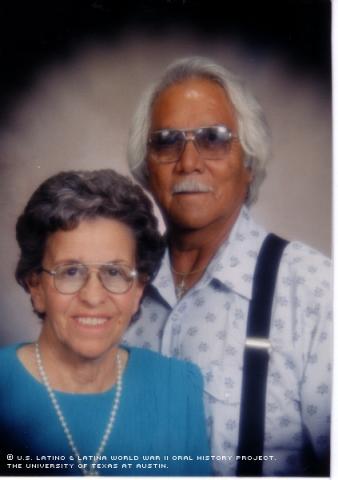 By Allison Mokry
While many Latinos served their country and fought for survival overseas, Elvira Sena had her own struggle during World War II: helping her family pull through tough economic times while trying to finish her schooling.
Sena grew up on her family farm in Las Cruces, N.M., the second oldest of seven children: four boys and three girls. Her father, Alberto Trujillo, supported the family by ranching and delivering mail, while her mother, Lucianita Trujillo, was a housewife.
Lucianita was often ill. So Sena, being the oldest girl, became a "second mother" to her younger siblings.
When it was time for her to enter the training school at New Mexico Highlands University in Las Vegas, N.M., the war was under way and tough times had gotten tougher.
Sena says her family was lucky because they had cows and pigs on their farm that they used for meat, as well as vegetables from their garden they'd harvest and can. Her father also received stamps for gasoline because of his job carrying mail.
"It was so difficult to buy things," Sena said. "It was very hard for a lot of people. We didn't go through too much trouble. My father was a very, very good supporter."
Sena's roles in the family ranged from taking care of her siblings to helping her mother with canning. The whole time growing up, her family had no electricity or running water.
"It was hard, very hard," she said. "I guess maybe that's why there wasn't so much trouble because everyone was so busy."
Even though times were difficult, her father still managed to put Sena and her older brother through the private training school in Las Vegas.
"I wanted to work to help pay because it was a big family, but he wouldn't let me work," she said. "[He would] go out and sell a cow or something and give me whatever I needed for school. Just the essentials, nothing extra. It was very hard, but we pulled through."
Education was very important to Sena, and in the war she saw an opportunity for more. She wanted to enlist for military service because she wanted to go into nursing and thought it would pay for her schooling. Even so, her mother didn't like the idea.
"She said military is not for women," Sena said. "I did not see it that way but she did and she said, 'No, that's not for you.' I just wanted an education."
After a blind date in December of 1944, plans for her education were put on hold.
Sena was set up with Luis Sena, who'd just returned from overseas, and her cousin was set up with his brother. Luis had served in New Guinea, earning many medals, including a Purple Heart.
Sena says they spent a long time talking and he was "respectable and very nice to me."
Not long after that first meeting, Luis proposed and they were married in January of 1945.
"It was just a few weeks," Sena said. "I have not regretted any bit of it. I have five children and they are all healthy."
Sena says Luis wanted her to finish school, but her father insisted she go with her husband because she made the choice to get married.
"I missed my parents very much and my brothers and sisters," she said. "I had never been away from home for that long of time, but we did it and we are still married."
Even though she left school to go with Luis, her dreams of finishing her education and becoming a nurse weren't completely shattered: She went back and finished high school after she had her first child, and subsequently began taking college courses.
Sena began working for New Mexico State Hospital (now Las Vegas Medical Center) in 1952 until she retired in 1998, after 30 years of service. She eventually became a LPN, or licensed practical nurse, though she never went to school to become one. Sena challenged the board and passed the state board tests. She still works part time at a doctor's office.
Almost 60 years after the end of WWII, Sena still prays for peace and respect in the world.
"We should just stop the wars and try to live in peace," she said. "I pray for peace all the time because that is what we need. We need to look at each other and help each other."
Mrs. Sena was interviewed in Santa Fe, New Mexico, on November 3, 2002, by Adriana Lujan.