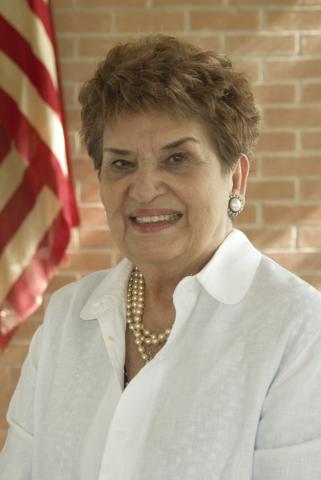 By Haley Dawson
Ernestine Mojica Kidder vividly recalls one of her earliest memories as a young child in Taylor, Texas. Her father lifted her into his arms and pointed to a schoolhouse in the distance. "That's where you're going to school as soon as you're old enough," she remembers him saying. "When you're 6, you're gonna go to school."
A child of the World War II era and a woman of the Civil Rights era, Mojica​ Kidder was among the first Hispanic women for whom a higher education became both a possibility and a reality.
The daughter of a laborer, Mojica​ Kidder is now retired after teaching for 26 years and spends her time as a community leader in Victoria, Texas. Her story demonstrates what the early Chicano Movement did for those who seized the opportunities it fought for.
Her father called himself a laborer, but he wanted something better for his five children. With his encouragement and the environment of change in which Mojica​ Kidder grew up, she was able to meet his expectations and become educated and successful.
Kidder's father left his job as a ranch hand in in the mid 1930s and moved his family to Austin, where Kidder attended Palm School. She spoke hardly any English, so she struggled at first. Thanks to her parents' encouragement, Mojica​ Kidder was able to pick up the language over time and quickly began to love school. "English was my favorite subject," she remembers.
When the United States entered World War II in 1941, Mojica​ Kidder was in the third grade. Although her family experienced the war as most other civilians did, receiving ration tickets for certain foods and goods and participating in bomb drills, she remembers that her parents did what they could to protect her and her siblings from fear.
Mojica​ Kidder had not yet reached high school when the war ended, so the social changes sweeping the nation during the post-war era affected her far more deeply than the war itself.
Soon after the war, Mojica​ Kidder met an Air Force veteran named Charley Gonzales Kidder who had recently moved to Austin to attend the University of Texas. They fell in love and married young, but as her father had always insisted, she finished high school before completely settling down. As did many women, Latina women especially, she set aside further education to start a family.
Mojica​ Kidder did not experience the hardship of hateful racism as a young adult.
"The term 'discrimination' was kind of tossed about here and there," she recalls. "It didn't mean an awful lot. We [Hispanics] didn't feel discriminated against."
She instead felt the sting of missed opportunity. At her high school, certain programs, scholarships and clubs were, in a manner unspoken, reserved for white students. It was simply understood, she explains, that "Hispanics needn't apply."
Discrimination was present, but more so in some areas than in others. According to Rodolfo Acuña, author of "Occupied America: A History of Chicanos," businesses and schools around the nation were still segregated, and mainstream American society had not yet accepted Hispanics as equals. Hispanic soldiers returned from combat empowered and enlightened to the struggles at home and formed organizations to combat segregation and inequality.
Mojica​ Kidder's husband was active in this pursuit. Around the time the couple met, he was active in the GI Forum, which had formed in 1948 to combat prejudice against Hispanic Americans and to promote education.
He was also a founding member and the first president of the Alba Club, a group that pursued similar interests at the University of Texas. In the late 1940s, the Alba Club and the GI Forum joined forces with the League of United Latin American Citizens in the case Delgado v. Bastrop Independent School District, which challenged the segregation of Mexican Americans in public schools in Bastrop, Texas.
Mojica​ Kidder did not participate in the political activism her husband pursued. According to Lisa Martinez, author of "Contours of Citizenship: Women, Diversity and Practices of Citizenship," in the early Chicano Movement men fought against injustice for themselves while women were largely left out of the equation. Mojica​ Kidder, however, found her own voice. She decided to promote change by educating others.
Mojica​ Kidder returned to school with the support of her husband and children and earned bachelor's and master's degrees from Southwest Texas State University, now Texas State University. She taught at a number of institutions before achieving her dream of teaching at Victoria College in Victoria, Texas.
"I was just then beginning to get the idea that -- wow! -- we are supposed to think for ourselves? We are supposed to do things?" Kidder said of her epiphany. "What can I do? What kind of role can I do?"
Mojica​ Kidder's love of education has directed her life's path as well as her efforts to enrich the lives of others. In her retirement, she works with programs that promote education. She aims to present the opportunities she had to some who otherwise would not have them. Most notably, she is a member of the Latina Forum in Victoria, which awards scholarships to exemplary young Latina women.
Recounting a trip she took to Europe with her husband, Mojica​ Kidder reflected on how far she has come.
"[From] this little girl in Taylor that was held up to look at the school, and who went to first grade and didn't know what was going on, and then … " she smiled. "I've been so blessed."
Mrs. Mojica​ Kidder was interviewed by Taylor Peterson in Goliad, Texas, on July 20, 2010.