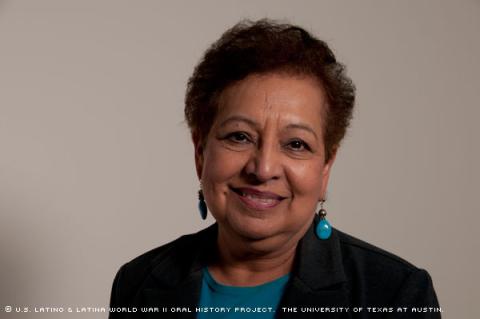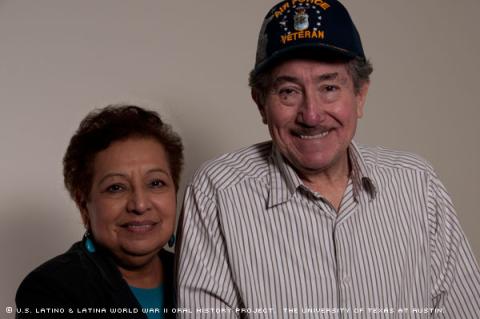 By Joshua Barajas
As a spouse whose husband was stationed in the Philippines during the Vietnam War, Eugenia "Jennie" González Alemán couldn't just sit at home waiting for him to come back: She wrote letters for mortally wounded American servicemen.
"They would cry and would be hurting -- [men] of all ages," Alemán recalled. "But I really got touched by the young ones, I guess, because I would think of my [younger] brother," she said, referring to Domitilo A. Gonzales, an Air Force mechanic.
González Alemán was far from her tiny hometown of Rosebud, Texas, 160 miles northwest of Houston. She was born on Aug. 21, 1940.
"Rosebud is just a plain, little town. Nothing else. There's no activity there except what the people make," she said.
González Alemán came from a strict and close-knit family. As the oldest of four children, including a brother who had died at eight months, she was expected to take on responsibilities not normally expected of children her age.
González Alemán earned the respect of the community's older members because of her volunteer work, a virtue her parents instilled in all their children.
One of the ways González Alemán helped others during her childhood was to help fill out immigration applications for the migrant workers that traveled through the town looking for work.
"To be very honest. I don't think I had a childhood," she said. "I was never a real kid. … But at the time, I didn't know the difference."
Rosebud was a segregated community. Black, Latino and Anglo students attended three different schools. The Anglo school, González Alemán recalled, was a big red brick building. Forty Latino children, grades 1 through 4, shared a one-room dilapidated shack. The students sat on benches as one teacher taught them the alphabet and basic arithmetic.
Charlie Brown, a wealthy Anglo man who employed Aleman's father as a rancher and farmer, intervened and arranged for Aleman to be transferred to the Anglo school. Aleman says how he managed that favor is still a mystery.
At the Anglo school, Aleman said she was essentially alone. "I was a loner," she said."Not because I wanted to be a loner, but because I was the only [Latina]."
While most young Anglos were genial to González Alemán, she remembers a trio of boys that would bully her because of her ethnicity. When the Latino school closed three years later, more Latinos were transferred to her school and she felt more comfortable.
González Alemán was not allowed to date until she was 19. She soon met John, her future husband. She said he was a shy man. They met during church bingo, where she volunteered passing out cards and calling out bingo numbers. After attending several church functions together, their relationship deepened.
After high school, John Aleman attended Sam Houston State University and prepared to serve as an Air Force officer. Eugenia Aleman moved to nearby Waco, Texas, to look for work. Their monthly visits increased to weekly ones, and they soon married. Before their first anniversary, John Aleman received his deployment orders. It was 1966, and war raged in Vietnam.
In San Francisco, Aleman said goodbye to her husband and cried on the bus ride back to Waco. But she was unwilling to endure their separation, and she eventually decided to follow him to the Philippines.
"I didn't even have second thoughts about it," she said. "I felt that my responsibility then was to join my husband."
Her family did not attempt to interfere with her decision to join her husband.
"My parents felt that girls, once married, would always have to be with their husbands," she said.
González Alemán had to wait seven months before they could reunite at Clark Air Base, the mainstay of Air Force logistical support during the Vietnam War.
When González Alemán failed to find a job on the base, she resorted to what she had done all her life: she volunteered. As part of the Catholic Women of Clark Club, she visited the base hospital to comfort seriously wounded soldiers. She sat by their beds and chatted or wrote letters to their mothers, girlfriends and other loved ones back home.
Aleman said she was touched by the messages the soldiers needed her to write, including simply "I love you" or "pray for me because I am very injured … I may die and never see you again."
As she assisted these soldiers, she thought of her brother, Domitilo. She worried for his safety, but, she wrote later, he "was very fortunate to come home safe and sound."
Sometimes, González Alemán recalled, her husband was sent away to another faraway posting, and every parting, she said, felt like a final goodbye. He couldn't offer details about his assignments, not even when he might return.
González Alemán lived on the air base for two years. She said it was an environment free from discrimination. While she and her husband were the only Latinos in their immediate circle of friends and colleagues, the base showcased an array of races, a fact that, to her, became less significant in wartime. Filipinos, Aleman remembered, found her fascinating because her skin was as dark as theirs. She recalled later that "they wanted to touch me because I had round eyes and had similarities to [former First Lady] Jackie Kennedy."
The couple finally reunited, returned to Waco in 1968 and then later moved to Houston. The transition was not easy. Despite John Aleman's service during the war, he and his wife had trouble securing work, much less a home or apartment to rent.
"It hit us like a bunch of bricks," she said. "It was sad. It was very hard [adjusting]."
González Alemán suspected there was a racial element to their dilemma. She suggested that her husband, who could pass as white, go alone while looking for a place to rent. He refused.
"He said, 'No, we go together. If they don't take us, they don't take us,' " she remembered.
Despite the obstacles they faced, the Alemáns were not inspired to join the Chicano civil rights movement. Aleman considered the movement too militant.
"I've pushed to get ahead, but I don't believe in threatening people. I don't believe in being ugly about it," she said. "I just believe on asking for what rights I have."
Mrs. González Alemán was interviewed at the University of Texas Medical School at Houston on April 8, 2011, by Joshua Barajas.