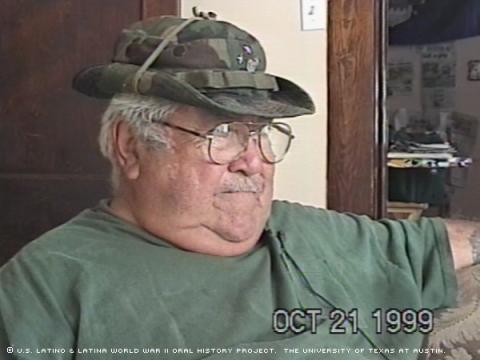 By Susan Miller
Felipe and Mary Soliz live in a well-kept, modest house in a quiet neighborhood right at the entrance to town. Their home is filled with flags and war portraits in every corner. Mr. Soliz is a veteran of WWII and the Korean Conflict.
"We love the flag; we honor it and we protect it," he said.
Soliz, 72, was a technician for the U.S. Air Force in WWII; during the Korean Conflict, he did administrative and technical work. He retired from the Air Force in 1967.
Soliz was born in Harlingen, Texas, on Jan. 23, 1927. He and his two brothers and three sisters grew up the Rio Grande Valley, where Soliz's parents, both natives of Mexico, decided to settle.
Soliz went to elementary and junior high school in Harlingen through the 8th grade, but he didn't complete high school or receive a diploma. He said he didn't experience too much segregation in the classroom because the school he attended was predominantly Mexican American. Blacks were segregated, however, in his community.
In school, Soliz was luckier than other children because he learned English from his brothers and sisters, who studied it in classes before he did. Soliz remembers his family financially struggled when he was a child, but his father, who worked in a grocery store, always made sure they were taken care of. His parents carried the load for the whole family.
Although the Depression came two years after Soliz was born, he remembers his family always had the necessities: a car, food, toys and shelter. He said he found ways to play in the neighborhood.
"One kid that was pretty well-to-do, first guy that had a bicycle, first guy that had a BB gun, first guy that had a ball and a bat, and we'd go out there and play ball with him," he said. "And if he didn't like it, the way the game was going, he'd take his bat and ball and the rest of us would just sit there, find something else to do. Being young, to me, I wasn't worried."
Soliz's mother died when he was in the 5th grade. Approximately seven years later, his father died, and that's when the struggle began. He went from a fairly secure home to jumping from sister to brother, to grandparents and aunts and uncles. Then the military came into his life when he was 18; he registered for the draft in 1944.
"I found a home in the Army," Soliz said.
"Luckily, I passed the physical and everything. … "It was just a duty I felt had to be done."
Soliz caught the tail end of WWII in 1945 when he was sent to Germany, where he spent 33 months. The Air Force trained him in radio and wire communication.
In Germany, Soliz helped with the Aviation Engineers. He was also put on detail guarding German prisoners of war.
Soliz had good relations with the Germans. He taught them English, and they taught him German. They would practice talking to each other in different languages.
He remembers Germany being completely bombed out, no street signs and no lights, complete darkness at night.
Both Soliz's brothers were also in the war. One was involved in the Bataan Death March; the other in the Battle of the Bulge, one of the most important fights of the war.
He recalled his different feelings before and after the war.
"You go under the Golden Gate in San Francisco, and you're going overseas and everybody's up on deck looking at the bridge go by. Nobody's saying anything, just looking at it. And, you stay out there, out of sight," he said.
Afterward, returning home, the scene changed.
"But when we come back, everybody's happy, laughing," Soliz said.
When he came back from the war, he decided to stay in the Air Force and was assigned for three months to Kearny Air Force Base near Omaha, Neb. From there, he came back home to Texas, where he was assigned to Bergstrom Air Force Base in Austin. He has stayed in Austin ever since.
In addition to serving in World War II, Soliz went to the Korean Conflict for a year, sent there six months after marrying Mary. The couple has 13 children, seven boys and six girls; they've been married for 50 years. Soliz has 24 grandchildren and four great-grandchildren. During his interview at his home in Lockhart, 25 miles south of Austin, children of all ages ran through his house playing. During the interview, a 2-year-old repeatedly tripped over the microphone cord of his great-grandfather, who patiently called to a grandchild to take the toddler elsewhere.
With so many children, it hasn't always been easy for Soliz to remember all the details about his offspring.
"One Sunday morning, there's a knocking on the door, "'Bang! Bang!'
"Out the window, 'Yeah, who is it?'
"'Austin Police Department, like to ask you some questions.'
"'O.K., wait a minute.' Got in my bathrobe, opened the front door. 'Yeah, can I help you?'
"'Is that your son in the car?'
"I look out there. My son's in the police car waving at me. "'Yeah, that's my son.'
"'How old is he?'
"And, I says, 'Look, I had big party last night. I got a hangover this big. I got a wife, 13 kids, one dog and two cats, and you're asking me his age.' Boy, he started laughing, and [said,]
"'O.K., as long as you say that's your son, that's your son. Go back to bed,'" Soliz recounted.
Soliz believes the lives of Mexican Americans have changed since World War II. A lot of veterans took advantage of the GI Bill of Rights. They got an education, training, housing and loans.
Soliz is also a member of the Catholic War Veterans, an organization that contributes to the community. He dresses as Santa Claus around Christmas time to raise money for the needy. The organization also provides scholarships and participates in parades to honor veterans. For the group's members, patriotism is the tie that binds.
Soliz also believes relations between Mexican Americans and Anglos have improved since the War. When he was growing up, there were signs everywhere: "No blacks, no dogs, no Mexicans."
"But people don't see that anymore; times have changed," Soliz said.
Soliz said one advantage Mexican Americans had over blacks was in movie theaters. Growing up in the Rio Grande Valley, Mexican Americans could go anywhere they wanted, but blacks had to go to the top of the balcony, he recalled. They could even go into the white bathrooms. In other parts of Texas and the Southwest, however, Mexicans and Mexican Americans were restricted to the balconies of theaters.
Soliz didn't experience too much discrimination in his workplace. In the Air Force, he felt like an equal fighter for the country. He recalls one incident in the Army with his Mexican supervisor.
"He says, 'You must be a typical Mexican.'
"And I says, 'In your opinion, what's a typical Mexican?'
"'Drink beer every weekend and barbecue every weekend.'
"'Well, I do that; not every weekend, but frequently, quite often. But here's the difference between me and a typical Mexican' (Like I told you earlier, I read a lot.), and I says, 'Did you ever read Tolstoy?'
"'No'
"'Did you ever read Hemingway?'
"'No'
"'Did you ever read John D. Macdonald?'
"'No'
"'Did you ever read Time magazine?' And, I kept mentioning authors that I read," Soliz recalled.
"And I said, 'Now am I a typical Mexican?' And he said,
"'I didn't know you were that well read.'
"And, I said, 'Hey don't judge everybody by the cover.'"
Soliz said he wants his children and grandchildren to know the hardships, adventures and joys of his life; he wants them to learn from his own mistakes. He said he feels the young generation of Mexican Americans doesn't have the same drive his generation had: About half want to contribute to society, while the other half want to be gang members, he said.
To Soliz, who didn't take advantage of schooling when he was in the military, the most important task for young people to complete is to get an education. He said he hopes his grandchildren will get one.
"I tell him, 'Hey, education, education, whatever you can get, get the education,'" Soliz said.
But, all in all, he's content with the way his life turned out. He wants his family to be happy as well, because he said he finds happiness to be the most important factor in life.
Mr. Soliz was interviewed in Lockhart, Texas, on October 22, 1999, by Susan Miller.