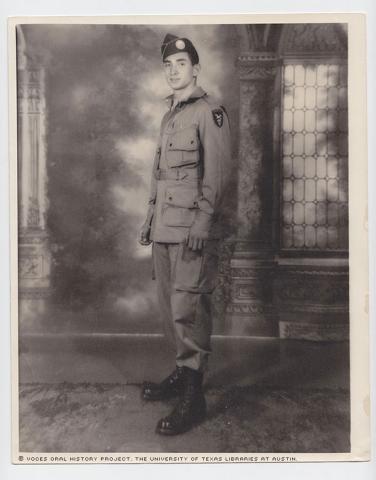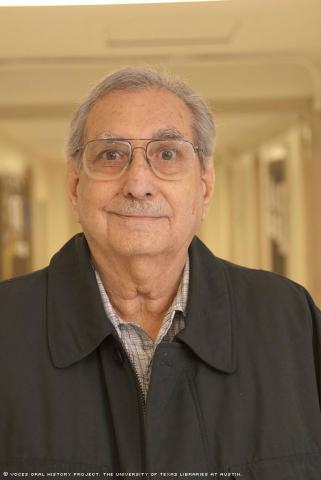 Interviewed by
Vicki Torres
By Kimberly Tran, California State University, Fullerton
Although he never talked much about his wartime experiences, Frank Aguerrebere parachuted into the Normandy Invasion and fought in the Battle of the Bulge, two of the bloodiest and most decisive clashes of World War II.As an 82nd Airborne Division paratrooper, he he jumped over Normandy on June 6, 1944 and then over Holland in Operation Market Garden in September 1944.
He recalled the bitter cold of the month-long Battle of the Bulge, where he fought the Germans alongside British troops. He remembered that they had limited ammunition and their clothing was not suited for the cold. Some men from his unit suffered from trench foot, a painful malady resulting from prolonged exposure to dampness, cold and unsanitary conditions. They were sent back from the front for treatment. When asked whether he ever got trench foot, Aguerrebere laughed and replied, "I tried!"
But his lightheartedness belied the grueling hardships that he and the other men suffered at the front, when he was just 19 years old.
Aguerrebere was drafted into the U.S. Army at Fort MacArthur, in San Pedro, Calif., on Sept. 17, 1943. He was never wounded. However, he lost friends in battle.
He recalled getting lost behind enemy lines once, when he was trying to return to his command post to start a furlough. He became disoriented as he crossed a river while carrying enemy arms that he hoped to sell during his furlough for spending money.. But the weapons were lost in the water. Then he wandered around for a couple days hearing German voices at campfires and along the way.
Aguerrebere was so tired and worn out one night that he considered surrendering to the Germans. But he persisted and eventually found other U.S. soldiers from the 508th Regiment, rather than the 505th Regiment, to which he belonged.
"What are you doing out here?" he recalled that the surprised GIs asked him. He was taken by Jeep to a rest camp in Belgium, before being reunited with his unit. He missed his furlough as a result of getting lost.
For his service in the Army, the paratrooper received 14 medals and commendations.
Aguerrebere, who grew up in Los Angeles, was the son of Francisco Aguerrebere, a carpenter and secretary of the Freemasons, and Guadalupe Ilizatiturri, both of Basque descent. He had two brothers and three sisters.
Both of his brothers also served in the military. Joseph Aguerrebere served in the Navy, and Armando Aguerrebere served in the Air Force after World War II.
Frank Aguerrebere was one out of six children. He helped take care of his siblings at a young age, which helped to prepare him for the military. Both of his parents were from Mexico and immigrated to the United States for a better life, he said Aguerrebere would communicate with them in Spanish and spoke English to his siblings.
They would celebrate birthdays and play Mexican music during their festive gatherings. Aguerrebere's father worked hard and struggled looking for jobs, but he managed over time to take care of the family. They lived in a two-bedroom house, which meant all the children initially shared one bedroom. His father built an additional bedroom behind the house, where the future paratrooper and his three brothers stayed. His father was the only one who owned and drove a car, and would take his mother to work.
Aguerrebere was born on March 9, 1925. He recalled that his family received food and clothing from the county to help them through the Great Depression. He attended Catholic schools throughout his childhood in Los Angeles, including Humphreys Elementary and then Our Lady of Soledad Catholic School and the school at the Cathedral of St. Vibiana for junior high. After advancing to ninth grade, Aguerrebere attended James A. Garfield High School, in East Los Angeles and then earned an associate's degree from East Los Angeles College.
Aguerrebere got his first job as an extra at MGM Studios, in Culver City, near Los Angeles. Then, while he was still in high school, he worked at a macaroni store where he prepared the dough for the pasta. He also worked at other jobs while in high school, including La Barca de Oro, a candy store where he helped make Mexican sweets, and the WACO sewing factory, where he was a shipping clerk. His last job before entering the service was loading trucks in Los Angeles for a freight line.
He had wanted to pursue a career as an engineer, but his college grades were not good enough, he said. And then he got drafted.
When WWII ended, he was serving in France. He returned to the U.S. and participated in New York City's Victory Parade. He was discharged at Fort MacArthur, in San Pedro on Jan. 19, 1946. That same year, he married Ageda "Aggie" Torres, and they had five children: four daughters, Yolanda, Carolyn, Estella, and Grace, as well as a son, David.
After his discharge, he was unemployed for a year and finally was hired at O'Keefe & Merritt, a Los Angeles-based maker of kitchen stoves, but he quit after a few days because he said that the job was too dangerous. He then worked for Los Angeles County, first as a soil inspector for the Flood Control Division, and then as a home and building inspector until his retirement in 1990.
Aguerrebere used music to recall the past, through such Big Band orchestra leaders as Harry James, Benny Goodman, and Glenn Miller. Aguerrebere also kept up with current events by reading the Los Angeles Daily News, the Los Angeles Times, and the Los Angeles Examiner.
He also was a member of several veterans' organizations, including the American Legion, Veterans of Foreign Wars, and veterans of the 505th Parachute Infantry Regiment, 82nd Airborne Division.
At the time of his interview, Aguerrebere was retired and living with his wife Monterey Park, a city in the eastern suburbs of Los Angeles.
Mr. Aguerrebere was interviewed by Vicki Torres in Los Angeles on January 7, 2011.