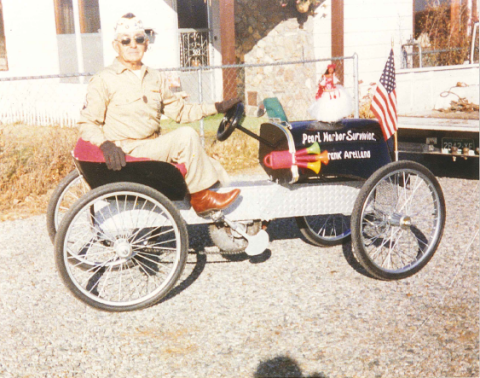 By Veronica Sainz
In the early morning of Sunday, December 7, 1941, 22-year-old Frank Arellano had just gone down for breakfast at Schoffield Barracks, on the Hawiian Island of Oahu, when he heard the sound of machine guns firing. He looked up and saw a group of planes diving to the left.
"I could see the red rising sun on them and I noticed their wheels were down," Arrellano said in an interview last fall.
Arellano intended to be on leave that afternoon. Instead, he and the rest of the 24th Division withstood the "Day that...will live on in infamy,'' or as President Franklin D. Roosevelt would call it: the Japanese attack on Pearl Harbor.
At the time, Arellano was like countless other young men who joined the service and traveled to far away fronts. Stationed on Oahu Island, he was thousands of miles away from Arroyo Hondo, N.M. where he was born in 1919, and in Los Mogotes, Colorado, where he grew up.
Arellano's mother died giving birth to her second child, a girl, when Arrellano was only two years old. His father remarried Fidelia Vigil about four years later and the family lived on a German homestead in Central Colorado. Arellano's chores included bringing in eggs, firewood and water. He was sent to school with the family's two little girls and was taken care of as part of the family.
"I couldn't speak English so it was pretty hard to go to school and not be able to understand what the teacher would say," he said. "It was hard for them because they wanted us to do something and we couldn't understand it."
After six months he finally understood the language. At that time there were strict rules in school that prohibited children from speaking Spanish. He attended school until the 8th grade.
"I only went to 8th grade,'' he said. "We lived out in the country, so I couldn't go. I had to walk three miles every morning to catch a bus."
The Arellanos and other workers like them experienced much discrimination in the 1930s. People coming from Kansas and Oklahoma trying to escape the Dustbowl wanted the jobs the Mexican-Americans had. His parents sometimes fed passersby who asked for help.
"They said all kinds of stuff to make us look bad. But we were raised here and everybody knew us so they were hurting themselves," Arellano said.
He remembered one instance when his stepmother fed some Kansas men fried eggs. Later in the day as the men looked for work with Arellano's boss, they made fun of the meager meal. The boss sent them away for being so ungrateful.
As a young man, Arellano joined the Army. On July 2, 1940, he boarded a ship headed for the Hawaiian Islands where he was to report to the 24th Division. He arrived on July 9, 1940 and was astounded by the sights. He had never been away from home, so he had to make many adjustments.
"I'd never been around so many people hardly," he said. "Being with all those other guys in the Army...some were smarty alecs. I had to learn to speak their way."
At 7:49 a.m. on December 7, 1941, Commander Mitsuo Fuchida of the Japanese Imperial Navy ordered pilots to begin the assault on military bases on Oahu. Pearl Harbor had been caught unaware and thousands of American service men and women scrambled into position. Much of the United States' Pacific fleet docked at Pearl Harbor was destroyed or severely damaged, including eight battleships, three light cruisers, three destroys and many support vessels. On Arellano's base the bugler was blowing a call to arms. Running out of the mess hall, the men witnessed chaos in the skies.
"What in the world is going on? I looked to my right and there was two planes coming from the opposite direction, two Japanese planes. One of them was on fire already, burning up," he said. The men broke into the ammunition room to shoot at the planes, but by the time they retrieved their weapons, the Japanese fighter planes had moved on.
The rest of the day was spent in the field on reports that the Japanese had landed. Arellano sat on his machine gun, missing not only breakfast, but also lunch and dinner.
Following the Pearl Harbor attack, the Division was instructed to set up a coastal defense system. The men were put through rigorous training and were formed into Task Force Reckless with the 41st Division. They were moved to Australia and then Good Enough Island near New Guinea.
Arellano's division was alerted and on April 22, 1944 he went into combat for the first time, landing with the 21st Infantry at Tanamerah Bay, New Guinea. The goal was to secure the Hollandia Airdrome, a Japanese aerial stronghold with 350 warplanes.
"The barrages flew up and out we went. But heck, I'm little and the ocean was too deep. With all the equipment I had, I just went down to the bottom," Arellano said. "You're just hoping and praying."
Despite the treacherous swampy terrain, the enemy was confused and disorganized allowing the Americans to take the airfields with little resistance after only a few days. Arellano had been promoted to company commander and was sent on a mission to find the 4th Platoon. Reaching the end of the trail he could hear people speaking Japanese through the trees. Thinking he was doomed, Arellano scrambled to find a hiding place.
He was forced to spend the night in a tree, fearful of snakes, wild pigs and Japanese soldiers. On later missions he used tunnels made by wild pigs through the grass to avoid being seen.
"I felt safe down there, except for snakes," Arellano said.
After six days they reached the airfield. One hundred and eighteen planes were captured along with piles of gasoline barrels. In 24 hours, American planes began to land bringing food and supplies. Arellano remembers witnessing one plane that was unable to lower its landing gear, trapping an airman inside where he burned to death.
Several weeks later Arellano was moved to a big plantation in New Guinea. Standing in line at the Red Cross, he and his fellow soldiers were overjoyed to have spaghetti and meatballs, served into their hands since they had lost their mess kits in the jungle.
"It was hot but we didn't dare drop it. We had trouble eating, but we ate it. You couldn't hold the bread because the hands were full of spaghetti," he said.
Soon after, Arellano and six other men were sent back to the United States. Twenty-one days after leaving New Guinea, on July 9, 1944 Frank Arellano arrived at the Golden Gate Bridge exactly four years after he left for Hawaii. Fresh out of the service he took the GED and studied industrial arts. He built his own house and made a living doing bodywork and running a radiator shop. He had two daughters and a son from his first marriage that ended in divorce. He later remarried the former Betty Blanton.
Arellano says he is proud of his service in the Pacific.
"They call us Mexican, but this is our country the same as anyone else. We live here, we were born here," he said. "We all have a duty to the country because this is where we live."