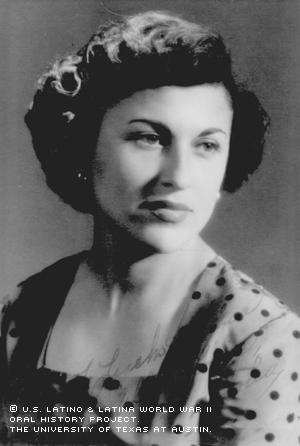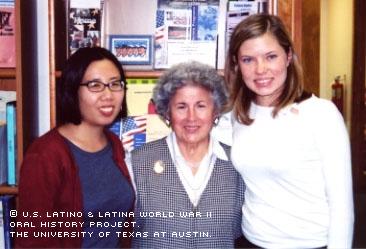 By Yvonne Lim
Gloria Araguz Alaniz began her role as the family caregiver when her mother passed away, leaving 15-year-old Alaniz to care for her father and eight siblings.
As her mother, Anita Flores Araguz, lay dying from an aneurysm, she asked her teenage daughter to make sure her sickly baby brother, 5-month-old Arturo, get baptized right away.
It was understood that as the oldest girl, young Alaniz would be responsible for her family's care. A cousin stepped in to make arrangements for the baby's baptism and the child was baptized after Anita died June 10, 1942.
With help from her grandmother, Eulosia Sanches, Alaniz did her best for her family. But the baby was extremely sick, and soon he passed away. Alaniz continued caring for her family until she had her own in her mid-20s.
******
Alaniz was born April 16, 1927, in McAllen, Texas, the third of eight Araguz children. Her father, Juan Araguz, was educated in Mexico and worked on the Texas side of the border, primarily as a janitor in a bank; Anita tended to the home and family.
During World War II, with food rationing in place, Juan would cross the border into Mexico for staples such as rice and beans.
Alaniz attended St. Genevieve Catholic School in McAllen until the eighth grade. She spent some time out of school in 1943 and worked briefly in a hospital helping with cleaning and kitchen duties. At one time, Alaniz wanted to become a nun but never went through with the idea.
Alaniz remembers slathering her 6-year-old brother, Alfred, in baking soda and shorting to ease the itch of measles.
"He got well. Those home remedies that we used a long time ago, now you find them at H-E-B," she said with a laugh. "Praise the Lord."
There were scary times, as well. At one point, Alaniz rushed home from high school in Monterrey, Mexico, when her 12-year-old brother Frank developed lockjaw. According to an entry on the U.S. Centers for Disease Control and Prevention Web site, lockjaw, or tetanus, is a disease of the nervous system caused by bacteria that can result in stiffness in the jaw, neck and abdomen; difficulty swallowing; and fever and severe muscle spasms.
"He was very, very sick. It was a miracle, too," Alaniz said. "My brother Frank got well. I stayed day and night with him."
After staying home for a year, she returned to the Mexican school.
******
Alaniz was only 24, and working in the jewelry department of C.R. Anthony, a department store, when Sergeant Rodolfo "Rudy" Alaniz caught her eye in 1951. Rodolfo, who was from nearby Mission, Texas, was visiting his family in McAllen.
"Ay, but when I saw him -- oh God, I tell you, oh my God -- he's so good looking," said Alaniz, still giddy with excitement over the event. "Really, it was love at first sight. Really, never I have felt like that before."
Rodolfo was part of her younger sister's circle of friends. In fact, Alaniz says he initially seemed more attracted to her sister, Anna Maria. He asked Alaniz out for a picnic, their first date, in a matter of weeks, however, and eight months later, on Jan. 21, 1952, they were married. Alaniz remembers Rodolfo falling ill with pneumonia during their honeymoon, as well as her having health problems later.
"We went through a lot, like life is," Alaniz said. "It was hard ... hard in sickness."
The two were apart 18 months before Alaniz recovered and later joined Rodolfo at Fort Bliss in Texas. The Alaniz family, which grew to include four children, moved several times, to wherever Rodolfo was stationed.
They even lived in Germany at one point, where Alaniz says the family was able to live comfortably on a military income. Alaniz says military housing wasn't quite as nice back in the States later on.
"But we were happy," she added.
Peace is something for which Alaniz says she continues to pray, and she continues to look for miracles. Living in Austin, Texas, with Rodolfo, Alaniz is still active with her church, St. Ignatius.
"At my age, I want to see my Jesus face to face," Alaniz said. "When it is his will."
Mrs. Alaniz was interviewed in Austin, Texas, on October 18, 2003, by Yvonne Lim.