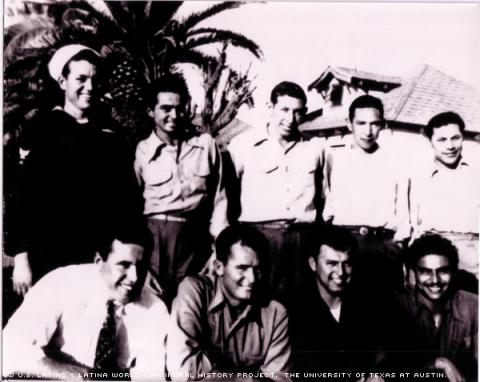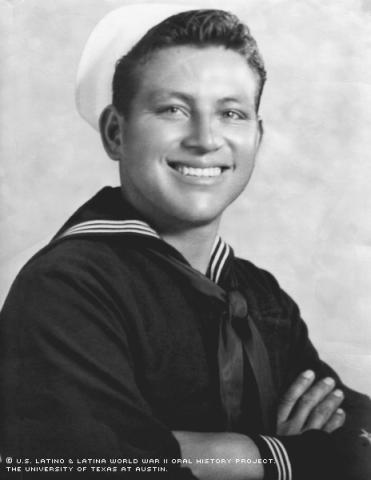 By Melanie Kudzia
Hector Acedo was 19 and World War II had been in full swing for three years when an older friend who'd already been drafted said: "Let's join the Navy."
Acedo's response: "Sure, well let's go."
After getting sworn in, the two friends were told to be at the bus station at midnight, where they'd leave for boot camp in San Diego, Calif. So began their naval experiences.
Although Acedo was on a auxiliary ship, he saw plenty of action and survived the sinking of his ship, which was torpedoed by a German boat also referred to as a U Boat off the coast of South Africa.
Acedo says he'd always wanted to travel and explore, and had a desire to help others and be of service in some way.
He was reared in Arizona, the middle child of five children. His father, Francisco Acedo, worked for a building contractor, while his mother took care of the kids. Acedo worked a variety of jobs, from shining shoes and selling newspapers to unloading trucks at the market.
"We didn't have much. But what we had we shared; I have no bad memories of my parents." Acedo said. "During the Depression, we lived day to day but we didn't suffer."
And he was fortunate to have escaped the injustices of Jim Crow America. According to Acedo, he wasn't aware of discrimination as a kid.
When he was 16, he attempted to join the Civilian Conservation Corps. He was too young, but that didn't deter him; he took his older brother's identity and joined just the same.
"They still call me Frank," said Acedo with a laugh.
He worked with the CCC for about a year at the Grand Canyon. His job was to keep the barracks warm. After returning home, Acedo and his brother hitchhiked to California and back to the Grand Canyon, where Acedo worked another six months. He then washed dishes at El Tovar Hotel for $45 dollars a month plus free room and board.
After that summer, he joined the Navy. Acedo had the opportunity to go to a variety of ports in Chile, South Africa, Panama, Cuba, the Persian Gulf, Australia, Guam, Saipan, New Guinea, Okinawa and various ports in the United States.
On July 28, 1942, before he shipped out with nearly 150 other men, Acedo kissed his wife goodbye. They only contact he was to have with her, until he returned, was by mail.
"It [was] an adventure, I [enjoyed] every second of it." Acedo said.
The ship first went to Seattle. It took on a load of lumber and headed to Washington State, where the boat was demagnetized. This was done so as protection against magnetic mines. 
After the vessel went to Panama to unload the lumber, Acedo traveled through the Panama Canal to Cuba to load sugar to bring back to New York. While on a midnight watch one night, Acedo recalls falling down an escape hatch.
"It was 42 feet, I remember, because the ladder had 42 rungs and that's how deep it was." Acedo said. They pulled him out and put him in the hospital, but he maintained that he was all right and that nothing was wrong. He did not want to be left behind.
The ship continued on to various ports, loading and unloading supplies. When it crossed the Equator, Acedo says his crewmates held a ceremony. Crossing ceremonies are officially recognized by Navy service-record entries, which indicate the date, time, latitude and longitude.
The "Shellbacks," or those who'd crossed before, "prepared" the "Pollywogs," or first-timers, for the crossing, Acedo recalls.
"They cut your hair and wash you down. It doesn't hurt," he said.
After crossing the Equator, the vessel developed structural problems. They made it to Port Arenas, Chile. After a month's wait for materials, metal plates were installed to repair the ship. Since the Chilean people speak Spanish and everyone on the naval ship except Acedo spoke only English, he played an integral role as an interpreter. Sometimes he used his Spanish to help some of the men out of jail after bar fights. After two months, the ship returned to sea. This time it stopped in Cape Town, South Africa.
After leaving that port, Acedo, his shipmates on the Harvey Scott, and crews of other ships faced the threat of the German submarine fleet also known as the German Wolf Pact in the Indian and Red Seas.
That danger proved real. In a single day, the Germans torpedoed his boat and seven other ships.
Acedo was among the 64 sailors from all of the ships that survived. As many as several hundred may have died in the onslaught. Six more ships were sunk the following day.
The sailors drifted along in only two lifeboats. While many became ill, Acedo says he was one of three who didn't get sick.
"What a beautiful site, land," said Acedo of when he was finally able to see beyond the vast ocean.
Once reaching shore, the sailors sank their boats to prevent the enemy from using them.
The survivors were fed and clothed by a Dutch-English family. Then they took a train to Durban, South Africa, where representatives of the Red Cross and the Salvation Army greeted them at a camp for survivors from torpedoed ships.
The South African Army provided them with uniforms. A U.S. Navy pin was the only thing that distinguished them from the South Africans.
"We didn't know what to do, we didn't have any leaders," Acedo recalled.
The sailors stayed there for about a month, when they were assigned to a new ship. Still wearing their South African uniforms, they traveled to Peru, Ecuador, Panama and then San Francisco, Calif. Once arriving at a military installation, they got strange looks because of their clothes, but after Acedo gave his serial number, they were welcomed back.
"No one else remembered their number. I did because it was 5555559. They asked where we'd been and we told them missing in action," Acedo said.
The sailors got seven days of leave, so Acedo returned home, where his wife and 3-month-old daughter greeted him. After his week of leave and three days of travel time were over, he shipped out to Okinawa in the Pacific.
On Jan. 7 1946, Seaman First Class Acedo was discharged.
"I didn't know what to do," he said.
Acedo returned to his wife and two daughters. He got a job in the mines and later returned to Phoenix, Ariz., where he worked as a salesman in real estate and remodeling.
"Being bilingual helped me a lot," Acedo said.
Mr. Acedo was interviewed in Phoenix, Arizona, on January 4, 2003, by Claudia Provencio.