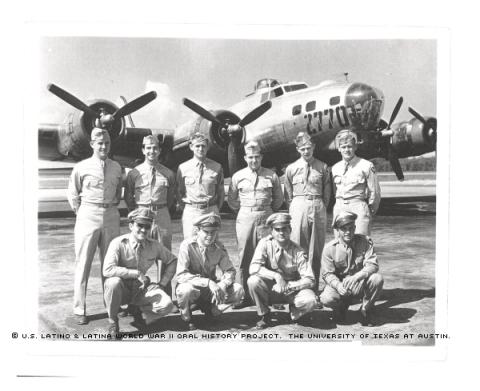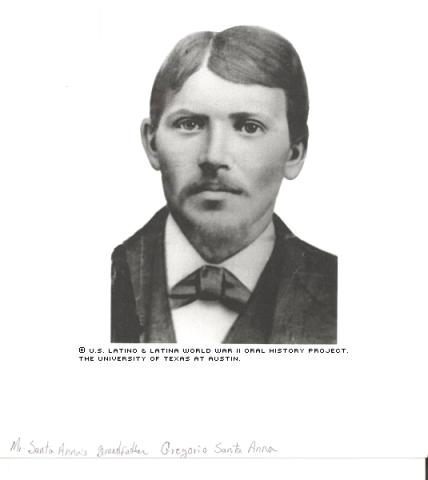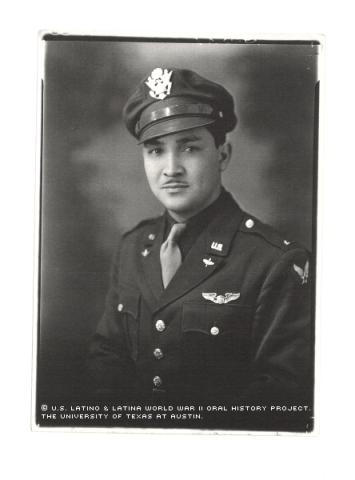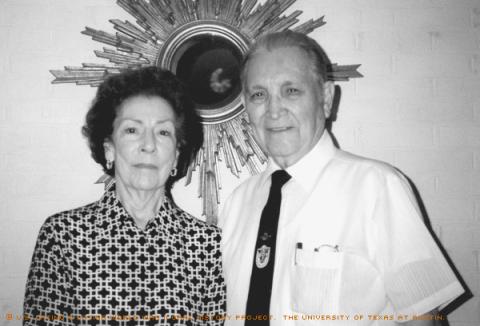 Interviewed by
Lorena Ruley
By Scott Allison
Say the name "Santa Anna" to most American military historians -- and just about any Texan -- and it's linked to the Mexican general who opposed the Texas Revolution and conquered the Alamo.
So it's somewhat ironic that Hector Santa Anna, the great-great nephew of the Mexican general, enlisted in the Army during World War II, flew 35 missions as a B-17 bomber pilot over Europe, later taught hundreds of pilots how to fly and eventually rose to the rank of Lieutenant Colonel during a 22-year military career.
"We're from [the Santa Anna] family, so we've been in the history business a long time," said Santa Anna with a smile.
As a child growing up in Miami, Ariz., Santa Anna had strong role models in his family. His father, Jose Maria Santa Anna, was a local mine worker whose bilingual speaking abilities made him a natural choice for communication between workers and their bosses in the mountains of Arizona.
His mother, Carmen Galindo Santa Anna, gave birth to seven children: five boys and two girls. While still caring for them, she made time to attend night classes at the local high school to improve her education.
Santa Anna attended local public schools in Miami throughout his youth, eventually earning his high school diploma from Miami High.
"I went to school in Miami -- first elementary and then secondary, and they were segregated," he said. "Latinos and Mexicans were in one school, Anglos in the other."
Despite the segregation in his early school years, he says the local high school was integrated. There, he said he met some of his "best friends that he still talks to, even to this day," from the white community.
He remembers vividly, after his graduation, his high school football coach giving a brief speech about the growing threat of war in Europe and how the recent graduates should be prepared.
"He pointed out that we had to prepare ourselves for it. I'll never forget his address to the group -- World War II was just beginning in Europe," Santa Anna said.
After high school, he says he wanted to join the military but his father had objected to the idea because he was only 17.
"He felt that going to work and getting a college education would be the answer to my needs," Santa Anna said.
Soon thereafter, he left for California to take a job as a miner to save money for his college education. While in Oxnard, Calif., however, Santa Anna had a change of heart when he visited an Army Air Corps training field outside of town.
Upon seeing pilots training, he thought, "This is what I'd like to do."
He returned home to Miami, where he then enlisted in the Army. He went through basic training and completed flight training at Brooks Army Air Field in San Antonio, Texas, on July 29, 1943. Of the 97 cadets to receive their wings, Santa Anna was the only Latino.
"There weren't many Latinos taking flight training as an aviation cadet," Santa Anna recalled. "It wasn't easy being the only one. They would always single you out, you know? With a name like Santa Anna, you stood out. Some would accept you and others would not."
If his name cast any doubt in the minds of fellow pilots, his performance in the skies and the heat of battle didn't.
Because of his bilingual abilities, he was assigned to basic flight training school in Waco, Texas, where he taught other Hispanic pilots to fly. Later, as a B-17 bomber pilot based out of Sudbury, Suffolk County, England, Santa Anna flew 35 combat missions, logging more than 250 hours of flight time in the skies over a war-torn Europe.
One mission that stands out in his mind is the one in which he flew deep into Germany.
"We went to bomb a place called Berlin," said Santa Anna with a wry smile. "I'll never forget that mission."
But after 35 sorties flown over various targets between Nov. 16, 1944, and March 3, 1945 (the fastest completion of that number in his bomber group, he says), his final combat mission was his most memorable, he says.
"The most pleasant thing was to come back in and land that last mission," he said. "We were very, very fortunate."
Not only fortunate but capable, as Santa Anna was decorated with numerous awards for his service, including two Distinguished Service Medals, five Air Medals and a Commendation Medal.
After his tour of duty in Europe, Santa Anna wanted to learn to pilot fighter planes. He was instead sent to Lubbock, Texas, where he was trained to instruct other pilots to fly by instruments. The assignment proved fortunate -- he met his future wife, Olive Allen, who was working at the same base in July of 1945.
The couple married in November of 1945 at Charleston Air Base in South Carolina, where Santa Anna was based, and the two have been together ever since.
Prior to retiring from the Air Force in June of 1964, Santa Anna served for three years as Special Assistant to the Secretary of Defense for Public Affairs in the Pentagon. While there, he became involved with various public projects, including the opening of Dulles Airport near Washington, D.C. He later worked for NASA, the FAA and other aviation-related projects until his retirement in 1985.
He then returned to his true passion -- flying airplanes.
"One of my basic principles in life is to teach, and I've been a flight instructor for the Air Force, Navy and Army," said Santa Anna, who retired from flight instruction work in 2002.
Santa Anna has two daughters, who both graduated from college with master's degrees and are sources of pride for him. His oldest daughter, Sylvia, is fluent in both Spanish and Italian and uses her language abilities as a high school teacher. His younger daughter, Cynthia, is fluent in French, Spanish and Arabic, and currently lives and works in Lebanon.
"Life is just like laying out a flight plan for yourself. Know where you're going to go. Know the route that you're going to take," Santa Anna said. "We have a purpose in life. All of us, whether we are Hispanics or otherwise, the one thing we have to do is to learn to work with each other, to respect each others' names, and try to understand what motivates us to that point and try to help each other."
Mr. Santa Anna was interviewed in Millersville, Maryland, on May 31, 2003, by Lorena Ruley.