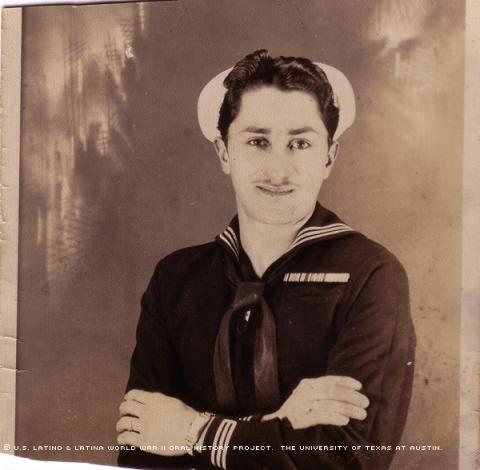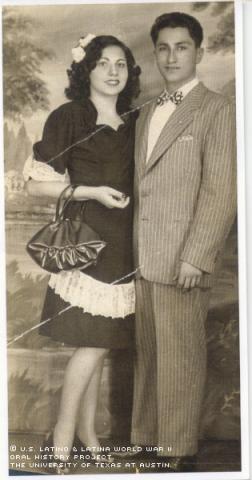 By Luisito Caleon
The choppy seas north of Scotland were dark.
A dense fog enveloped the Navy ship loaded with ammunition destined for Normandy, the site of the beginning of the end of World War II.
The ship, on its way to help with the liberation of France, was stuck on uncharted rocks, and Higinio Albelo remembers he and his mates thought they were facing death.
"It was a 27-man gun crew. We were supposed to take care of the guns on ship and take care of the cargo. We were in a big convoy of close to 250 ships," Albelo said.
"It was very dark, and the weather was terrible," he said. "You could hardly see, and our captain ... he was a captain in the Pacific and didn't know anything about the North Atlantic. He would get signals to stop, but would keep going. We ended up hitting rock near a point. We were loaded with ammunition, and we were so scared, and we didn't know when it was all going to explode."
Thanks to the tide, the ship was freed and made it to Scotland, where it was unloaded.
"The rest of the ammunitions were sent to Normandy," Albelo said.
His ship was sent back to New York for repairs.
"We were dry-docked, and then the war ended," he said.
Born Jan. 11, 1918, on a small farm near Aguadilla, Puerto Rico, Albelo always had dreams of seeing more than his native town.
"I had an ambition to see the world," Albelo said.
One of 13 children, he attended Adams Grammar School until the eighth grade.
While his father, Francisco, wanted his son to follow in his footsteps as a farmer, Albelo had grander plans. These plans took him from his family farm to New York City in August of 1939.
"My father wanted me to be a farmer, but I never wanted to be a farmer," Albelo said. "I wanted to see the world, since I hadn't seen too much. All we had were [battery-operated] radios at the time."
In New York, Albelo found refuge with a friend and neighbor from his hometown.
"It was during the Depression. There was no work, and everything was terrible," Albelo said.
He recalls being stuck in a room of an apartment, "and I didn't know where to go. I was ready to go back, but finally I met some friends from my own country, and I started to go places."
Albelo began to explore the city with his newfound friends, but he couldn't find work.
"There was no work, and there was nothing else," Albelo said. "In those times there was discrimination also. If you were Polish and German, they'd give you a job."
Unable to find a job, Albelo enlisted in the Civilian Conservation Corps in 1941.
Commonly referred to as "Roosevelt's Tree Army," the CCC was established as part of efforts to revitalize the nation. In the organization, two idle resources -- young men and land -- were brought together. CCC enrollees were responsible, among other things, for restoring forests throughout the nation by replanting an estimated three billion trees.
In the CCC, Albelo was able to realize his dream of seeing the world.
"It was one of the greatest things that happened to me," Albelo said.
From New York, he was sent first to Montana, then Idaho.
"There were all kinds of trades we could learn," said Albelo, who was trained as a baker. "I told them I knew a little something about cooking, so I was sent to the kitchen. We used to cook for about 350 boys."
Albelo says an organization similar to the CCC is needed today.
"If they had now what they had before, we wouldn't have so many kids on drugs." he said. "You really get to learn about the fabric of the U.S."
For his CCC work, Albelo was paid $18 a month. He kept $5 and sent the rest to his father to be invested.
"You'd be surprised. In those days we had the halfpenny, and with that you could buy half a loaf of bread," Albelo said. "Everything was cheap, and you could make out. With the $5 I had, I always had money left for the next month."
After working 18 months in the CCC, Albelo returned to New York.
Now 23, he found work with hotels.
"I was making $10 a week. When I was short, I would send for some extra money from my father," he said. "I did that seldom because I didn't want to bother him and have him worry and have him tell me to come back home."
In 1941, Albelo met Carmen Irizarry, and after three months of courting, they married.
"We survived with $18 a week," Albelo said.
Life for the Albelos was good until the threat of the war hit close to home. Albelo remembers working on the day of the attack on Pearl Harbor.
"I was working at a hotel restaurant," he said. "Then that's when the draft began [in earnest]."
In 1943, while employed by a plant making airplanes for the war, Albelo was drafted into the Navy. He was sworn in Sept. 23, 1943, only nine months after his first child, also named Higinio, was born. After seven weeks of boot camp, he was sent to gunnery school before being stationed in the Brooklyn Navy Yard, and then overseas in 1944.
"We used to bribe the guy giving us haircuts," Albelo said. "I didn't want to take my hat off because I didn't want my wife to see me without my hair."
By sheer luck, Albelo says, he was spared from much combat during the war.
"We had quite a lot of scares [out in the Atlantic] from U-boats," he said. "We also contended with icebergs out around the Azores. The iceberg is very dangerous because all you see is one-third of it, and the rest is underwater."
While at sea, Carmen spent her days caring for the couple's child and sewing soldiers' uniforms at a factory.
"She was getting paid very little," Albelo said. "After being discharged, I hurried back to help her out."
As a Latino in the service, Albelo said he was virtually free from racial discrimination, unlike the treatment he remembers when trying to find work in New York.
"Everything was fine, only sometimes they would criticize me for my accent," said Albelo with a laugh. "Overseas, the service was great. If I didn't have my wife and son at the time, I would have stayed. I loved it. There was quite a lot of discipline. If I had to do it again, I would do it."
Mr. Albelo was interviewed in Miami, Florida, on September 14, 2002, by Adrian Baschuk.