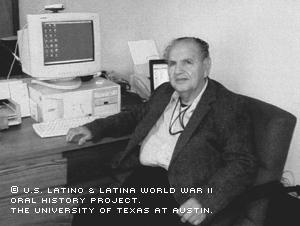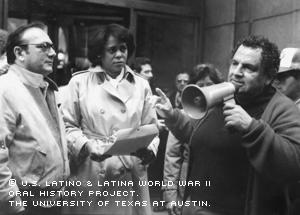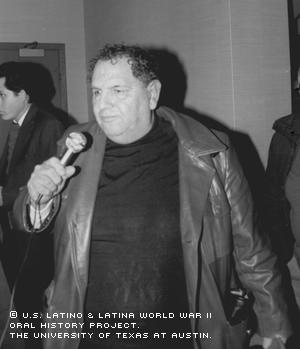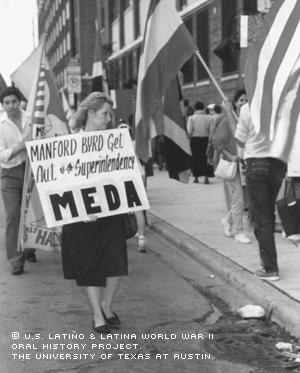 By Kristen Clark
Homero Alvarado is a true American hero.
Born March 12, 1925, in Vera Cruz, Mexico, Alvarado and his 11 siblings, nine of whom are still living, were raised in a bilingual household by his Italian mother and Mexican father in Laredo, which at the time was famous for its oil and gas production. He was referred to as "La Negra" while growing. Alvarado's father, Sotero Alvarado, raised cattle on 95,000 acres he inherited from his father near Corpus Christi, Texas. However, Sotero lost the land when, after allowing a traveling family to stay on his property overnight, he was accused by the father of kissing his daughter.
The father forced Sotero to sign over his property, in return for his life. He was warned not to return in less than 25 years.
Sotero left the family in Laredo and moved to Veracruz, Mexico. There, he met Homero's mother, whose Sicilian family was trying to enter the United States through Mexico. As a young man, primarily speaking Italian, Alvarado began shinning shoes to help support his mother while she sold tamales and tortillas in Laredo.
Attending the local school, Alvarado became frustrated with the discrimination toward non-white and poor students who were placed in the back of the classroom and not treated equal to Anglos. Alvarado described himself as a troublemaker and big mouth. He was expelled for one year because he was constantly starting fights at school whenever the opportunity arose.
"They kicked me out of school because I was always defending the people," Alvarado said.
Instead of going back to school, Alvarado's mother home schooled him. When he turned 17, Alvarado got her permission to enlist in the Army with a group of friends.
"We were young and we wanted to be somebody," he said.
At the time, two of his brothers were serving in the military, and nearly one-third of Laredo's young men went to defend the U.S. in World War II.
"About 14,000 from a town with a population of 40,000 went to war," said Alvarado, noting the enormous support.
Alvarado was assigned to the Second Infantry Division at Fort Sam Houston, located three miles from the Alamo in San Antonio. After completing his basic training, he continued to train as a paratrooper at Fort Benning, outside of Columbus, Ga., for three months.
"Training was very rough because you're Mexican and you have to be strong because you think you're better than everybody," Alvarado said. By March of 1944, three months before "D Day," Private Alvarado had arrived in England by ship. Six months later, his unit, the 17th Airborne, landed behind General George Patton near the Rhine River, serving as reserves for other units.
Alvarado recalls hearing a tape-recorded message from Patton before he jumped, saying: "You in the Army now, you learn to kill or to be killed, you learn to die for your country, you love your country, you die for it, and defend it. Anybody who runs back, you kill 'em."
When they made that jump, Alvarado and his fellow paratroopers found German soldiers staked out below, shooting at them as they floated from the sky.
"Some cursed as they jumped," Alvarado said. "Others screamed 'Viva Mexico', and some 'Viva Patton.'"
Once he landed, Alvarado had to be cautious, because the Germans were nearby.
"I played like I was dead and hid in a park for three days because the Germans were strong," said Alvarado, who feared being discovered.
Confusion set in: there were moments where he didn't know where he was going and everyone was running in different directions.
Reflecting on the experience, Alvarado said, "when the moment comes, it makes you be strong; you want to show you're strong ... because everybody's afraid."
By September of 1944, France had been retaken and the Russians were retaking Eastern Europe, threatening Germany from all sides.
During a landing Alvarado injured his back when his parachute dragged him an entire block.
"The parachute pulled me up by my back and I felt paralyzed," Alvarado said. He was immediately transported to New York, where hospital staff believed he was a spy because he looked German and spoke Italian so well.
"They thought I was out of my mind," Alvarado said.
Later recuperating in a reconditioning center in Waco, Texas, Alvarado got word his mother had passed away while he was in the Army. Immediately, he returned on leave to Laredo to be with his father and siblings.
"I was very nervous and sad," said Alvarado, shaking his head.
Experiencing continuous problems with his back and developing an unusual walk because of pain in his legs, Alvarado was declared too disabled to return to combat and was discharged from the Army.
He says he was frustrated he was unable to return. He recalls black soldiers who shot their own foot so they could go home disabled.
"I asked the guy, 'Why are you doing that?' and he said, 'I don't want to die,'" recalled Alvarado, who says he was also frustrated these men didn't share his mindset.
"I told him, 'You are here to die for the country,'" Alvarado said.
Uniting with fellow Texans while serving in Europe, he says he found he bonded best with Caucasian Texans because Mexican women raised a lot of white Texans.
Overcoming the disappointing news of his mother, Alvarado married Hortencia Sanchez of Laredo; they have one son. Hortencia is related to 2002 gubernatorial candidate and Laredo businessman Tony Sanchez.
Alvarado spent the next five years using the GI Bill to attend college, during which time he learned how to be a welder. He continued to serve his community in Laredo, establishing a construction company building houses in Laredo and San Antonio.
After his father's death, Alvarado moved to Chicago to be with his son and other family members. There, he met with Mayor Richard J. Daley in an attempt to get a construction contractors license. The two became good friends, Alvarado says.
Always involved in his community, Alvarado says he developed a reputation for helping fellow Mexicans, who often lacked legal papers, find decent jobs. His will to help people developed because many people in his community didn't get welfare, medical attention, a good education or food, he says.
Opening the Fiesta Mart on Washington Avenue in Chicago, Alvarado became known for his good food, historic Mexican art in an adjacent museum and leadership in the Mexican community.
When President George W. Bush visited Ames, Iowa, on his campaign in the summer of 2000, he was greeted by Texas democrat Alvarado with signs stating, "Amigos for Bush."
Holding out a poster for Bush, Alvarado said, "I want you to sign it; I'm going to help you."
Starting the support team for Bush in Chicago, Alvarado stayed true to his roots -- in Texas, that is.
"I'm a Texan, I'm a Democrat and I'm going to help you," Alvarado told Bush as they shook hands at the rally.
Laboring for the people, Alvarado says he's often described as a good businessman and spokesperson, and as having worked for it all on his own.
However, many would say more important is that Alvarado risked his life for his country and achieved the proverbial American Dream, success through hard work, loyalty and dedication.
Mr. Alvarado was interviewed in Chicago, Illinois, on August 22, 2002, by William Luna.