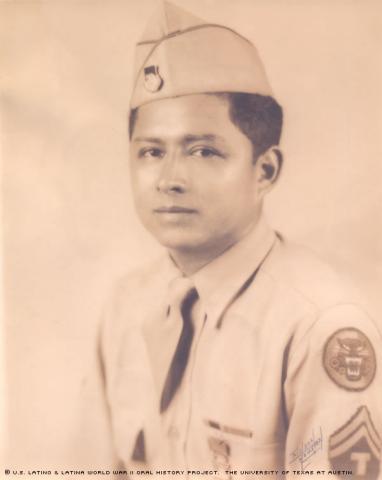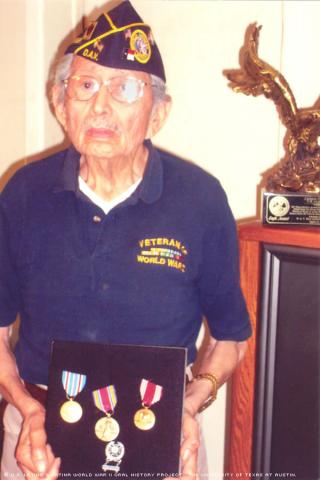 By Jordan Godwin
Jesse Campos wears a World War II Veteran hat garnished with a dozen medals and pins that magnify his 5-foot frame. Taking off the hat reveals the same impressively full head of hair he's had all his life.
"I've earned this hat," Campos said. "And everything on it."
Soon after graduating from high school, with the United States on the cusp of war, the Army drafted Campos in June of 1941. He was sent to Fort Ord in Monterey Bay, Calif., and shipped out for the Pacific in August, ultimately landing on the coast of the Hawaiian Islands for more training.
"While we were training over there, we heard the bad news about Pearl Harbor," Campos said. "They alerted us to be ready to ship out."
Campos was then transferred to the 672nd Amphibious Unit and served as an amphibian-tractor driver for assaults.
"It was built with a flat bottom, so that when you hit the beach, it wouldn't get stuck," Campos said. "The first landing was Makin Island, and that's when I was wounded. It was at nighttime, and next thing I knew, there was a lot of flash. They took me to the hospital, and I had been hit in my leg."
With a wounded leg, Campos spent two months in a field hospital. The same leg was injured again during a landing at Bougainville Island, so he spent another three weeks in a hospital, where he socialized with other soldiers.
"Every time we met a Spanish soldier, we would always introduce ourselves," Campos said. "'Where are you from?' and all that, because there wasn't too many of us."
While in the hospital, Campos once met a soldier who was visiting a wounded Marine. The man spoke of a Latino GI who always gave a big holler of approval when something good would happen.
"I told him, 'Hey, maybe that's some guy I know. So next time you see that guy, tell him my name and that I'm here,'" Campos said. "About a week later, my brother Manuel came by."
Campos couldn't hold back his tears when recalling the coincidence of seeing his brother on the other side of the world. Campos' sister, Elvira, had been writing him about how much his mother, Maria Ramos Campos, prayed for the young men's safety every night. To avoid adding to his mother's grief, Campos gave Manuel specific instructions:
"If you write a letter home, don't tell the family what happened to me," Campos told his brother from his hospital bed. "I also told my commander, 'If anything happens to me, don't make big news out of it in Baytown, Texas.'"
After parting, Manuel's Marine division headed for Iwo Jima, and Campos constantly heard scary stories of the thousands of soldiers who were
wounded or killed in the terrible battles there. Campos lived for months with uncertainty about his brother's safety, not hearing until he made it back to Texas that Manuel had survived.
Campos was shipped to the Philippines in 1945 as a radio operator, and was stationed at a camp near Manila. When he heard someone from his hometown was stationed there, he sought him out and found his nephew, Gene Lopez. The two went out to celebrate for a couple of days, resulting in them getting charged as AWOL. Campos says he was punished with time in the military stockade and bumped back down to his initial ranking of Private.
"I'm glad I met my nephew," Campos said. "I wasn't sure I'd be coming home alive, so I took the punishment."
In July of 1945, Campos joined a big convoy under General Douglas McArthur that was headed for Japan. On the way, he celebrated his 24th birthday with news the U.S. had dropped an atomic bomb on Hiroshima; however, he admits that no one really knew its significance.
Several days later, the captain of the ship instructed everyone to hit the deck, look over the stern and then at the bow.
"The sun was rising, and that meant the ship was headed east, when previously, in the evening, we were going where the sun sets," Campos said. "Boy, was everybody happy. We were headed home."
Campos landed in San Francisco in December of 1945 and was honorably discharged from Company B of the 672nd Landing Ship Tank on December 23 at the rank of Private.
******
Campos was born in Goose Creek, Texas, on August 6, 1921, the fifth of eight children in a family that migrated from Zacatecas, Mexico. He was named after an older brother who had run away but later returned.
Campos grew up in Baytown, Texas, to which he returned after the war with the Purple Heart and a Philippine Liberation medal with one bronze service star. He initially had trouble finding employment, but eventually found work as a merchant marine with Humble Oil, which later became Exxon-Mobile.
He married Maria Esther Estrada in 1953. They have one son, Adrian, and three daughters; Olga, Edna and Leah. Since 1956, he and Maria have lived in Houston, where Campos remains an active member of the community.
Mr. Campos was interviewed in Houston, Texas, on April 15, 2007, by his daughter, Olga Campos Benz.