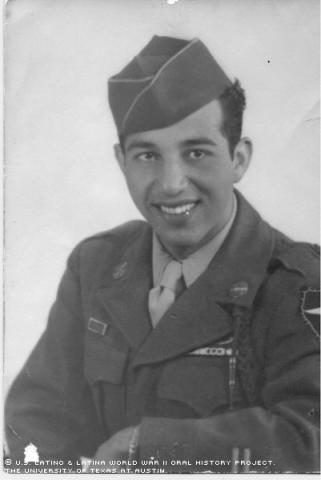 Interviewed by
Michael Taylor
By Michael Taylor
According to Joe Arambula, a veteran of some World War II's most intense battles in the European Theater, there is such a thing as being too careful in war. Seeing men killed for being too cautious made Arambula decide he'd rely on the powers that be.
Though he lost two brothers and his unit was hit hard during the fighting, the prospect of not returning from the war never crossed Arambula's mind.
"Some people go into the war thinking they might get killed or something might happen to them. Maybe I was too young or too ignorant, but that never entered my mind," Arambula said.
"I wasn't brought up going to church every Sunday but religion got into me," he said. "I relied on the dear Lord to take care of me and He did."
Arambula was born on August 2, 1924, in Bison, Okla., to Francisco Arambula and Casimera Rodriguez Arambula. The family was one of a few Mexican immigrant families in the small town of about 200.
Francisco worked for the railroad maintaining the region's track and Casimera worked at home caring for their six children. Arambula, the second oldest child, described his family as close until his mother died of heart failure in 1939 at the age of 53.
The death of his mother showed Arambula, who was just 15 at the time, just how crucial his mother was in keeping the family together.
"I've always said that the mother is always the backbone of the family," he said. "And my family is a perfect example of that because my mother died on November 8th; we buried her on the 10th.
"After that, my oldest brother went off to work and I went to live with one of my aunts and my brother and sister went to live with another aunt," he said. "And that broke up the family."
Hit hard by his wife's death and still working for the railroad, Arambula's father didn't know how to keep the family together.
After moving in with his aunt and uncle in the larger Oklahoma town of Enid, Arambula dropped out of school and began working. He initially worked in his uncle's shoe-shine parlor, but soon moved on to a job with a railroad extra gang, maintaining track until he was dismissed when they found out he was only 16.
Back in Enid, it wasn't long before he joined up with a Civilian Conservation Corps company working on state park projects around Oklahoma. Again, he had to lie about his age.
When the United States entered the war in 1941, the CCC projects dried up and disbanded to redirect resources at the war effort. Caught up in the enthusiasm but still underage, Arambula sought his father's permission to join the military.
"When Pearl Harbor broke out December 7, they took half of our company -- the marines did -- and I wanted to go but again, I was too young," Arambula said. "I was 17 and my dad wouldn't sign the consent form because I was too young, and I didn't know what I was doing ... so he said. He saved my life."
Instead, Arambula worked at night and learned to weld during the day as part of a National Youth Administration program the federal government had designed to train and educate young people. His first welding work was in the shipyards of Seattle, where he worked nights building vessels for the war effort. Because he was enjoying the work, Arambula was reluctant to leave when he was drafted in February of 1944. Despite two delays in drafting him because of the national-defense significance of his shipyard work, it wasn't much longer before Arambula was called up.
Shortly before he was drafted, Arambula's older brother, Manuel, died in combat while with the 3rd Infantry Division in Milan, Italy, in 1943. A year later, his younger brother, Joaquin, who'd been drafted out of high school, died in combat in Germany in November of 1944.
Originally trained for anti-aircraft work, Arambula was recruited into the infantry after arriving in England. He went through six weeks of training and was reassigned to Co. G, 110 Infantry, 28th Infantry Division, Co. A, 9th Infantry, 2nd Infantry Division. The division was getting ready to fight in Japan.
Arambula fought with these men at Ardennes when the Germans launched an effective and damaging counter attack to Allied efforts. The fighting was complete chaos and a lot of the men he knew didn't make it back when they reassembled.
"We had a lot of casualties then. I don't remember names but I recognized faces, and when we organized, they just weren't there," Arambula recalled. "Battle of the Bulge was especially hard. Complete chaos."
Arambula lost his closest friend, Amos Brasheers, in a truck accident in the mountains St. Dia, France, on Jan. 19, 1945, while on their way to the front. Thrown clear of the rolling truck, Arambula suffered only a broken arm, while Amos, whom he'd known since infantry training, was killed.
After six weeks in the hospital, Arambula was headed back to the front when military police pulled him off the train. Unsure to this day exactly why, Arambula thinks the order came down because of the two brothers his family had already lost in combat.
After the Allied victory in Europe, Arambula returned to the U.S. and received training for deployment in the Pacific Theatre, which was still active. He was stationed at Camp Swift near Austin, Texas, when he met his future wife, Nora Ramirez, at a festival. He was discharged on May 3, 1946, with the rank of Private First Class and was awarded the Bronze Star. He and Nora married on May 23, 1948.
Arambula is semi-retired from the post office and from running contract post offices. The couple has raised three children in San Antonio, Texas, and the family gets together frequently.
Mr. Arambula was interviewed in San Antonio, Texas, on October 13, 2001, by Michael Taylor.