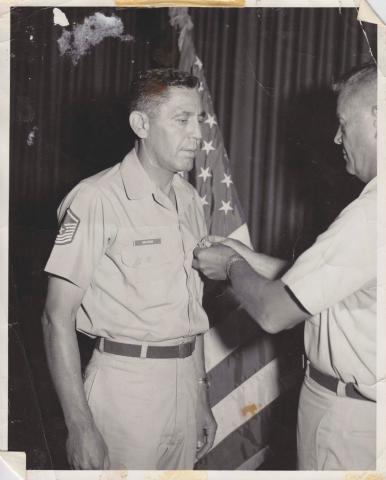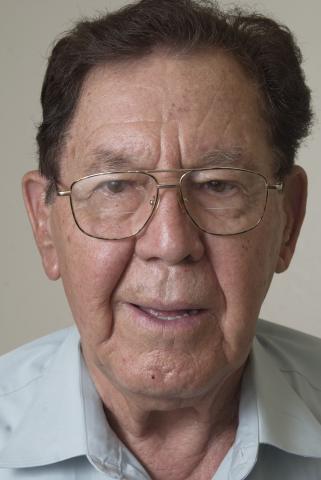 By Katherine Salinas
His hand mimicked the path of a B-17, recalling the spry 22-year-old that John Soltero had been all those years ago when he was dropping bombs onto Berlin. A confident smile was radiant beneath his shaded glasses and "Veteran" embroidered hat. Even though he was 86, it wasn't hard to imagine Soltero flying over Germany, in a freezing cockpit, with a burning engine and an alarm telling him to bail out.
"If I jumped out over the city, they were going to chop me up like a hamburger," said Soltero, "and I told the guys around me, 'Don't you dare jump,' to let the others jump if they want, but we'd stay on the plane."
"We went [out over] the Baltic Sea, and then the pilot made a comment to go to Sweden and be out for the duration. When we got to Sweden, I said, 'Make a left turn; let's go home,' and we were able to make it back to England."
In crossing over the North Sea from Scandinavia, they saw at least two dozen airplanes mangled in the water and boys around Soltero's age bobbing in their life rafts. He and his crew watched boats coming in from Germany and England to see who picked them up first. It was a situation Soltero had just narrowly avoided.
"When we got to the base, these old English guys said, 'You little so-and-so's, you gotta be crazy. You act like you just went into a ballgame.' We had barely made it back to the base, and we were kidding around because we were happy that we made it and didn't have to bail out or go to Sweden," Soltero said.
Soltero, a veteran of three wars, has a risk-taking nature that may be rooted in a childhood lost in the upbringing of his brothers and sisters and his family's well-being.
"My father left when I was 11 to go to Mexico; my mother stayed here with the rest of us. I was in middle school and working as a janitor along with my older brother. I had to work or my family wouldn't eat."
That pressure empowered Soltero to reach beyond what little life had given him. He and his brothers sold newspapers and fruit while still making sure that everyone in the family had enough to live in Globe, Arizona.
"We were able to make it. We ate enough where it didn't stunt our growths. My brother and I are 6 foot, after all. I raised chickens; I raised turkeys, ducks and pigeons on the hillside, and that gave us a little more money because I had at least 200 pigeons that I would sell for a quarter a pair to the Chinese downtown," Soltero recalled.
Soltero's genuine ease and comfort with other people no matter their ethnicity would prove to be an asset among his war comrades and his co-workers at an airline in Phoenix. As a teenager, he worked at the airport, learning and helping as much as he could. He went to school at night and on weekends, and spent his days among the roaring engines of the airplanes. With that determination, he was able to secure a job that could sustain his family and his ambitions.
"I wanted to come in the [military] service, and they wanted to put me in the infantry. I said, 'No, I don't want the infantry.' So they said, 'OK, we'll put you in artillery.' 'I don't want the artillery; I want to work on airplanes.' Well, they said, 'It's not what you want; it's what we need, what we want.' I said 'well you better put the handcuffs on me, because I'm going home," Soltero said with a warm chuckle. He told them, "If I can't work on airplanes, I'm leaving."
Then one of the men interviewing Soltero, a "tough guy," cuffed him across the face, but Soltero warned him, "'Be careful, don't do that.' But at that time they could cuff you across the head and get away with it, not like today." Finally he was told they could use him as an aerial gunner. He was assigned to the 303rd Bombardment Group (H), nicknamed the Hell's Angels.
"They cut me short on my training, and I ended up in England as an aerial gunner on the B-17 gunning Germany. I was scared, but I couldn't show it because there were some kids that weren't able to take that assignment, so they'd quit. One day in briefing they walked in and said, 'OK, we've been ordered to pulverize Berlin,' and I said, 'Uh-oh, that's going to be a hard assignment.'"
Soltero now lives in Tucson, Arizona, with a family of his own. He married Julia Medina on June 14, 1947. The couple have three children; their son, John, followed Soltero's steps into the U.S. military.
After 30 years of Air Force service through WWII, Korea and Vietnam, Soltero retired in 1971.
Soltero has taken a sincere interest in politics and played the role of campaign manager for his brother, who ran for a Senate seat.
"I've been involved with the Democratic Party; I was chairman of the county Democratic Party, president of the Democratic leaders of Tucson. We do what we can for the Hispanic people. We're not the kind that curses our brothers for coming across the border."
Soltero is not a stranger to discrimination. He remembers the strife he felt growing up in Globe. It was through his friendships, which were free of prejudice, that he learned so much, and it is with that nature that he holds onto his memories.
"I worked with a group of kids that were mostly Japanese and Russian," Soltero said, recalling the time shortly before he volunteered for military service. "They were nice to me, and I made a lot of good friends. I brought my car down -- so every week on Friday, they'd all come down and give me sacks full of rabbits [and] chickens, and this Japanese asked me to take a bouquet of flowers to my mother. They were all going to the service, and I thought, 'Why not me?' "
Mr. Soltero was interviewed by Liliana Rodriguez in Tucson, Arizona, on Aug. 17, 2010.