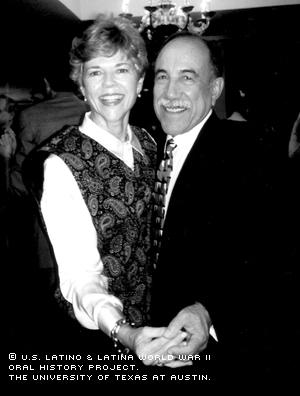 By Laura Zvonek
As a child, José María Burruel's family lived in a shack on land that didn't belong them: They were, in essence, "squatters." And they were unwelcome. At night, the houses were pelted with stones.
"One morning, we got up, and there was a hole in the tent where the rock had come through the top of the tent and just barely missed my sister's head," Burruel recalled.
The other squatters living on Salt River Valley Project land in Arizona soon put a stop to the discrimination by blocking off both entrances to the territory.
Despite growing up on land that didn't even belong to his family; which included his mother, grandmother, uncles, brother and sister; Burruel would devote his life to not only working hard, but studying hard as well, eventually going from squatter to school superintendent.
Burruel called his youth in Arizona "very difficult," explaining that his family didn't have enough money. His father died before he was born. So, as a boy, he worked in the cotton fields and shot wild rabbits and dove for food to help his family. His home was one of several "makeshift shacks," he said, "made out of discarded tin and palm fronds."
Burruel's mother eventually remarried. Burruel described his stepfather as a bootlegger and "quite a playboy," who found it hard to feed his family. When there was food, it included chicken, rabbit, frijoles and tortillas. Naturally, when an 18-year-old Burruel left for the Navy in 1944, he faced an entirely different meal plan.
"I promised my mom that I would eat what was put in front of me -- and I did," he said.
Burruel was assigned to the Naval Training Center in San Diego, Calif., for five weeks before he was put in Electronics Technician School. He then was selected to attend Gyrocompass School in San Francisco, Calif.
He moved from San Francisco to train overseas, only to be discharged from the Navy six months later after he was injured to a point where he could no longer serve.
Burruel immediately went to work in a machine shop, where they were rebuilding 500-horsepower tank engines for the WWII effort. But after a brief period, he wanted a change in his life.
"I said to myself, 'Hey, I don't wanna be doing this for the rest of my life. And I sure as heck don't wanna go back and work in the fields like I did before,'" he recalled.
Burruel saw education as a solution, so he attended Northern Arizona University in Flagstaff for a semester, before transferring to Arizona State University in Tempe and graduating in three and a half years. He got married the night he graduated (although he has since divorced), and then left in 1949 to teach for one year at Phoenix Elementary School in Phoenix, Ariz., before getting fired because, according to him, he "raised so much hell" about how he thought the kids weren't learning.
Burruel then taught and eventually became principal at Sierra Vista Elementary and Accommodation Schools in Maricopa County, Ariz., from 1950 to 1956.
"I learned to use the smarter kids to help teach the other kids," Burruel said.
In 1956, he left his many responsibilities at the school to seek his fortune in California, becoming the first Mexican American to teach in the elementary schools of Santa Monica, Calif.
In 1968, Burruel returned to Arizona State University to work on his doctorate. While earning his Ph.D., he says he became Assistant Dean of Students, as well as an assistant professor of education. He's also considered the first ombudsman at Arizona State, and at a time of political unrest. Burruel says he advised students that if they wanted to hold demonstrations to change things, they needed to be respectful in the process. In his words, he urged students, especially Latinos, "not to let the long-haired, marijuana-smoking kids steal their thunder."
After Burruel received his doctorate, he left in 1973 to work for one year at California State College in Dominguez Hills as Director of Teacher Corps. He worked with 36 students who'd graduated college but couldn't find jobs. He says many of the students had felonies he worked hard to clear.
Burruel was then offered $45,000 a year to work in the Santa Ana Unified School District in California. His new job required him to handle a budget of around $10 million dollars.
"That was the attraction," said Burruel, referring to the budget.
After four years in Santa Ana, at the age of 55, Burruel moved back to Phoenix and became the superintendent for the Wilson School District. Following a court battle with school board members over tax issues, Burruel lost his job. He'd move to Tempe, Ariz., to teach English at Arizona State University before becoming superintendent for the Santa Cruz Valley Unified High School District in Eloy, Ariz., midway between Tucson and Phoenix.
Despite several awards Burruel has received for his contributions to education, he stays humble about his success.
"Love, friendship, trust and respect -- for anyone," Burruel said. "There are no greater honors than these."
Mr. Burruel was interviewed in Phoeniz, Arizona, on January 4, 2003, by Delia Esparza.