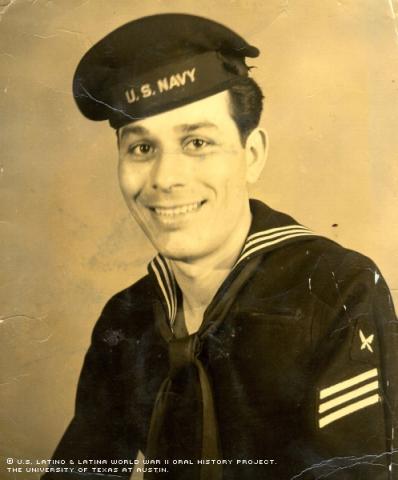 By Eric Garza
The Great Depression. World War II. The civil rights movement. Joseph Alcoser lived through these milestones in American history. Yet, he never truly felt that he was part of the country that he fought to defend.
Joseph Alcoser, or Joe as he was also known, was born in Melvin, a small town in central Texas, in 1925. One of 10 siblings, he was born the son of a migrant farm worker and like many Mexican-Americans of his time, spent much of his childhood moving from field to field harvesting crops.
"We all went to work at the age of five," he said, adding life was hard and there were not many facilities offered for the workers.
"We went from camp to camp. Dad bought a tarp and would lay it out under a tree like a tent. We followed the crops around Texas," he said.
Unfortunately, one of the first lessons that Alcoser learned was the harsh reality of discrimination. The farm owners did not have very much consideration for the well-being of the workers.
"Some would not supply clean water. The barrels they used to bring water were rusty and dirty. They were also placed far from the field where we were working. We had to walk a long way to get a drink of water," he said. "By the time we walked back to where we were working we were already thirsty again," he said.
These hardships made it apparent to Alcoser that a good education would be needed to break the cycle. Working the fields was important for his family, but Alcoser aspirations reached beyond the field of cotton that scarred his hands. He decided to stay with an aunt in Melvin to attend high school.
"No matter what part of the state I was in, come September first, I would head back home either hitchhiking or by bus," he said. "I stayed with an aunt until my parents returned and went to school. My parents didn't like this, but I felt it was something I needed to do."
Schools were segregated at the time in his area and it was not until Alcoser was in the eighth grade that he attended school with white children. These children wasted no time in making attendance a danger for Mexican students.
"They would wait on the trail home and push the Mexican [students] into cactus. On the football team it seemed that we had two enemies: the team we were playing against and the [teammates] that would make it a point to hurt us," he said. "One time I hurt my neck pretty bad and a kid landed on me and started calling me derogatory names."
This cycle continued until the 11th grade when the war was in full swing in 1943. So when he was a senior in high school he took a bus to Dallas to sign up for duty. He exchanged his pen and paper for a Navy uniform and entered the war at the age of 18.
"I volunteered because I felt it was the only way out. My dad always said that men had an obligation to defend their country. I felt that if I went and came back things would be different. I thought there would be less discrimination," he said. "Three years later, things were exactly the same."
After he signed up, Alcoser boarded a train to the Navel Training Center in San Diego. In May of 1943 the new recruits were sent to New Caledonia, a French colony north of Australia. It was here where he was assigned to the Battleship U.S.S. Maryland.
Alcoser was assigned to the deck division of the Maryland. During battle he tended machine gun and served as a sky lookout. The technology of the time bore no resemblance to today and made some duties particularly daunting.
"I learned to identify planes from 20 miles away using only a pair of binoculars," he said.
Sky lookout was an important duty that was taken seriously aboard the Maryland. For it was at this time that the Japanese started deploying their suicide Kamikaze pilots. Hesitation in identifying an enemy plane could lead to certain death for some of the 2,500 sailors on board the ship.
Despite the efforts of the sailors, the Maryland was hit on occasion. Over 50 men lost their lives when the Maryland was twice hit by Kamikaze planes.
"I never thought about returning home," he said. "I thought we were sent off to die."
Consequently, Alcoser did not communicate very much with anyone back home while he was overseas. He sent only one letter to his mother.
"If anything happened to me, my family would find out," he said.
"The scariest battle for me was the midnight battle at Surigao Straight," he said. It was dark and we could only see shells flashing by the ship. The unknown was what caused great fear."
The battle that occurred near Tarawa Island, an island east of New Guinea, had a lasting effect on Alcoser as well.
"That is where I saw the most dead," he said. "Some marines never made it to shore. There were bodies floating all over the water."
Constant fear of death and the unknown eventually took its toll on the crew of the ship. There was no counseling available on the ship and nervous breakdowns were not uncommon. Alcoser's first experience with death came when he and some fellow crewmembers found a man who committed suicide by hanging himself. The inequalities of the land he left also found their way on board the Maryland.
"During battle we were all brothers, but on non-combat days there was discrimination on the ship," he said. "Things would not change until the civil rights movement in the mid 60s."
It was while the Maryland was ported for repairs in Seattle that Alcoser heard the atomic bomb had been dropped on Japan.
"I saw it as a relief," he said. "I thought it would finally bring an end to the war."
Alcoser was right. Soon after, the war fizzled; Alcoser was eligible to return home five months later. He returned to Melvin for 6 months before moving to Lubbock. Tired of farm work, Alcoser began a new career as a barber.
Joseph Alcoser still believes in the power of education and the opportunities that the military can offer for young men and women. His advice for youth: "Go to college. If you can't afford it, join the military to help pay for [it]."