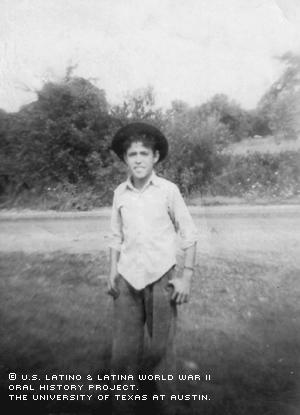 By Francisco H. Cortes
Manuel Cavazos Cadena was only a boy during WWII. But he witnessed the effects the war had in one of the several towns he lived in: San Marcos, Texas.
Two of his brothers were employed because of the war, when an airfield was built, and gravel had to be transported for it. One brother got a job as a maintenance worker and another as a bus boy in the mess hall at the field.
Born in 1932 in the Central Texas town of Luling, Cadena was the sixth of 10 brothers and sisters. His father, aunts and uncles migrated from Nueva Rosita, Coahuila, in search of a future in sharecropping.
"We were like everyone else. It was hard times, but we were happy because that's how we all thought life was," recalled Cardena of his childhood.
An early memory of Cadena's is his grandmother, Carmen Estrada, praying for his uncle, Eluterio Estrada, a prisoner of war in Germany. Cadena says she had a "Virgin de Guadalupe" in a corner of the bedroom, where she'd pray every day for his safety and return. Cadena and his brother would take turns staying with Carmen in Luling.
Other memories include doing odd jobs for his uncle, Antonio Jr., and eating chorizo at the Luling City Market, with a knee-high soda.
In order to supplement his family during the Depression and in the early war years, Cadena followed the lead of his father, sharecropping cotton in Martindale, seven miles east of San Marcos, and home of the world's largest cotton mill at the time.
"I can't remember at what age I started -- It's like swimming -- It just happens early," Cadena said. "We would get a pillowcase, fill it, and then put it in our dad's sack."
Cadena clearly remembers how the Depression affected sharecroppers and landowners as well; due to low crop prices, they were sometimes paid to burn what they were growing, he says.
"In one year, you would move three times, but that was because you were poor. That's what happened to a lot of people, especially during World War II.
"When us guys talk about it, we laugh, because dad never paid the rent. There was no money," said Cadena, wiping tears from his eyes.
Cadena began his education in a crammed three-room elementary school in Martindale. At the time, Martindale lacked a high school, so older students had to be bused off to nearby Lockhart.
"There was a junior high school. We called it la escuela de los gueros [the school of the Anglos]. … The majority of us Mexicans never went. You were lucky to make it to the sixth grade," said Cadena, who, having graduated from trade school, was an exception.
Cadena's father moved to Saginaw, Mich., in the spring of 1947, so they could earn money working in the fields. He later married Herminia Guerrero and the couple had six children. Cadena worked as a welder at the Grey Iron Foundry for 28 years.
Mr. Cadena was interviewed in Austin, Texas, on June 25, 2002, by Antonio Cantu.