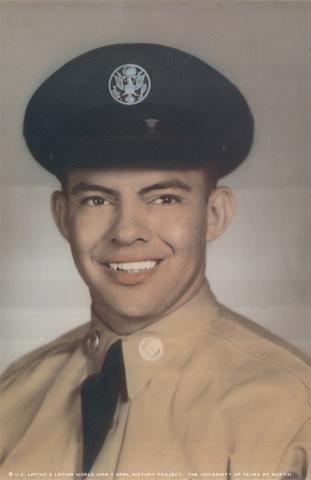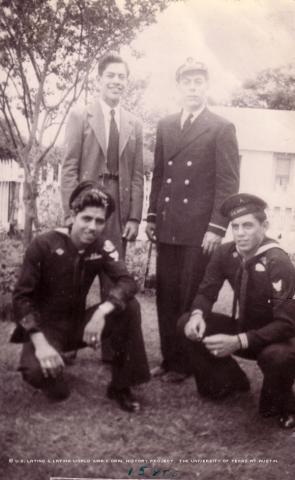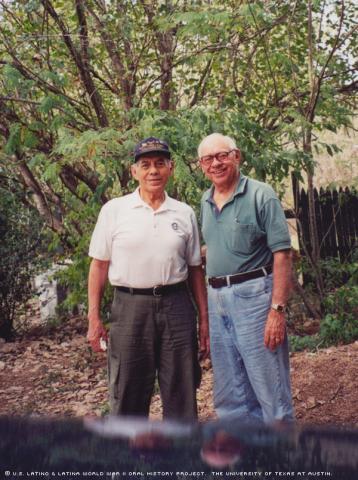 By Cheryl Smith Kemp
When Moses "Moe" Alemán's parents emigrated from Mexico to Austin, Texas, as children, the horse and buggy was one of the most common modes of transportation and Austin-Bergstrom International Airport was a bunch of farmland.
That's where Arturo Alemán and Antonia Garza first met, in the community encompassing the fields in which their parents both labored.
Alemán, an airport-security consultant in a post-9/11 world, brings this and other sweeping changes up when reflecting upon his life.
"It's been a tremendous experience for us to grow up through these years," he said. "If I can leave anything for my children and my grandchildren, it's to think of yourself as bettering yourself, no matter who you are, no matter what you do and whatever you do. … Dr, lawyer, blue-collar tradesman – do the best you can."
Alemán was born and spent much of his childhood in a wood-framed house at 1112 East 3rd St. in Austin; painted white with yellow trim, it's still standing. Back when the Alemáns lived there, during the Great Depression and World War II, it didn't have indoor plumbing.
No television, either, says Alemán, who recalls listening to the radio for entertainment. Although he didn't have a subscription, Arturo read La Prensa, a Spanish-language newspaper based out of San Antonio, Texas.
"We were so poor back in those days, Dad couldn't afford a subscription. But there was a neighbor that would receive that paper, and he always told that neighbor, when you've finished reading it, would you mind passing it to me. And he always said, 'By all means,'" said Alemán, recalling that one of his jobs around the house was to run the half block over to his neighbor's to fetch the paper. "If he was finished with it, then I would bring it so my dad could read it."
Alemán also remembers each of his three older brothers; Artuhr, Samuel and Daniel; leaving for WWII. All of a sudden, he and his younger sister, Eunice, were the only children around the house.
"I told my mother that she didn't have to worry about a thing; everything would be fine. I corresponded with my brothers," Alemán recalled. "[I] helped as much as I could until my dad was able to buy another house. He [eventually] even set up his own little business, which was a corner, neighborhood grocery store."
Pre-computers, long-distance communication was drastically different back in those days.
"The only way to really communicate back and fourth was through regular mail," said Alemán, noting his mother would write his brothers in Spanish, while he'd write them in English. "Letters would reach us from one week to two weeks after they were written," sometimes out of order, he recalled.
Among the anecdotes Alemán remembers reading in his brothers' letters is one in which Arthur got chewed out by superiors for scavenging for souvenirs in caves in the South Pacific. Turned out the enclosures were favorite hiding places for Japanese snipers. "So they were fortunate that they did not get shot at," said Alemán of Arthur and his fellow GIs. All three Alemán boys returned home safely from WWII. Arthur, who enlisted in 1943 and served as a Navy Seabee in the South Pacific and survived the invasions of Iwo Jima and Okinawa, and Samuel, who enlisted in the Navy shortly afterward and served as a hospital corpsman for wounded Marines at a hospital in San Diego, Calif.; both were discharged and returned home around the same time. And Daniel, who Alemán recalls trying to enlist in the Navy at age 18, but getting turned down because of an overbite, signed up for the Merchant Marines in 1945, and returned from both the Pacific and Atlantic seas in 1947.
Alemán was a junior at Austin High School at the time, suddenly only one year behind Daniel, who'd dropped out of school to join the war effort. Upon graduating, Alemán told his parents he wanted to go to college, eliciting mixed responses from his mother and father. "My dad says, 'Why do you wanna go to college for.' … He says, 'Nobody's gonna give you a job. You might as well just go to work.' … He felt like we were being discriminated against and that it wouldn't do me any good to go to college," Alemán said. "My mother backed me up. She says, 'I'm for him, and if he wants to go to the university, more power to him.'"
Alemán attended and graduated from the University of Texas at Austin. He'd ride his bike to campus from home to attend classes, he says, and worked as a busboy at restaurants like Old Seville and El Charro.
"Shows the fact that you can't let social situations stop you from bettering yourself," said Alemán, noting that his father's attitude toward college was fairly typical of Latinos during the Depression and WWII.
WWII helped alter that mentality, however, largely because the GI Bill made higher education accessible to practically anyone who served. Both Sam and Daniel graduated from college; Sam from Edinburg, Texas', Pan American University, now the University of Texas-Pan American, and Daniel from Howard Payne College, now Howard Payne University, in Brownwood, Texas, which, although Daniel hadn't finished high school, let him take a General Education Diploma (GED) placement test. Sam became a teacher and coach and Daniel became a Baptist minister, and, later, a Dallas County Probation Officer as well as an interpreter for the nearby Rockwall County Courthouse; Arthur worked in the printing and lithography business.
Fresh out of college, Alemán enlisted in the Air Force in 1952, during the Korean War. Sam and Daniel had already gotten recalled.
"In WWII, I merely corresponded with them, but then, when my two brothers got recalled … by that tine, it was time for me to go also," Alemán said. More of an emphasis was put on fighting than on language skills during WWII; whereas, a lot of significance was placed on being able to speak different languages during the Korean War, he says.
"With them, it didn't make any difference, but it made a big difference for me," said Alemán of he and his brothers all being bilingual.
Largely because of his ability to communicate in both English and Spanish, Alemán says he was made a special investigator during the Korean War, serving as a liaison between the U.S. military and the Panamanian police in an effort to protect the Panamá Canal.
Becoming an FBI agent for four or five years after the Korean War in the 1960s also had a lot to do with him being bilingual, says Alemán, as Castro taking over Cuba prompted the Bureau to actively recruit Spanish speakers.
Alemán became a specialist on Airport and Airline Security in 1972 when he joined the Federal Aviation Administration's Office of Civil Aviation Security. He retired from the FAA in 1995 and since then has been consulting and providing training about the topics in both English and Spanish.
"I give credit, of course, to my parents and to my upbringing … which proves how important it is for Americans to know two languages …we are so many times outdone by Europeans, who speak several languages[.]"
A father of six and grandfather of 17, Alemán now lives with Gloria Torres Alemán, his wife of 57 years, in McKinney, a suburb of Dallas, Texas. Arthur died in 1992, but Sam and Daniel live in Calvert and Rockwall, Texas, respectively.
Examples of the post-WWII rise of the Latino professional class, five of Alemán's six children have a minimum of a bachelor's degree, and work in a variety of professions.
"We may suffer some discrimination to a certain extent, but you can better yourself if you stay in school and get that degree," said Alemán, ending his interview on a particularly spirited note:
"Hook 'em horns!" he said.
Mr. Alemán was interviewed in McKinney, Texas, on March 27, 2004, by Lynn Walker.