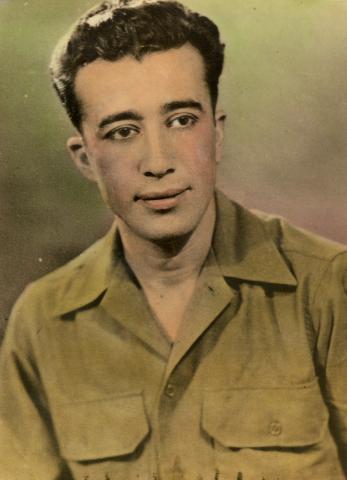 By Cheyenne Cozzalio
Brothers Ralph and Philip Antuna can joke now about the food they had to eat while stationed in Europe in 1944. But underneath the laughter is a note of relief they made it out of Europe alive after fighting in the Battle of the Bulge during World War II.
Sitting comfortably in his cozy living room in Hegewisch, Ill., a community located on the southeast side of Chicago, Ralph Antuna, 83, recalls how he had to search through knapsacks of dead German soldiers to find cold cuts, hunks of Limburger cheese and hard bread.
"It was good," he said. "We had to eat it, or we'd starve to death."
Antuna couldn't have possibly imagined the hardships and hunger he'd face when he entered the Army on his 21st birthday on Oct. 17, 1942. Only a year before, he'd been rejected by the Navy.
"The Navy didn't want me because I was too short," Antuna said.
He'd continued working at the local steel mill until he was drafted into the Army. Four months later, his brother Phillip, who'd been working at the same steel mill, was drafted at the age of 20.
One of only three Mexican Americans in his unit, Ralph Antuna trained at Camp Carson in Colorado in an artillery outfit before being sent to Europe on the Queen Elizabeth, which departed from New York City on September 27, 1942. During the voyage to Europe, an enemy submarine fired on the ship. Luckily they were able to outmaneuver the torpedo, Antuna says.
They finally landed in Scotland after "a lot of circling around to avoid the German submarines," he said.
From there, they went to England and then to Reims, France, the site of Gen. Dwight D. Eisenhower's headquarters. Ralph Antuna was assigned to Battery A, 277th Field Artillery. From Reims, he says his unit was in combat the entire time, constantly in pursuit of the German army as they moved toward Belgium. In a battle in Metz, France, Antuna says his back was permanently injured when his unit was shelled upon by German troops.
"We never did take [the Germans at Metz]," Antuna said. "We lost a lot of men there."
Antuna was in a field hospital for more than a month and was unable to get up or move. He was treated with painkillers and heat treatments but was never able to transfer to a real hospital.
Because of his injury, Antuna was taken off his frontline position as an artillery man and permanently placed on light duty as a driver, assigned to the communications unit.
"We were always on the go," he said of his new team, which was in charge of stringing communication wire for the field telephones on the battlefield.
"It kept me busy," he said. "[Gen. George S.] Patton wanted to know everything -- where the enemies ate, how far behind they were, how close we were to them."
In 1944, around Christmas time, the Antuna brothers' units were sent into combat at the Battle of the Bulge in Bastogne, Belgium. The Battle of the Bulge is considered the worst confrontation in terms of losses to United States forces. Approximately 19,000 Americans were killed and another 23,554 were captured.
It was the coldest winter in 20 years, Ralph Antuna says. Adding to the misery was the scarcity of food.
"All through the war it was hard for us to get something to eat," he said.
Patton's priorities, he says, seemed to be to transport ammunition and gasoline to the battlefront.
Antuna laughs as he recalls when Patton said to the troops, "I know it's hard for you guys. You don't get enough sleep. You don't get enough to eat, but just think of them goddamn Germans. We're on their tail all the time and they don't get nothing either. We want to catch them."
Phillip Antuna, now 80, had been sent for basic training at Fort Bliss in El Paso, Texas. He then was sent overseas to North Africa, first to Oran on Sept. 2, 1943, and later to Algiers. He was one of only two Mexican Americans in his unit -- the 113 AAA Gun Battalion Semi-Mobile -- and had been trained on anti-aircraft artillery.
After North Africa, he was sent to the invasion of Southern France and then to Belgium, where he was involved in the Battle of the Bulge. "We tracked German planes, fired on them and chased them away," he said.
Despite the intensity of the fighting at the Battle of the Bulge, the two brothers constantly sought to contact each other.
"I would stop every truck or man [from the 113th division] and ask about Phillip," Ralph Antuna said. "But I could never find him."
After the Battle of Bulge, the two brothers finally were reunited in Marseilles, France.
They were both honorably discharged before Christmas in December of 1945.
Philip Antuna says he received three Bronze Campaign Stars, a Good Conduct medal and a WWII Victory medal; his brother received three overseas Service Bars, one Service Stripe, an American Campaign Medal, a European African Middle Eastern Theater Ribbon with four Bronze Campaign Stars, a Good Conduct Medal and a World War II Victory Medal. Ralph Antuna says he's also eligible for a Purple Heart, but that the Army has lost his service records.
Sixty years later, the injury Ralph suffered in Metz still bothers him. He's a member of the Disabled American Veterans, and he uses an electric wheelchair.
After the war, both brothers returned to the U.S. Steel Corporation and worked there for more than 42 years.
Ralph met and married Dolores Hernandez 55 years ago, and they have six children and nine grandchildren.
Philip and his wife, Lois Triplett, have three grown sons.
Ralph and Philip Antuna were interviewed in Hegewisch, IL, on February 21, 2002, by William Luna.