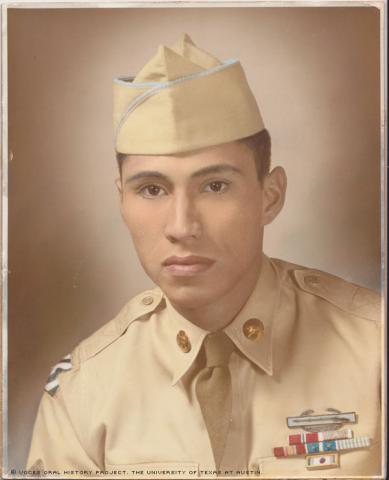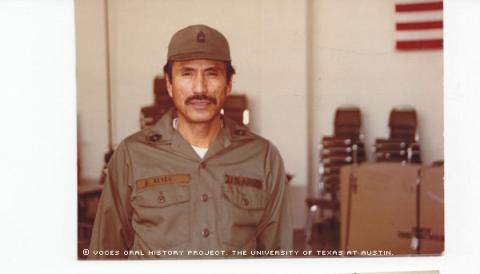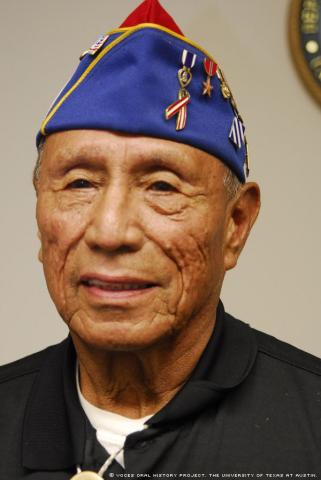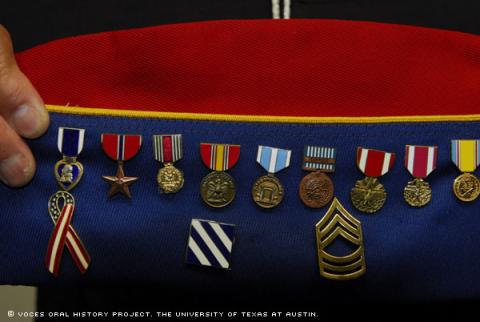 By Melissa Wood, Saint Bonaventure University
Ramon Reyes' life in the town of Wellington, Kansas, could almost be described as quiet and simple, except for the two years he served in the Korean War.
His father, Teofilo "Toby" Reyes, and his mother, Maria Olivan, came to the United States from Zacatecas, Mexico, as undocumented immigrants. His father worked at the Santa Fe tire plant until it closed, and then got a job at the hospital in Wellington. Reyes' mother stayed home and cared for him and his three brothers, John, Henry and Tony, along with two sisters, Lucy and Frances Ybarra.
They walked to school every day because the family couldn't afford a car until Reyes was 15 years old. The children spent most of their time helping their father in his garden, planting corn, potatoes, onions and peppers.
In high school, Reyes played for the Wellington High School football team. He took part in pickup games of baseball and worked part time at the Santa Fe tire plant, mostly during the summer. For fun, the family attended church celebrations on Mexican holidays such as Cinco de Mayo and Mexican Independence Day (Sept. 16).
Reyes' routine came to an abrupt halt when he was drafted into the U.S. Army. He left for basic training at Fort Riley in Kansas on Oct. 21, 1952. While at first he was nervous and apprehensive, he later realized it was good preparation for the cold, harsh life he was going to have to endure in Korea.
"It was rough, wintertime. It was cold, real cold," he remembered about his time in Fort Riley.
Once in Korea, Reyes learned a few words of Korean but mostly spent his days fighting off the bitter cold and preparing to go to the front lines with the 65th Infantry Regiment, 3rd Infantry Division.
Reyes was wounded by shrapnel on June 14, 1953, on the evening his platoon was supposed to take Hill "412," near Kumhwa. As he and the other men reached the halfway area of their target hill, they came under heavy enemy fire. Reyes volunteered to stand watch over a group of wounded soldiers until they could be evacuated. In an act of heroism, Reyes assisted several of his wounded comrades to safety, covering them from enemy fire.
For that he was awarded the Bronze Star of Valor Medal, one of 10 awards Reyes received for his military service, including a Purple Heart.
"I didn't even know I was wounded," Reyes said. "Not until someone told me." He had been struck in the back of the head by shrapnel and was bleeding. He was transported to a nearby hospital and, once he was healed, sent back to his division.
Reyes was still in Korea when the fighting stopped on July 27, 1953. He returned to Kansas and was honorably discharged on Oct. 22, 1954. That same year, he enlisted in the Army Reserves and served his country for another 35 years with the 89th Division.
Once back in the States, Reyes spent one year working at a meatpacking plant until he got a job with the post office in Wellington, where he worked until his retirement in 1992. He married Maria Perez (they divorced in 1986) and had six children - four daughters and two sons. Their 16 grandsons and four granddaughters are very proud of his military service, he said.
"He received his certificate for retirement for serving faithfully and honorably in the United States Army on January 19, 1992," according to a report in the Wellington Daily News.
After his retirement, he served as the commander for many veterans organizations, including the Veterans of Foreign Wars in Wellington and the Military Order of the Purple Heart in Wichita, Kansas. He was honored twice by the GI Forum.
In 1995, Reyes received the Meritorious Service Medal for "outstanding meritorious service over a long and distinguished military career as a citizen soldier of the United States Amy Reserves," according to the Wellington Daily News.
Some of Reyes' grandsons followed in his footsteps. Three of them were in the Junior Reserve Officer Training Corps. Before them, one of Reyes' sons, Andrew, served in the Army during Operation Desert Storm.
At the time of his interview, Reyes remained an active volunteer, both with his town's youth and fellow veterans.
Mr. Reyes was interviewed by Dale Nulik in Wichita, Kansas, on June 15, 2010.