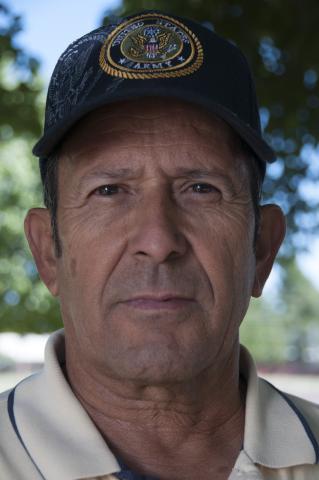 By Kevin Bradley, St. Bonaventure University
Robert Lee Polanco Sr. sat on the plane, nervously biting his nails. The flight had left Texas nearly three hours earlier. They would be passing over the Pacific Ocean on their way to the other side of the world.
In 1971, Polanco was a soldier in the Army, returning to the war in Vietnam after "just a few days … not even a week" of absence.
He had returned to the U.S. to visit his wife, Elidia Chavarria, and 2-year-old daughter, Jo Elda, after a serious accident that had left their family car a twisted hunk of glass and metal. Leaving them again was heartwrenching.
He recalled how he had gotten the news in Vietnam: "The Red Cross just came up to me and said, 'You have to go home,'" Polanco said. "I said, 'What for?' [They told me] 'Your wife has been in an accident.' … So I came home."
The Army drafted Polanco in September of 1970. He had graduated from Sul Ross State Teachers College and begun building a life with Elidia and their newborn daughter in San Antonio, where he was going to be a physical education teacher.
Elidia told him she felt overwhelmed by the thought of raising their daughter alone, so the family moved back to Alpine.
He completed basic training at Fort Bliss in El Paso, Texas, and Fort Ord, California. After that he went to Fort Gordon, in Georgia, to learn to operate radio equipment and the teletype. He eventually went to Vietnam as a member of the 101st Airborne Division.
"When they sent me to Georgia, we had to learn Morse code," he recalled. "We had to really buckle down, send and receive words per minute -- I think the miniimum was 11 words per minute."
Born on July 7, 1941, in Marfa, Texas, Polanco was the second-oldest child in a family of five sons and one daughter. His father, Manuel, was an assistant fire chief and a World War II veteran who had served in the Pacific; his mother, Basilisa Serrano Polanco, was a homemaker.
Polanco marveled at his parents' ability to put all five of their children through college.
In Vietnam, Polanco was a communications officer. His responsibilities included keeping a dialogue going between troops in combat areas and the main base.
It was a rough life as his company kept moving from place to place.
"At Cam Ranh Bay, [we experienced] probably one of the scariest parts of the tour," he said. "I think it was probably at night. Some rockets fell into our compound. So we got out of our beds, and we started running toward our shelter. But after a while they stopped, and we went back to sleep."
Polanco's brief trip home split his tour of duty into almost equal halves. He remembered his final trip to the U.S. The soldiers called the plane the Freedom Bird because it would take them home.
Later, he went back to school and got a master's degree in education at Sul Ross, courtesy of the GI Bill.
"That was a positive for me," Polanco said. "When you get another degree, it bumps you up on the pay scale."
His first two years of teaching were difficult, he said, but he eventually settled down and taught school for nearly three decades. Polanco became involved with veterans organizations. He said he regretted not doing so earlier.
"I should have joined the American Legion and the VFW, but I didn't do that till the late 1990s," he said. "[Now] I am an officer in both. … I am also a county veterans service officer. It keeps me busy."
Mr. Polanco was interviewed by Taylor Peterson in Alpine, Texas, on Aug. 3, 2010.*
The Voces Oral History Project attempts to secure review of all written stories from interview subjects or family members. However, we were unable to secure that review for this story. We will gladly accept corrections from the interview subject or designated family members. Please contact voces@utexas.edu.