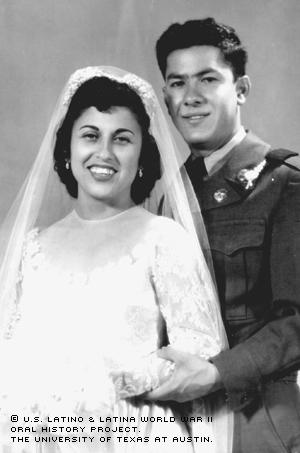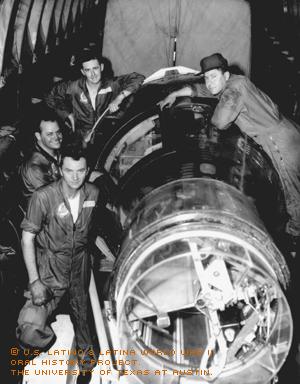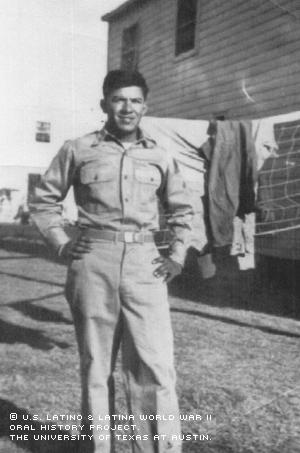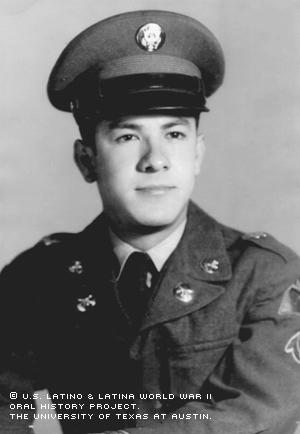 By Rajesh Reddy
In the spring of 1945, 16-year-old Rodolfo "Rudy" Alaniz's older brother Ricardo, a rifleman with the 8th Infantry Division, was killed in Germany, an event that would alter young Alaniz's life.
"I presented my brother's flag to my mother," said Alaniz, about Ricardo's burial. "That was the saddest part of my life."
In response to Ricardo's death, Alaniz joined the military right after turning 18, on Oct. 23, 1946, two months after World War II had ended. When he departed his hometown of Mission, in South Texas' Rio Grande Valley, Alaniz left behind five surviving brothers; seven sisters; his father Roque Alaniz, a laborer at an ice plant who also raised cows; and his mother, Sara Zamora Alaniz, a housewife. He began his basic training at Fort Knox in Kentucky.
Alaniz would serve for 11 years in the Army (followed by 10 years in the Air Force): first in the occupation of Japan and later during the Korean War, as part of the SVC Battery, 594th FA. At other points, he was assigned to Company A, 13th Field Artillery Battalion, 24th Division; 2nd Armored Division, 41st Battalion; Company C, 2nd Infantry Division; and Company I, 9th Infantry Regiment. When he left the Army in 1957, he'd risen to the rank of Staff Sergeant and had been stationed throughout the country, using his skills as a mechanic.
Among other military honors, Alaniz earned a Purple Heart, after receiving a shrapnel wound to the head in Korea; a WWII Victory Medal; the Army of Occupation Medal, for serving with the post-WWII occupying force; the Army Good Conduct Medal, with 5 bronze knots indicating subsequent awards, for his overall military service; the Air Force Good Conduct Medal with two knots; and the Air Force Longevity Service Medal with 2 bronze oak leaf clusters, again indicating subsequent awards.
In 1958, Alaniz switched to the Air Force, working in the Military Air Transport Service and rising from Airman 3rd class to Sergeant over the next 10 years. Among other career highlights, he was stationed in Panama for five years, touring with the Friendship 7 spacecraft. Alaniz's selection to the Friendship 7 touring crew was due to his fluency in Spanish.
The Friendship 7 was the first American spacecraft to orbit the earth, on Feb. 20, 1962, a feat that won attention for astronaut John Glenn and the U.S. space program. As part of Alaniz's work with the Friendship 7 capsule, he traveled to Panama, Puerto Rico, Peru, Chile, Argentina and Mexico. He was an aircraft mechanic, shuttling the spaceship through the Americas.
Alaniz's work experience before the military was scant: He sold newspapers, shined shoes and delivered telegrams.
In the military, he learned to march and fire a weapon. His first assignment was in Japan, where he was further trained in field artillery.
Alaniz's experience in Japan differed from any he'd ever had. He recalls tension between the American soldiers and Japanese civilians the few times he and his fellow troops left their base.
"They would frown on us, with their heads down," he said of the Japanese. "They feared us, but there wasn't much they could do about it because they didn't have anything to defend themselves."
After 13 months in Japan, Alaniz left the Army, and before long, he had a job working in a drugstore. He later decided to join law enforcement and applied to the sheriff's department, but it wouldn't accept him.
"They said, 'No, you're too short,'" he said with a laugh.
In October of 1948, Alaniz decided to re-enlist in the Army. He was stationed at Fort Hood, near Killeen, Texas.
On weekends home to visit his family in Mission, he'd drive with a friend to the neighboring town of McAllen, where he met a young lady named Gloria Araguz. Soon after they met, Alaniz learned he'd be fighting in Korea, and they were married.
Alaniz understood that, as a platoon sergeant in Korea, his assignment would be dangerous.
"I kept on praying that the Lord would bring me home alive," he said.
He remembers being holed up in his bunker for up to 30 days at a time, as well as one particular occassion he sent one of his troops out on a regular patrol.
"He didn't come back," Alaniz said. "He was killed in action."
Alaniz's worst fear was nearly met one day during an enemy advance, when he was hit on the forehead with a bit of shrapnel. He was rushed to the hospital and treated. He also underwent psychological testing to determine if he was fit to go back to the line; he was. The experience reminded him of his brother, Ricardo, and why he'd joined the Army to begin with.
After Korea, Alaniz was stationed at Fort Sill in Oklahoma, and then for three years at the 594th field artillery unit in Gissen, Germany, where he tested field artillery. He joined the Air Force in 1958 and attended school to learn aircraft mechanics. He was 26 at the time and had two children.
In 1967 he retired, and he and his family settled in Austin. He began working as a postal worker.
Growing up in the Rio Grande Valley, where a majority of the population has a tie to Mexico, Alaniz says he never experienced racial tension.
"We weren't Mexican Americans then," he said. "There were two different classes of races; either we were black or we were white."
But he has since seen that racism has affected not only blacks, but also Latinos, and that WWII helped all the races come together. Now, Alaniz praises groups such as the League of United Latin American Citizens, which has fought discrimination from the bottom up.
Alaniz has since devoted much time to the Catholic Church, as well as visiting the elderly at a local nursing home.
But throughout his long life, he has yet to set aside the memory he carried to war and beyond -- the memory of traveling to Fort Worth, Texas, to bring his brother Ricardo's body back home.
Mr. Alaniz was interviewed in Austin, Texas, on October 18, 2003, by Rajesh Reddy.