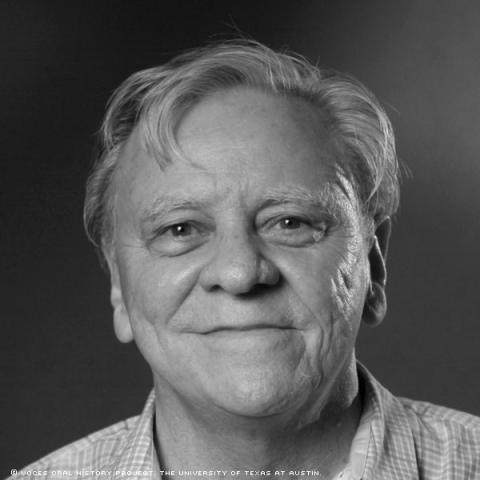 By Jess Brown
It was the summer of 1952. Leo Rios, a cab driver, was shot dead by a passenger he had just picked up on the streets of San Antonio, Texas. His wife, Teresa Hernandez, was left with a broken heart to nurse and three daughters and a son to raise, without any means of doing so.
But help was at hand.
"The Democrats had just passed Supplemental Social Security," said Rolando Rios, Leo and Teresa's son, who was just 7 at that time. "If someone experiences a catastrophic event, a family with children, that the main breadwinner is incapacitated or dies, they will get Supplemental Social Security until the child is 18 years old."
The Rios family was the first in Texas to qualify for supplemental income. It allowed young Rios to stay in school and learn that the government can have a real impact on people's lives - a lesson he never forgot.
Rios would go on to become a key lawyer during and after the expansion and extension of the Voting Rights Act in 1975. He helped to ensure the law was enforced so that Latinos could enjoy equal voting rights.
Rios was born in San Antonio on Oct. 5, 1945. After his father's death, his mother raised him and daughters Gloria, Olga and Irene on her own.
"We grew up on the west side of San Antonio," said Rios. "It was a very poor area. The most dominant language we spoke was Spanish, and basically I didn't start speaking English until I was in high school."
Teresa was of German-Irish descent, with blond hair and blue eyes, but had been adopted by a Mexican family and never spoke English. Rios himself has light skin and blue eyes but grew up identifying as a Latino. Even as a child, however, his looks gave him an unusual perspective on discrimination toward minorities.
"I saw it a lot, but I was kind of treated a little different because I didn't look Hispanic," said Rios. "It was kind of like [being] inside looking out, but not experiencing a lot of what my friends did."
When Rios was in high school and college he noticed that the struggle to get Latinos involved in politics was also gaining momentum. It was the 1960s and the Civil Rights Movement was in full swing.
"It was a crazy time," he said. "There were demonstrations, a lot of rioting in the streets. There was tension in America because there was a lot of displeasure with the Vietnam War."
But the Vietnam War seemed remote to Rios - until he was drafted into military service in the summer of 1968, right after graduating from St. Mary's University with a degree in math.
With his college degree, Rios was made an officer with the rank of lieutenant. After being stationed in Fort Meade, Maryland, he spent three months in Cam Ranh Bay, Vietnam. There, he was injured in a road accident and had to be evacuated by helicopter. He ended up spending nine months in recovery before getting a medical discharge.
Having seen the war, Rios realized it was important to know what was going on around the world, especially in Washington D.C. He decided to get into politics, beginning his career as an --intern at the Mexican American Legal Defense and Educational Fund, or MALDEF. While there, he was recruited to go to law school at Georgetown University in Washington D.C. Rios said they were specifically looking for Latinos to come to the Northeast.
"One of the other reasons that I think I got into law school was because they wanted to have people that served in the military," Rios said. "So that was a positive thing."
Because he was a disa-bled veteran, the military paid for his tuition.
After graduating in 1978, he returned to San Antonio and started working as the legal director for the Southwest Voter Registration Education Project to enforce the Voting Rights Act in Texas from 1979 to 1980.
The law was passed in 1975 as an extension and expansion of the previous Voting Rights Act implemented 10 years earlier; it was designed to prevent racial discrimination in voting. One of the major amendments was to provide bilingual ballots, the absence of which had discouraged minorities from voting.
But as legal director of the project, Rios said he realized that the issue of discrimination was much more complicated than single-language ballots. Redistricting seemed to be the biggest threat to minority voters.
A big part of Rios' job was suing counties to force them to redraw their district lines to comply with voting rights law.
"We won all of [our cases]," Rios said. "We would win not because we were great lawyers, but because the law was so clear."
One of the major challenges of enforcing the Voting Rights Act was getting Hispanics to testify. Many of them feared a backlash from the community if they spoke up, Rios said.
More often than not, the wives of Latino businessmen would be the ones to testify "because women were the ones who got to stay home and the husbands were all working," Rios said. "They didn't want to get involved in anything because they would get fired if they filed a lawsuit."
But things gradually settled down.
"After a few years the Anglos would realize that it's not the end of the world to have two or three Hispanics on the city council," Rios said.
Rios married Susana Solis in 1990, and the couple has three children: Noe, Maricela and Claudia.
Rios opened a private practice in San Antonio in 1981. In 1994, he ran for Congress against Henry Bonilla, a Hispanic Republican. But the cost of running the campaign was high.
"I almost went bankrupt," Rios said. But a client, who recognized Rios from the congressional campaign, asked him to contest a settlement case after losing his wife in a car accident.
While Rios did not win, he ended up having the last laugh.
"When I lost, I went back to my redistricting, and we sued the state of Texas," he said. "We redrew that district that I lost in and made it more Democratic, and so the guy I ran against got defeated the next election."
Despite the passage of the Voting Rights Act, Rios said, Latinos are still struggling.
"Every decade the Legislature draws the districts for Congress, for the Senate, and for the state House in a way to minimize the impact of the Latino vote," he said.
Rios thinks of his career as running parallel to the Voting Rights Act of 1975, like the two have grown together. He continues to contest civil rights and immigration cases.
"We have more power now. We're getting some more representation," he said. "But we still don't have what you would call 'equity.' "
Mr. Rios was interviewed by Jess Brown in Pearsall, Texas, on March 29, 2015.